Give CAB Credit For Spring Weekend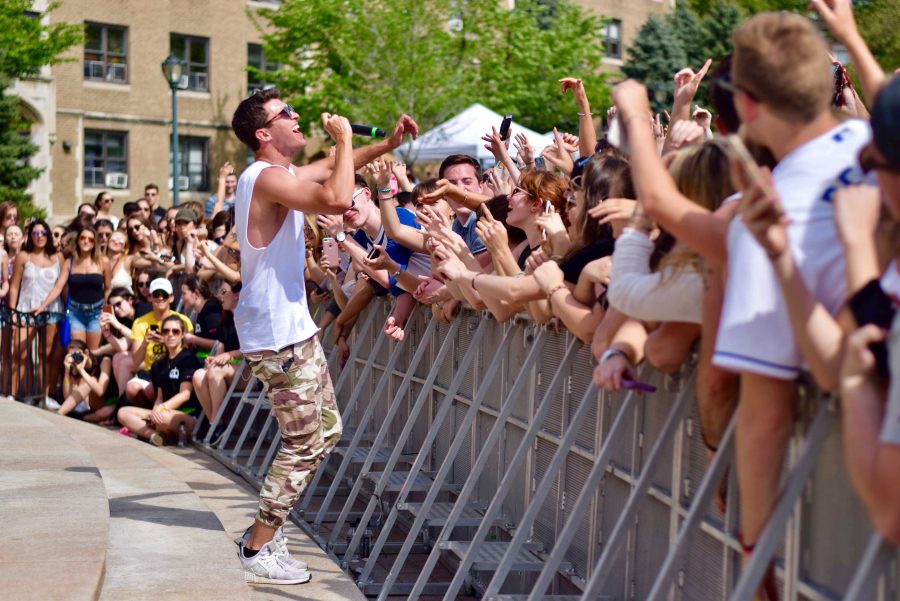 By Sarah Bernstein
At Fordham, we take our Spring Weekend very seriously— and who can blame us? It's undoubtedly the biggest student-oriented event of the year, and it is an opportunity for everyone to truly take advantage of the large, open space Fordham provides us in the middle of the Bronx. Add 80-degree sunshine, a stage and flash tattoos to the mix and Martyrs lawn feels a lot like a music festival.
This year CAB (Campus Activities Board) announced the Spring Weekend headliner just five days before the performance and, seemingly, everyone had something to say about it. While CAB's choice for the Spring Weekend headliner is always met with mixed reviews, this year's delay sparked especially heated debate among students (and plenty of rumors, too). Some suggested that the wait was simply a promotional tactic to build anticipation, while other rumors implied that the scheduled performer bailed on the gig at the last minute. The day of their announcement, CAB set the record straight. In an interview with The Ram, CAB president Stephen Esposito, FCRH '17, explained how complex the process of finding an appropriate Spring Weekend performer can be. The administrative restrictions are just that: restrictive. When all of an artist's lyrics must align with Fordham's Jesuit values, a lot of options are eliminated. In addition to ethical value, the price has to be right— the bigger the name, the higher the price tag.
Whether the administration's rules are overkill or not is debatable. On one hand, the university has every right to stand by its Jesuit values. Although CAB may arrange the Spring Weekend performance, the performer is still a direct reflection of the university. On the other hand, forcing all of the artist's lyrics—past and present— to align with the Jesuit mission is tough. Assuming CAB uses their better judgement to choose an artist with decent moral values, couldn't a clause in their contract obligate them to refrain from profanity or provocative content on stage? Reassessing the administration's policies (without entirely throwing their values out the window) could make it easier for CAB to hire a performer that satisfies the student body.
That being said, students are generally aware of these factors when choosing Fordham over larger state schools with bigger budgets and no religious background. Expecting CAB to hire performers like French Montana or Ke$ha is unrealistic for both moral and financial reasons. Personally, I feel like CAB deserves more credit than they get. With the exception of the Under the Tent dance, admission to the Spring Weekend festivities is free for students. Although Timeflies may not be nominated for a Grammy anytime soon, let's not forget that Twenty One Pilots was. When they were announced as the Spring Weekend performers in 2015, I remember the begrudging commentary from friends and roommates. Nobody knew who they were, and for that reason, people were preemptively disappointed. Some students even boycotted the concert in protest, assuming that if nobody went, CAB would "have to" make more of an effort to book a bigger name the following year.
Those non-believers definitely missed out— their performance was awesome, and as someone who also wasn't totally convinced about the announcement of Twenty One Pilots as our Spring Weekend headliner, I'm so thankful I went. The duo has skyrocketed to success in the last two years, with three Grammy nominations in 2017 (including Record of the Year) and a win in the Best Pop Duo/Group Performance category for their hit "Stressed Out." Aside from the fame that followed their Spring Weekend performance, I'm thankful I went, solely because I had a fantastic time.
Not every Spring Weekend headliner is going to be a smash hit, but we shouldn't expect them all to be. While there is definitely a grey area in the administrative approval process, CAB does the best they can with the resources they have. Whoever the Spring Weekend performer is, my advice is to always give them a shot— whether they wind up taking the Grammy stage or remain nameless, you'll get free food and memories out of it regardless.
Sarah Bernstein, FCRH '17, is a communications major from Salisbury, Maryland.