Roma Is a Passionate, Personal Letter From Cuarón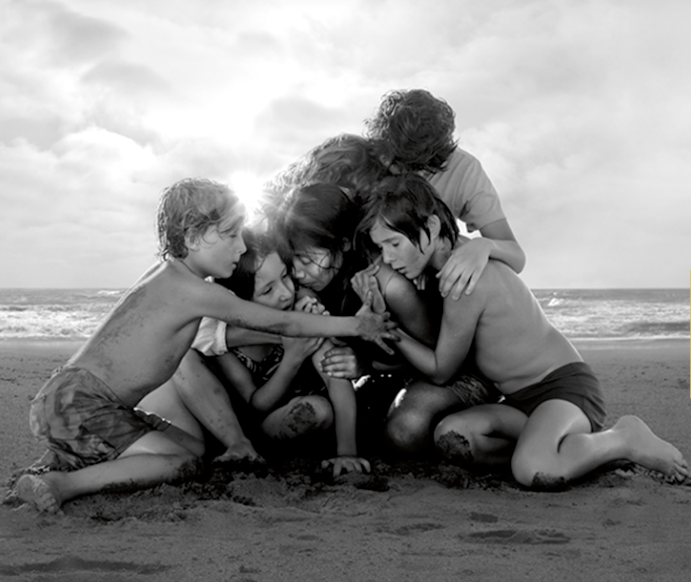 By Ryan Di Corpo
It is increasingly evident that Alfonso Cuarón can do whatever he wants. Cuarón, who won two Academy Awards in 2014 for editing and directing the boundary-pushing Gravity (2013), is no stranger to diverse projects. He followed his sexually provocative Spanish-language drama Y Tu Mamá También (2001) with the young adult-centered fantasy film Harry Potter and the Prisoner of Azkaban (2004). He set Children of Men (2006) in a near-apocalyptic future and Gravity in the depths of space. Cuarón's newest film, Roma, is another break from the obvious.
It is a sensitively written, gracefully shot portrait of a domestic worker in early 1970s Mexico City, where Cuarón spent his childhood. The film is, at turns, both highly intimate and grand in scale. The story belongs to Cleo, one of two housekeepers employed by Antonio, a doctor. While viewers will empathize with Cleo's considerable personal and professional struggles, viewers will not envy her. She is relegated to washing floors, doing laundry, breaking up fights between the children and cleaning up excrement from the family dog, Borras.
After a sexual encounter with a short-term romantic interest, Cleo becomes pregnant and is left without a partner. However, Cleo is genuinely appreciated by the children and the doctor's wife, Sofia—despite her tense mood after she is abandoned by her husband.
Roma is thrilling not only for its compelling portrait of Mexico City teetering on the brink of political violence, but for its introduction of first-time actress Yalitza Aparicio. As Cleo, Aparicio delivers a raw, compassionate and deeply human portrayal of a woman who, despite her circumstances, refuses to surrender. Aparicio seems less concerned with delivering a performance—that is, a show for the camera—and primarily concerned with transmitting Cleo's emotional reality to the viewer. Aparicio develops a personage so utterly convincing that Cleo is not as much a character as someone you know, or wish to know.
Marina de Tavira, the film's only main actor with professional experience, is also excellent as Sofia, who cares for Cleo while also infrequently berating her. De Tavira's task is a difficult one, as Sofia must act as a level-headed authority figure to her children while privately suffering her husband's infidelity. Despite the difference in economic station, as Cleo is subservient to Sofia, their relationship is likely the one most meaningful to Cleo.
Roma is a film of interiors, as most scenes focus on Aparicio's life in the home. Periodically, we get glimpses a Mexico City from long ago, reconstructed with painstaking attention to detail. The city is poised to erupt, as a student demonstration looms. In the most technically audacious moment of the film, Cuarón stages the violence of the Corpus Christi massacre. A seminal moment in the history of Mexico City, the Jun. 1971 massacre claimed the lives of some 120 people, many of them youths.
The scene, which took months to prepare and film, is stunning, involving hundreds of extras and brilliant choreography. Cleo, who is held at gunpoint during the massacre by the father of her unborn child, goes into labor. In the film's most tragic moment, Cleo is rushed to the hospital where she miscarries. Her child was "born dead," the doctor tells her. Filmed mostly in a single static shot, Aparicio is devastating and Cleo's pain—true, excruciating pain—is palpable.
Shot in black-and-white, Roma draws upon the classics of yesteryear, imbued with a neorealist sensibility. Its gorgeous cinematography helps bring the film's era and location to life, without obscuring Cleo's unglamorous life of sacrifice. In all, Roma stands as testament to Cuarón's many inimitable gifts and as a personal tribute to persons too often outside the view of mainstream, multi-million-dollar cinema.