Spring Preview: Rowing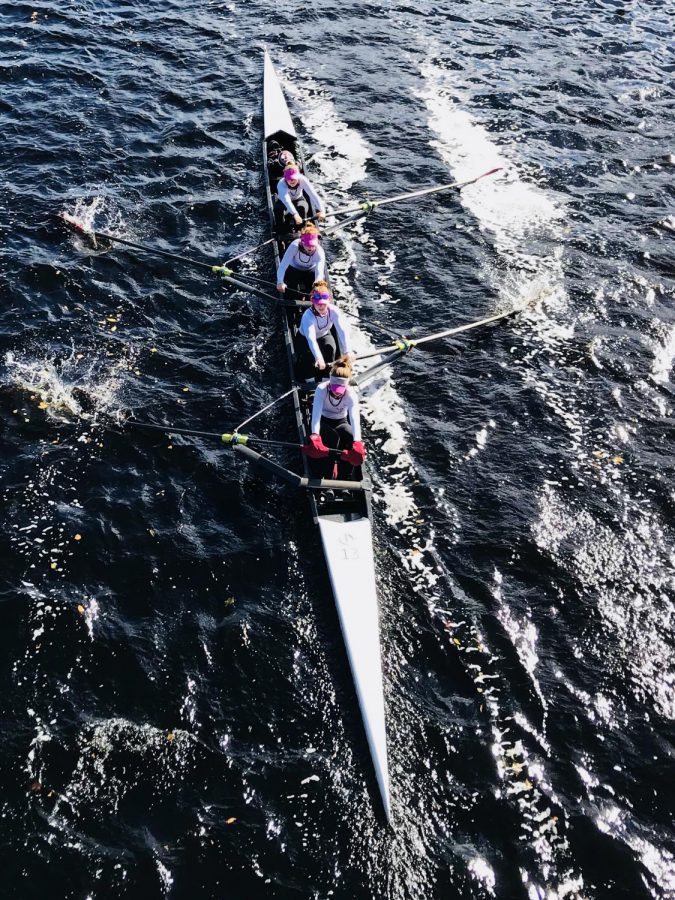 By Maria Trivelpiece
Every team wants to be the one to hoist the Atlantic 10 trophy in the middle of May. This year, the Fordham University women's rowing team thinks that they can accomplish this feat and bring the grand prize back to the Bronx.
The Rams come off a strong fall training season as well as a fourth place finish in the 2018 Atlantic 10 Championships last spring. The team returns seniors Cynthia Luz, Noelle Chaney, Danielle Kosman, Erin Parker, Caroline Roncinske, Emma Spoldi, Erin Stepka and Sarah White, all of whom contributed in some way to the squad last year. The seniors and the rest of the team are prepared for greatness this season. After grinding through their winter training trip in Florida from Jan. 5 through 12, the Rams are ready to kick off their competitions. Senior Caroline Roncinske says she expects the "team to place higher than last year at each regatta that we attend."
This repeated improvement will be key in the Rams' quest to become the best team in the Atlantic 10. Their schedule leading up to the championships was purposely made challenging and rigorous so that the team was prepared. The Fordham University women's rowing team kicks off their spring season in the San Diego Crew Classic in April. "We want to create the fastest boats possible to represent Fordham on the west coast," says Roncinske. "The Crew Classic will be the first race of the season so we are using it as a huge motivation to get faster." Roncinske believes that this motivation can correlate to a better start for the Rams and an overall better performance throughout the season. "We expect a highly competitive team atmosphere with lots of personal records on the rowing machine," says the senior.
In addition to a tough schedule, the Fordham University women's rowing team is calling for collaborative efforts from every single athlete to have a successful year. "Every team member is vital to our success," Roncinske says. "Our coxswains are critical and we expect a lot out of them." The coxswains the senior speaks of are also incredible because of their youth. Lulu Herman, a sophomore, will lead the first varsity eight and freshman Alex Levy will bring up the second varsity eight. The combination of zealous youth in this critical seat and seasoned athletes in the other positions in the boat is something to watch throughout the season.
After the California trip, the team will compete in two regattas on Cooper River in Pennsauken, New Jersey on Apr. 7 and Apr. 20. They will then head to Philadelphia on May 10 and 11 for the annual Dad Vail competition. Finally, the team will compete in the Atlantic 10 Championships on May 18.
The Fordham University women's rowing team will be an exciting bunch to watch this year. They are excited, ready and hungry to begin their spring season. And, they hope to bring some hardware back to the Bronx come May.