Men's Basketball Prevails in Overtime Against Rhode Island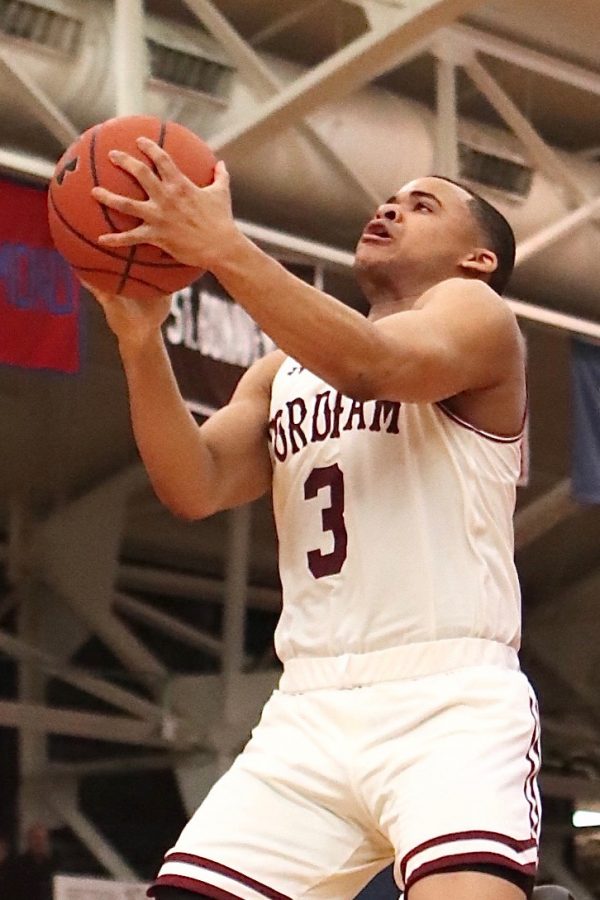 By Andrew Posadas
Fordham Men's Basketball went on the road to the University of Rhode Island in pursuit of their second conference win this season. Freshman guard Nick Honor and junior forward Chuba Ohams both scored 19 points Saturday afternoon, as Fordham would need overtime to down Rhode Island, 66-63.
Ahead of their matchup with URI, head coach Jeff Neubauer admitted the Rams were coming off "one of the toughest stretches this season."
The Rams had previously played three games in a span of six days, going 1-2 in the process. Despite this, Neubauer felt confident his team could go into Kingston and steal the upcoming road game.
The "battle of the Rams" began as a defensive struggle, with both teams needing nearly 10 minutes of game time to score into double-digits. Neither team took a lead larger than three points in the first half. Fordham made their living at the three-point line, knocking down six from beyond the arc. URI did their damage in the first half through the free throw line and by out-rebounding Fordham, 20-12.
A three-pointer by sophomore forward Ivan Raut with less than 25 seconds remaining gave Fordham a slight advantage heading into halftime, 32-29.
The second half saw the Rams in maroon take their biggest lead of the night. A three-pointer by Honor and two free throws by fellow freshman guard Jalen Cobb in back-to-back possessions gave Fordham a six-point lead with over 12 minutes remaining in regulation, 45-39.
Rhode Island; however, would not go away so easily. URI responded with a 6-0 run of their own in the following two minutes. Suddenly, the game was knotted at 45 apiece with the home crowd getting louder and louder.
A layup by Ohams gave Fordham a three-point lead going into the final five minutes. From there, Fordham's youthful inexperience would rear its ugly head again. URI's 8-1 run gave the Rams in blue a 58-54 lead with a little over a minute left in regulation.
At this point, it seemed Fordham would suffer another close loss in conference again. Fortunately, Fordham's finest had other ideas.
Senior forward Jesse Bunting made a layup to cut Rhode Island's lead to two points. After a defensive stop, junior guard Antwon Portley made two crucial free-throws to tie the game with 30 seconds remaining.
URI nearly averted disaster in the final possession after turning the ball over, leaving Jalen Cobb with a potential fast break layup to win the game. Cobb would have made his second game-winning shot of the season, if not for a stellar defensive play by URI guard Fatts Russell which ultimately forced overtime.
Fordham had lost its only other overtime game earlier in the season against Maine. Nick Honor was on a mission to change that. With the game tied at 63, Honor made the biggest shot of the night. A huge three-pointer with less than minute remaining gave Fordham the lead for good.
URI had multiple three-point attempts in the final possession to try and force double-OT, but to no avail. At the final buzzer, Fordham found themselves on the right side of a conference victory, 66-63.
Fordham improves to an 11-14 overall record and 2-10 in the Atlantic 10 conference. Men's basketball will look to build on its positive momentum Wednesday night when they travel to the University of Richmond at 7 p.m.