Softball Drops Three of Four in Las Vegas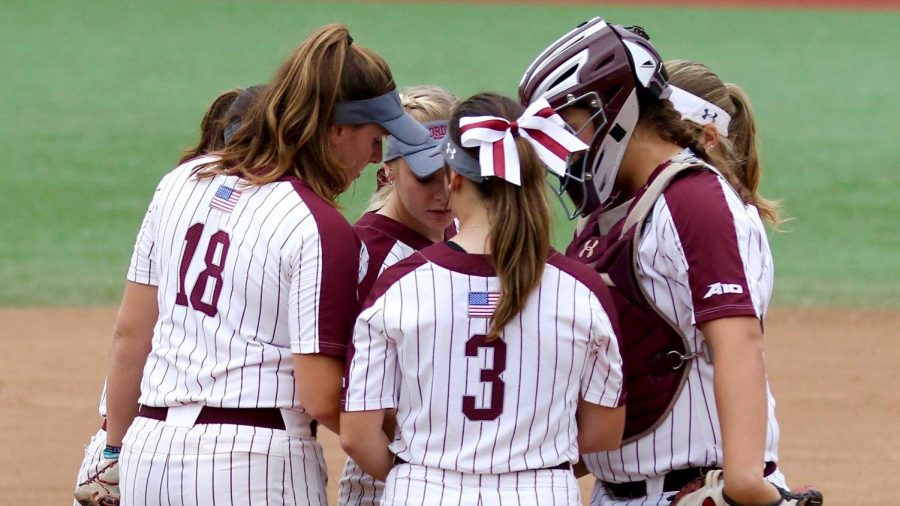 By Emmanuel Berbari
Fordham Softball continued its aggressive out-of-conference slate at University of Nevada Las Vegas' Rebel Classic this past weekend, dropping three of four in a highly-competitive field.
On Friday, the Rams fell to Seattle, 11-3 in five innings and Hawaii, 16-12 in regulation. Finishing its stay on Saturday, Melissa Inouye's squad managed a split, topping Utah Valley 5-3 and coming up to short against Brigham Young University, 11-3, in five. Fordham's record dipped below .500 (4-5) following the slate.
"It was a tough weekend as far as results go," Inouye told Fordham Athletics. "But each game taught us something different."
Friday may have taught the Rams to deal with early adversity more than anything, falling behind six runs prior to the second inning in each contest.
Junior Madie Aughinbaugh's solo shot, senior Maria Trivelpiece's run-scoring double and sophomore Rachel Hubertus' RBI single, combining for a four-run fourth inning, was not enough against a stellar Seattle pitching staff.
Fordham turned Game 1's deficit into fuel for Game 2's early hole, surging into a seesaw battle with Hawaii. Senior Jordy Storm's two-out, two-run two-bagger in the second propelled back into the game, and a five-run bottom of the fourth put the Rams in position to strike.
Hubertus' second jack of the season and Molly Roark's two-run shot gave Fordham the edge, but they were unable to complete the improbable comeback. The Rainbows snared the lead in the sixth and did not look back.
But despite a collective .407/.453/.627 slash, the Rams finished the day empty-handed.
"We're learning and staying with the process," Inouye said. "I thought we swung the bats pretty well throughout the weekend."
Roark made an impact again on Saturday, powering the Rams to early leads with solo homers in both ends of the tilt.
Aughinbaugh, who was mostly flawless in Game 1 against Utah Valley, surrendered a two-run triple to senior Brianna Moeller in the top of the fifth, but her teammates immediately provided the differentiating support.
Fordham broke out with a four-spot in the home sixth — including run-scoring knocks from Storm and seniors Kylie Michael and Chelsea Skrepenak — and did not look back.
In the seventh, the Wolverines loaded the bases with two gone against Aughinbaugh, who wiggled out of trouble for her second victory of the campaign.
The Rams seemed destined for a split in Game 2, jumping out to a 3-0 edge behind a Roark two-run blast and a Hubertus solo dinger, but were promptly silenced by BYU sophomore Arissa Paulson, who scattered a mere two hits for the remainder of the clash. On Fordham's side, sophomore Anne Marie Prentiss worked out of a jam in the first, a situation that would serve as a bad omen for her outing.
BYU struck for six in the second inning, and that's all the Cougars would need, cruising to a 11-3 decision.
Overall, Hubertus, Roark and Skrepenak proved to be one of the standout Rams on the offensive side of the ball. Hubertus' .583/.583/1.167 slash with two home runs and four runs led the way for the maroon and white. Each of Roark's three hits left the yard, while Skrepenak tallied six hits, six runs and two stolen bases.
In the circle, Aughinbaugh appeared thrice, starting two contests and splitting a couple of decisions over 13.2 effective frames, sliding into ninth-place on the program's all-time appearance (73), start (52) and complete game (30) lists.
"We're looking forward to getting back to practice," said Inouye.