Softball Suffers Two Close Losses at NCAA Tournament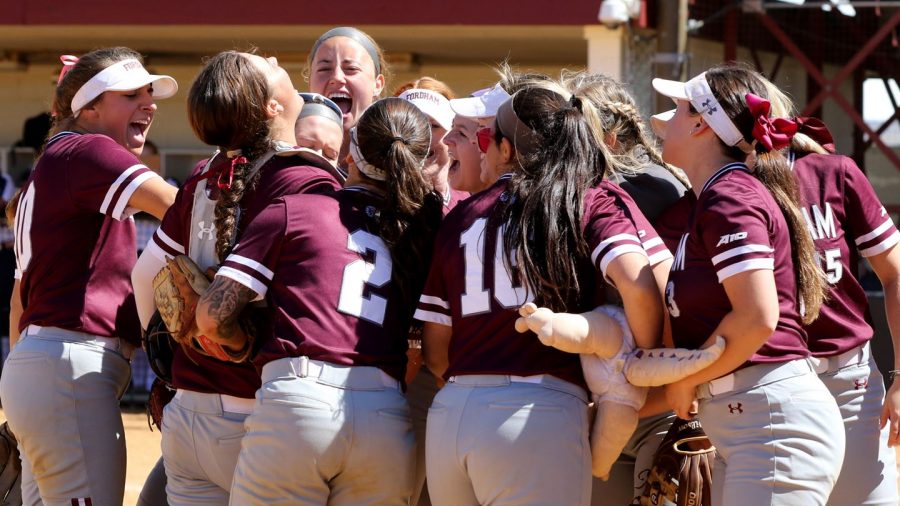 By Jimmy Sullivan
Despite an offseason of major departures and ostensibly devastating losses, Fordham Softball reached its ninth NCAA Tournament of the past decade. However, this year was different – Fordham reached the tournament after the Atlantic 10 championship game was cancelled on May 12 due to rain. Because Fordham had won the conference's regular-season title, the Rams earned the tiebreaker over George Washington University and received the Atlantic 10's automatic bid to the NCAA Tournament.
This bizarre end to the season made Fordham's regular season all the more important. However, neither Fordham or George Washington got to earn the feeling of celebrating on the field after having won the conference's crown.
"Now, it didn't end necessarily the way that we wanted it to. It didn't feel as good as we wanted it to," senior outfielder Chelsea Skrepenak told Fordham Athletics. "But in terms of upholding the legacy and feeling like we earned something, this year out of all years really feels the best."
This year's team had to overcome key losses to get back to this point. After becoming the first player in Atlantic 10 history to be named to the first team at two positions, sophomore pitcher and infielder Paige Rauch followed head coach Bridget Orchard to Villanova. Skylar Johnston, one of the team's leading power hitters in 2018, followed suit and went to NC State. The Rams also endured the graduations of infielder Madi Shaw and pitcher Lauren Quense, two senior leaders and key contributors to last year's team. In spite of all that, Fordham won a seventh straight conference title, and, even though its NCAA Tournament berth came via a technicality, there was no doubting who the best team in the conference was all season.
"I am most proud of how every single year, no matter what obstacles were thrown our way, each team found a way to bounce back and win to keep the legacy alive," Atlantic 10 first-team second baseman Jordy Storm said. "Whether it was losing a starter to injury or losing our coaching staff, we found a way to collectively step up and win."
However, despite the best efforts of superstar junior and 2019 Atlantic 10 Pitcher of the Year Madie Aughinbaugh, Fordham couldn't quite translate that success on a national stage.
The NCAA selection committee sent Fordham to the Seattle Regional, where the Rams would have to face Washington University, the third-best team in the country. Instead of bowing down to the challenge, Aughinbaugh rose to the occasion. A first-inning sacrifice fly and a third-inning RBI single – both off the bat of Washington's Morganne Flores – were the only blemishes on an otherwise excellent outing for the junior. The problem for Fordham was getting any offense going.
Head coach Melissa Inouye's team was held to just two hits against the dominance of Washington starter Gabbie Plain. 14 of the 21 outs Plain recorded on the night were strikeouts, and the Washington hurler allowed just five baserunners en route to her 20th win of the year. With the 2-0 defeat, Fordham would need to emerge from a winner-take-all game the next against against the University of Seattle. Once again, Inouye turned to her workshorse.
And once again, her workhorse did not disappoint.
Aughinbaugh and Seattle's Andie Larkins dueled for seven scoreless innings on Saturday night. Aughinbaugh worked out of minor jams in the second, fourth and sixth innings and was able to keep the Red Hawks off the board through seven innings. But once more, a dominant performance on the other side kept Fordham's bats dormant, as Larkin held the Rams to just five hits in eight innings. In the bottom of the eighth, Aughinbaugh finally buckled. Singles by Alyson Matriotti and Ally Choate put runners on first and third with just one out. In the next at-bat, Madison Cathcart flew out to right. Fordham senior and Atlantic 10 second-teamer Maria Trivelpiece's throw home was late, allowing Matriotti to score and ending Fordham's season.
With this, Fordham heads into an offseason of uncertainty. Storm ended her Fordham career on a high note, hitting .359 and mashing 10 home runs. Trivelpiece has also graduated, alongside outfield mates Deanna Burbridge and Chelsea Skrepenak. Fordham will feel the losses of all three harshly; Skrepenak and Trivelpiece both hit near .350 while Burbridge finished the season hot to hit nearly .300. All three started every game in 2019.
Also departing is catcher Molly Roark, who led the team with 16 home runs, and Kylie Michael, who started the final 24 games of the season and was once again instrumental in Fordham's latest A-10 championship run. Fordham will need to find a way to replace all six of these players, both through recruiting new ones and developing those currently on the roster.
"The thing I will miss most are my teammates," Storm said. "When we say we are a 'ramily' we truly mean it; everyone has each other's back and truly wants to see everyone succeed. The wins and losses will be remembered but not as much as the memories I made with my teammates, whether it was singing on bus rides home or the silly nicknames we gave each other."
All of this being said, Inouye deserves a world of credit for the job she did with this team. After leading the Rams to a regular season title, Inuoye was named the conference's Coach of the Year, and rightfully so. She replaced one of the greatest and most accomplished coaches in the history of the school, and her team didn't miss a beat. Now, she and her staff will be tasked with improving the current roster, both inside and out.
One very important piece will return – Madie Aughinbaugh. Despite the major losses behind her in the circle, her return should be enough to keep the Rams in contention for another conference crown.
Fordham has a lot of work to do this offseason to stay atop the A-10 and ward off up-and-coming programs like UMass, GW and St. Joseph's. But if history has shown us anything, it's this: betting against the Rams would be unwise.
Said Storm: "I can't wait to see next year's team keep the legacy going."