Softball Aims to Build Off Opening Weekend in Houston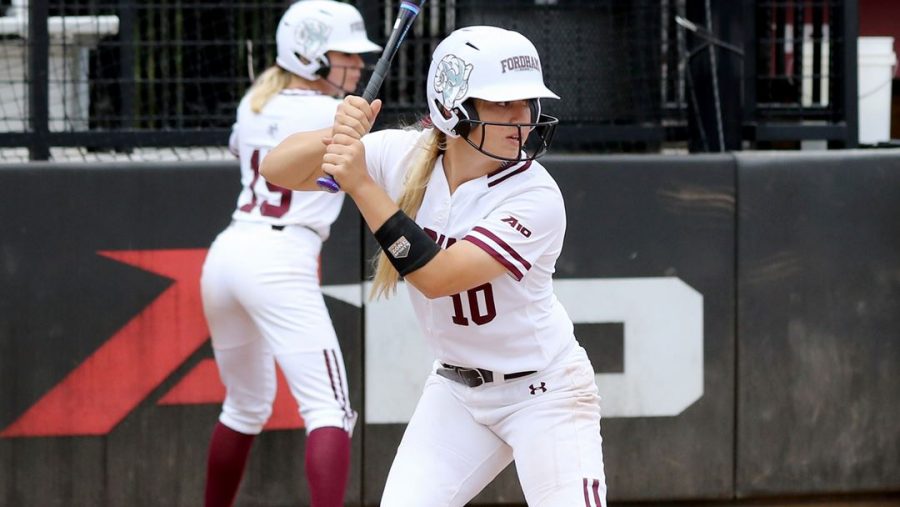 Emmanuel Berbari, Staff Writer
February 12, 2020
A slippery start for Fordham Softball finished on a high note as the Rams continue to search for an identity after a weekend stay at the Houston Invitational.
The Rams dropped their first four matchups, two to Valparaiso University and one game each against the University of Massachusetts Lowell and University of Houston, by a combined 26-22, before escaping with a 4-3 win over Northwestern State University on Sunday.
Notable negatives included an 0-4 start and the pitching staff largely getting shelled.
"We lost a couple of close games but ended the weekend on a good note," senior captain Madie Aughinbaugh said. "We are young, and there are going to be some bumps along the way, but I think we did a good job of coming together and getting it done in our final game."
Fordham's young core gained some crucial experience against a Houston team that nearly won 40 games and fell a couple of runs short of a super regional, a UMass Lowell squad that tallied 15 wins in America East play and an always competitive Northwestern State team.
Fordham hung in every game and proved its offense has not gone anywhere, despite losing six key senior mashers.
Freshman catcher Amanda Carey enjoyed a standout debut weekend, batting .500 with four extra-base hits, including two home runs. Junior Brianna Pinto ripped a team-high six hits and swiped five bags, while senior Madie Aughinbaugh scored a team-best five times. The Rams showed they have a multidimensional offense to replace some of the departed firepower, going a perfect 12-for-12 on stolen base attempts.
While the newly-formed one-two starting pitching punch of reigning Pitcher of the Year Aughinbaugh and freshman Devon Miller were roughed up early on, they ended the weekend on a much more palatable note.
Aughinbaugh permitted eight hits and five runs in her season debut, a complete game 5-4 loss to Valparaiso, outdueled by redshirt junior Kelsie Packard who fanned 12 in a gritty performance.
Houston proved to be no kinder, tagging the All-Atlantic 10 force for six runs on eight hits in 4.2 innings. On the other hand, Miller surrendered five earned runs, including two homers, over four innings in a 9-8 loss to UMass Lowell.
"I don't think it was necessarily that they did well, more so we did not have our best stuff," Aughinbaugh said. "I know I did not throw my best game against Valpo. Houston was able to string a couple of hits together, and that was the difference."
A narrow 6-5 loss to Valpo saw a tag team effort between junior Anne Marie Prentiss and sophomore Makenzie McGrath, who allowed a combined 14 hits.
Miller, though, fired a scoreless 1.1 innings to back up Aughinbaugh against Houston, and paved the way for a much more effective outing to avoid a winless weekend.
The Chadds Ford, Pennsylvania native tossed six innings of seven-hit, three-run (two earned) ball, walking none and striking out four, giving way for Aughinbaugh, who earned the save and sealed the deal on a 4-3 victory with a perfect seventh.
"It was definitely a good confidence boost for us to finish out the weekend on high note," Aughinbaugh said. "The nerves shifted into positive energy and we were ready to compete."
Fordham is back in action this weekend on the west coast at the Fresno State Kick-Off Classic, with matchups on tap against the University of California, California Polytechnic State University, Saint Mary's College of California and the host Bulldogs.