Softball Suffers Frustrating Weekend at Fresno State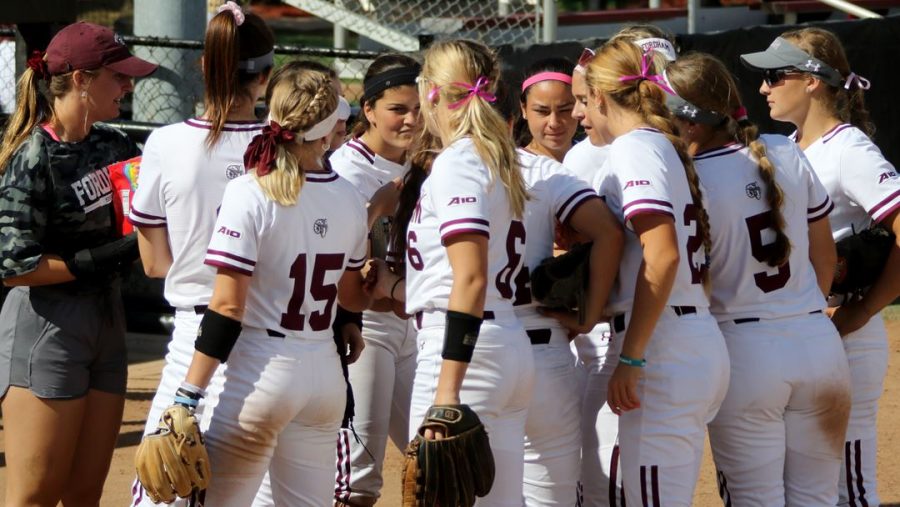 Emmanuel Berbari, Staff Writer
February 19, 2020
It's always dark before dawn.
Fordham Softball knows what it's like to compete against the best, fall down and rise stronger than ever.
Whether the rise occurs in 2020 remains to be seen, but the Rams will be following a familiar model.
With a winless weekend at the Fresno State Kickoff Classic, dominated by a combined 34-7 over five games, the seven-time defending conference champs fell to 1-9 on the young season.
The pitching staff allowed an average of seven runs per game, falling twice to Fresno State and once to California University, California Polytechnic State and Saint Mary's College, with senior ace Madie Aughinbaugh surrendering 20 hits and 20 runs (eight earned) across three starts and 13 total innings.
"Augie and Devon (Miller) gave us chances to stay in the game, but unfortunately, there were a few key moments where if we made a few more defensive plays then we would have gotten out of those big innings," head coach Melissa Inouye said. "Cal is a dynamic lineup because of all of the lefty hitters, and I think Fresno State was the most potent and balanced offensive lineup we faced so far this year."
California thwarted the Rams 8-0 in five innings, and Fresno State bested Aughinbaugh and freshman Devon Miller, who permitted six hits and seven earned runs in 5.1 shaky innings on Friday. Cal Poly tagged junior Anne Marie Prentiss for eight hits and five earned runs over 2.1 frames in a 6-1 decision.
The Rams' dynamic one-two punch gained some much-needed momentum at the end of the weekend, as Miller finished the Cal Poly loss with 4.2 innings of one-run ball, fanning three, before Aughinbaugh took the tough luck 2-1 loss to Saint Mary's despite six stellar innings, allowing just one earned run.
While the pitching staff can be blamed for the goose egg, overpowered by powerful lineups, through two weekends, the lineup has not provided a spark.
"We always ask our pitchers to give us a chance to win, and Augie did just that in our last game," Inouye said. "Unfortunately, we didn't executive offensively to give us enough run support."
Fordham averaged a tick over one run in the 0-5 weekend.
The Rams were one-hit by Cal, five-hit by Cal Poly, scattered four base knocks in the second Fresno State loss and registered seven hits, yet only one run, against Saint Mary's.
"Hitting is one of the hardest things to do, as you fail seven out of 10 times," Inouye said. "I don't think we were seeing the ball particularly well this weekend, but we will keep getting better with each game."
Through nine games, the maroon and white are posting three runs a contest and hitting .224 as a unit. Freshman catcher Amanda Carey has two of the team's three home runs.
In terms of finding alternate solutions, a 14-for-14 effort on the base paths last weekend was undone by only 1-for-2 on the west coast.
"We just need to do a better job of finding a way on base by having quality at bats, stringing things together and execute when runners are on base," Inouye said. "Hitting is contagious, and so we just need to find more consistency in our hitting line up."
Last year, Fordham started 5-11. In 2018, 0-8 and 2-11 left no room for doubt.
The caliber of opponents is fierce, preparing the Rams for Atlantic 10 battles.
"It was a frustrating weekend for sure as we just didn't play complete games," Inouye said. "We know were so close, and it's just a matter of time before things start to come together more consistently."