Softball Sweeps Saint Joseph's to Win Its Tenth Straight Game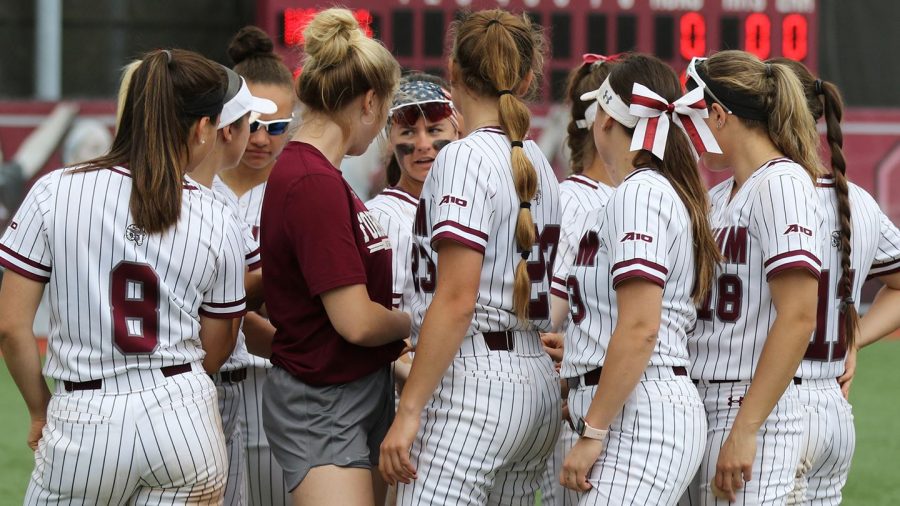 By Emmanuel Berbari
Scoring 10 runs in the second inning sounds like a rarity for any game that involves a diamond, a ball, a bat and some leather gloves. Well, as the nation as learned over the last several years, anything is possible for Fordham Softball.
The Atlantic 10's hottest team accomplished that feat twice, yes twice, this week and, on Sunday, plated an astonishing 16 in the second and cruised to a 10th straight victory, an 18-2 win over Saint Joseph's, completing a sweep of the weekend three-game set and improving to 9-1 at Bahoshy Field this season.
With the win, the Rams improved to 22-20 overall and a first-place 14-3 in Atlantic 10 play, while the Hawks, who were looking to assert themselves in the conference standings, fell to 21-19 and 9-6, respectively.
"We continue to swing at good pitches and hitting is contagious," head coach Melissa Inouye told Fordham Athletics. "The team has done a great job on feeding off of each other's energy and at-bats."
13 hits, two stolen bases, one walk and four errors highlighted the wacky frame in which Fordham registered 19 at-bats.
In total, 18 runs and 17 hits would be more than enough for any competent starting pitcher incredibly, it was not the best offensive outburst from the Rams this season, with a 21-run barrage against Detroit Mercy. For Fordham, junior ace Madie Aughinbaugh has accomplished plenty more with plenty less.
Having virtually nothing more to do than attack from the second inning on, she held Saint Joseph's to a mere four hits and two unearned runs in her 16th complete game performance of the season, her ninth in 12 tries in conference play.
Six different Rams tallied multi-hit performances, while every starter recorded at least one hit. Aughinbaugh, who improved to 13-9 with a 2.69 ERA in the circle, wouldn't have needed it, but she also provided her own support, raking to a 3-4 effort at the dish with four RBI, tying a career high.
"Aughie and Molly did well today mixing pitches against a scrappy lineup," said Inouye.
Seniors Chelsea Skrepenak and Jordy Storm each reached safely three times, combining for five runs scored.
Freshman Julia Martine and seniors Molly Roark and Maria Trivelpiece all collected two hits, two runs and two RBIs apiece.
For some perspective on Fordham's dominance this weekend, the team managed a .380 batting average, including a .625 clip from Storm and a .600 weekend from Aughinbaugh, who, aside from her pitching prowess, collected a team-high six hits. 10 players managed at least one run batted in.
Conversely, the Hawk's struggled to a .181 average against the Fordham staff.
"It's been fun to watch them swing with confidence," said Inouye.
In 17 conference games, senior Kylie Michael, Storm, Trivelpiece and Roark are hitting .400 or better, Fordham is collectively hitting a stellar .339. In 12 conference outings, Aughinbaugh is 10-0 with a sub-2.00 ERA over 71 innings.
Only six league games remain, eight games in total, for the Rams this season. Fordham will make its final road trip this weekend to face Massachusetts in a crucial series with conference tournament seeding implications, but the first order of business will be home midweek clash with 25-18 (6-8, Big East Conference) Providence squad on Wednesday.