Women's Basketball Victorious on Senior Day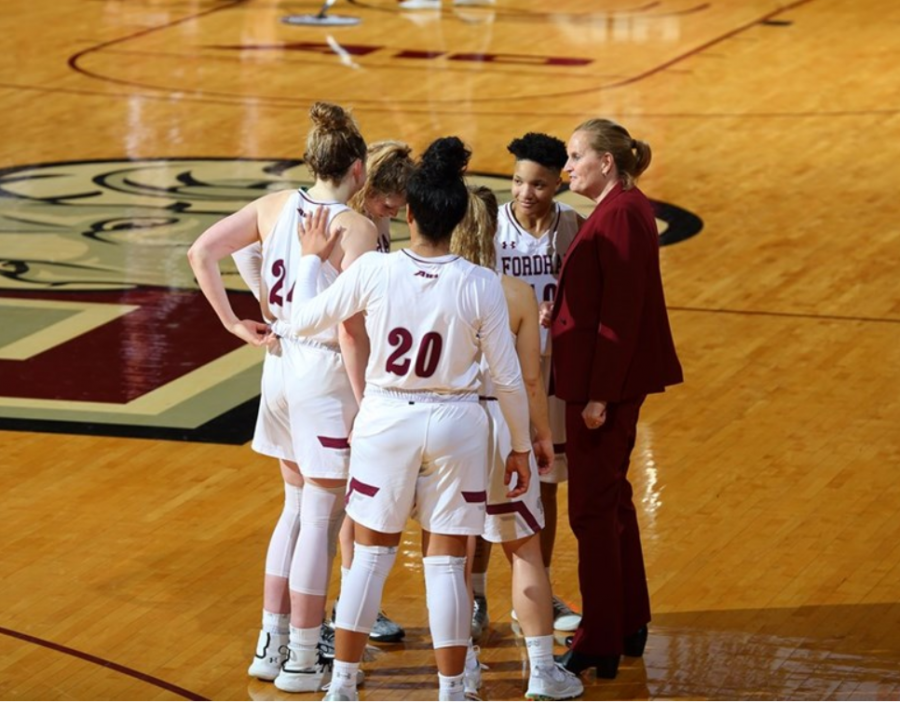 By Jack McLoone
It was a slow start for the women's basketball team's starting seniors Mary Goulding and Lauren Holden on Senior Day against the UMass Minutemen on Sunday, but the rest of the team got off to a hot start on its way to a 76-64 win. The Rams' winning streak is now up to seven in a row, and they are 20-8 overall, including 11-3 in the Atlantic 10. The Rams are still in second place in the conference.
The game opened with a nice ceremony for the team's three seniors in Goulding and Holden, plus recent addition graduate student transfer Alexa Guiliano. All three had family in attendance, including Goulding, who is from New Zealand.
"Lauren and Mary have been instrumental to our success," said head coach Stephanie Gaitley in an email. "They have averaged 20 wins and have been crucial to our success as both players and leaders."
"Alexa is a classic case of [how] a stat sheet can't always tell the story of someone's impact," Gaitley also said. "She has been a valuable asset to our program."
After the ceremony, the Rams were on fire early, hitting four threes in a row to start the game: one apiece from sophomore guards Bre Cavanaugh and Kendell Heremaia and two from freshman forward Kaitlyn Downey. It took until the 6:32 mark for the Minutemen to get on the board, turning the Rams' first miss into a three on the other end.
It was not until there were two minutes left in the quarter for the Rams to make a non-three, getting two more threes from Cavanaugh in the meantime.
Cavanaugh went 3-7 from the field in the quarter, with all of her makes coming from deep. Overall she tied her season-high in points with 27 and did so incredibly efficiently, going 10-19 from the field, including 5-10 from three, plus making both of her free throws. She also added six rebounds and three assists.
"I think Bre is gaining back her confidence due to the extra time she is putting into her game," said Gaitley. "Her best basketball is still ahead of her."
However,  two of the key players for the day both got off to sluggish starts.
Goulding was the first of the seniors to get on the board, though not until a minute and a half into the second quarter when she hit a layup to put the Rams up 27-13 after a steal by Cavanaugh.
Goulding finished with 15 points on 7-13 shooting (1-3 from three), plus eight rebounds and six assists, though she did commit five turnovers. She also had a quintessential Mary "Hustle" Goulding moment when she got into a fight for a loose ball near the end of the first half, flipping a UMass player completely over herself and then catching a stray elbow after the whistle for a technical foul.
The technical foul shooter was fellow senior Holden, who scored her first points of the day on a pair of foul shots of the standard variety with four minutes left in the quarter. She didn't make a field goal until 30 seconds into the third quarter. She finished with nine points on 2-6 shooting — 1-3 from three — and four made field goals. She also had five assists.
The Rams were scorching hot in the first half, out-pacing the Minutemen 46-28. Things slowed down in the second half, with UMass topping Fordham 36-30, but the lead was too far out of hand.
"Senior Days can always be tricky," said Gaitley. "We had a solid week of practice so I was confident we would be able to navigate the emotional side of things."
The big lead allowed Gaitley to empty the bench towards the end, with every dressed player seeing a little time, including Giuliano, who received just as big a hug as Goulding and Holden when she checked out despite logging only one minute and 56 total this season.
While Sunday was the Rams' Senior Day, it will not be their last regular season home game. That will come on Wednesday when they will face the Dayton Flyers at 7 p.m.