Men's Basketball Split Final Two Games to End Regular Season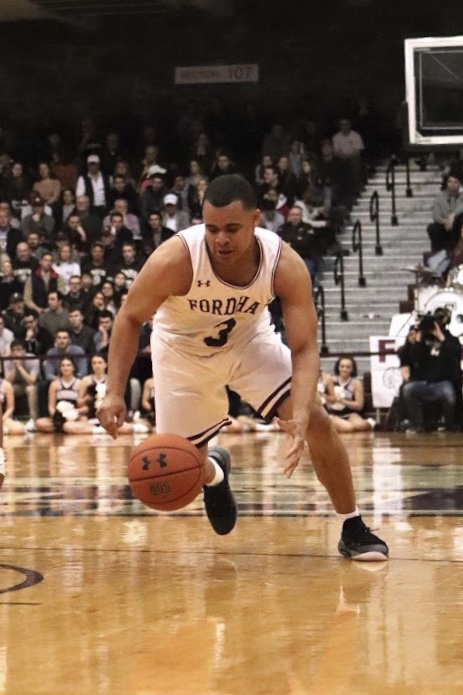 By Andrew Posadas
Fordham Men's Basketball wrapped up its regular season this past week by winning its final home game on Senior Day and losing in its season finale on the road.
It's hard to believe the Rams boasted a 9-4 record in December after the struggles Fordham has endured in the last two months. Coming into last Wednesday's game against George Washington University, the Rams faced a different type of adversity.
Last Monday, news surfaced that senior forward Jesse Bunting suffered a minor stroke. Fordham head coach Jeff Neubauer confirmed the report and stated Bunting would miss the remainder of the season. In his honor, the Rams wore special "Play for Jesse" t-shirts pregame while the Colonials wore red shoelaces in a nod of support for Bunting.
Junior guard Antwon Portley was also unavailable to play due to illness. Despite the circumstances, Fordham played an inspired game throughout. An efficient first half saw the Rams make seven three-pointers, including four from Sophomore forward Ivan Raut. A high-powered offensive attack gave Fordham a 43-28 lead at halftime.
George Washington opened the second half on a 17-3 run, ultimately cutting Fordham's lead down to one at the 12-minute mark. Nevertheless, the Rams were not going to be denied a win on Senior Day.
Nursing a two-point lead with six minutes remaining in regulation, freshman guard Jalen Cobb hit two three-pointers to help power an 11-0 Fordham run. The Colonials would not recover.
Playing their most spirited basketball of the season, the Rams would win their final home game of the season, 67-56. Cobb led Fordham with a team-high 15 points while freshman guard Nick Honor added 10 points and six assists. Neubauer praised his team postgame for its collective effort. He went on to say, "Our hearts and minds were with Jesse, and we performed for him tonight."
Unfortunately, the season did not end after last Wednesday's inspirational win. The Rams regular-season finale came this past weekend at LaSalle University.
Its first half performance against the Explorers looked nothing like what Fordham did against the Colonials. The Rams shot less than 25 percent from the field and could not develop a rhythm. Three-pointers that were falling in the previous game were not dropping on Saturday. LaSalle, not playing much better themselves, were able to take advantage and secure a 30-18 lead at halftime.
Fordham's offense eventually woke up in the second half, accounting for 39 points in the second half. It would not matter as the Explorers stayed hot on the offensive end. LaSalle shot over 50 percent in the second half and added eight more three-pointers.
An efficient, methodical performance kept La Salle's lead in double-digits and without doubt. Fordham fought back, but it was for naught. The Rams ended their regular season with a 72-57 loss to the Explorers.
Standout performances for Fordham include junior forward Chuba Ohams earning a double-double with 13 points and 10 rebounds. Cobb and fellow freshman guard Ty Perry also contributed with 10 points each.
The loss finalizes Fordham's regular-season record at 12-19 overall, and 3-15 in the Atlantic 10.
Now, Men's Basketball will focus its attention on the Atlantic 10 Conference Tournament. The Rams are locked in as the 14th-seed and will face 11th-seeded Richmond. The Rams kick off first round play from the Barclays Center in Brooklyn this afternoon at 3:30 p.m.