Women's Basketball's Bre Cavanaugh Wins Atlantic 10 Player of the Year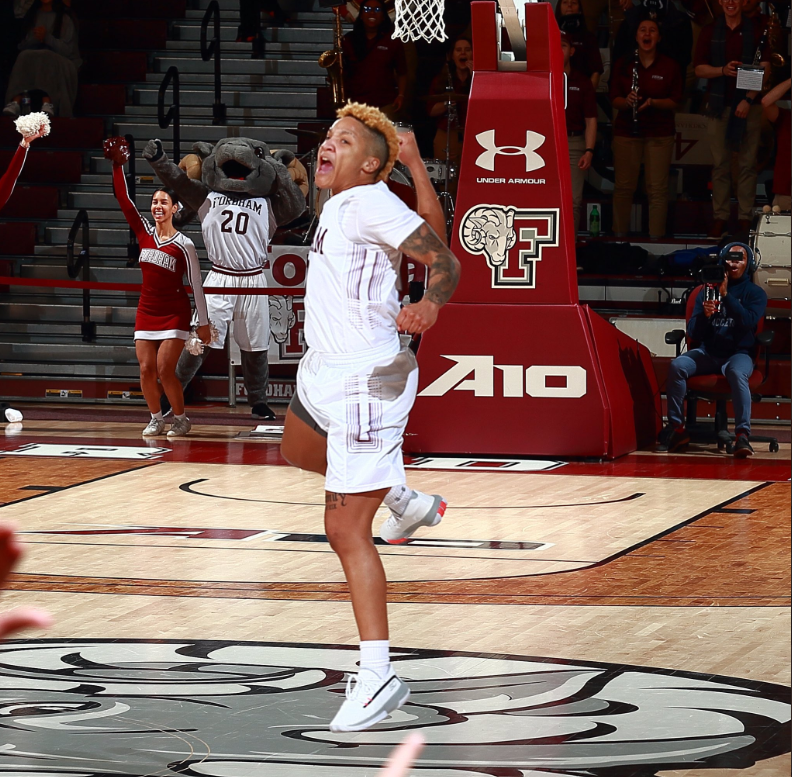 Jimmy Sullivan, Sports Editor
March 5, 2020
On Thursday, the Atlantic 10 confirmed what everyone already knew: that Fordham junior guard Bre Cavanaugh was its best player. 
Cavanaugh has been named A-10 Player of the Year for the 2019-20 season after she scored 19.5 points per game and grabbed over six rebounds per game. However, Cavanaugh took her play to another level in conference play, as she scored over 21 points per game in 16 conference contests. In Fordham's first-round game against St. Joe's on Tuesday night, Cavanaugh played up to her season averages, with 22 points and five rebounds. 
Cavanaugh has been playing at a high level since arriving at Rose Hill in 2017. In her freshman season, she earned second-team all-conference honors and made the league's all-rookie team. However, she lost out on conference Rookie of the Year honors to George Mason's Nicole Cardaño-Hillary, who had an excellent season of her own that year with 18 points per game to Cavanaugh's 17. Last year, Cavanaugh took another step forward, making the A-10's first-team but losing out on Atlantic 10 Player of the Year to Cardaño-Hillary once again. Last year's race was razor-thin, with some feeling that Cavanaugh should have won Player of the Year because of her play combined with Fordham's team success.
This year, heading into her junior year, Cavanaugh left no doubt as to who the conference's best player was.
Despite playing in every game this season and playing all but 39 minutes this season, Cavanaugh left everything on the floor and never showed even the slightest signs of tiring. She upped her scoring numbers to 19.5 points per game, along with slight improvements in efficiency. Cavanaugh has scored 20 or more points in 14 of Fordham's 17 conference games, including the postseason. The highlight of her season was her last-second three-pointer over Davidson on Feb. 13 to give Fordham the win and Cavanaugh her first game-winner.
The honors did not stop there for Fordham, however.
Fellow junior Kendell Heremaia made the conference's third-team after a season in which she showed improvements in all areas of her game. Despite being just 5'9", Heremaia was the league's third-leading rebounder and was a presence for the Rams inside. She also scored 12.2 points per game and averaged 2.8 assists to lead her team. Heremaia has improved leaps and bounds in her time in the Bronx and thanks to hard work and determination, she has emerged as one of the Rams' best players this season.
Elsewhere, freshman guard Anna DeWolfe was named to the Atlantic 10's all-rookie team after averaging 12.5 points per game to be Fordham's second-leading scorer this season. DeWolfe's ability to make difficult shots and shoot from outside was critical for Fordham, as she was able to take the load off Cavanaugh and Heremaia when needed this season. Finally, junior forward Zara Jillings was named to the conference's all-academic team thanks to her stellar work in the Gabelli School of Business, which she graduated from in December after just 2 1/2 years.
Fordham raked in several individual awards on Thursday, but the team's greater focus is on Friday night's Atlantic 10 quarterfinal matchup with Duquesne. Tip-off for that game is at 7 p.m., and Cavanaugh, Heremaia, DeWolfe and Jillings will only be content if the Rams bring home a second-straight conference title.