Beyond the Scoreboard: Speak up and Dribble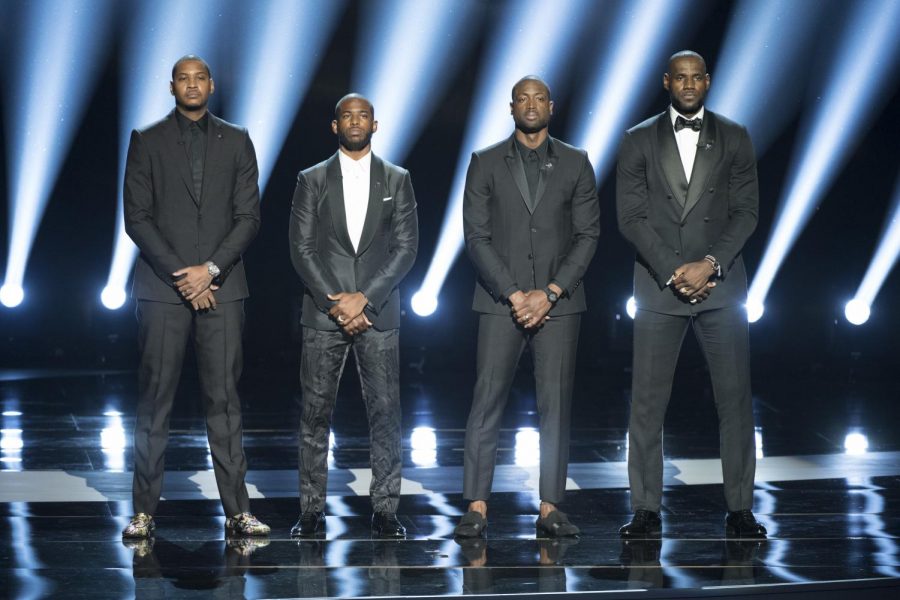 Andrew Posadas, Managing Editor
June 2, 2020
At some point last week, we all became witnesses to George Floyd's death in Minneapolis after Darnella Frazier's video went viral on social media. We witnessed George Floyd's final cries for help as he called out for his mother and repeatedly yelled, "I can't breath." We witnessed him gasp his last breath of air in that 10-minute video, no longer able to withstand the knee pressed against the back of his neck by Derrick Chauvin for nearly nine of those minutes. We were witness to yet another senseless killing of an unarmed black person by white police officers in the United States.
In the days that have followed Floyd's death, we've seen groups of peaceful protests promoting a positive message for black equality in all 50 states throughout our country and worldwide. It has also seen groups of people engaging in looting and rioting, some doing it to incite violence for their own agenda setting unrelated to Floyd, and others doing it simply because they have had enough of the racial injustices suffocating black people in America.
I believe it's imperative that this column highlight the athletes participating in peaceful protests and speaking out on the social injustices currently facing our country. Although the examples throughout this column will focus on NBA and WNBA players, there are countless others across all sports using their platform to voice their opinions. Because these athletes, like most of us, realize that doing just enough is no longer tangible in achieving substantial change.
Jaylen Brown drove 15 hours from Boston to Atlanta in order to lead a peaceful protest over the weekend on Saturday. The Boston Celtics guard, from nearby Marietta, knew he needed to be with his community. Brown would expound further on an Instagram live video, saying, "Being a celebrity, being an NBA player, don't exclude me from no conversations at all. First and foremost, I'm a black man and I'm a member of this community. We're raising awareness for some of the injustices that we've been seeing. It's not OK."
Joining Brown in Atlanta were fellow NBA players Justin Anderson of the Brooklyn Nets and Indiana Pacers guard Malcolm Brogdon. Brogdon appeared on ESPN's "First Take" Monday morning, emphasizing the importance of continuing to speak out and protest in order to "shed light on a broken system." Brogdon went on to say, "And my fear is that we as a people will become numb to it. So it's important for us to stay outraged."
On Sunday, WNBA Champion and Washington Mystics guard Natasha Cloud wrote an essay through the Players' Tribune entitled "Your Silence Is a Knee on My Neck." In it, she calls for everyone, including all athletes, to get involved to move the needle in the right direction. When addressing those in the athlete community who are remaining silent or being neutral, Cloud believes the fear of losing sponsorship deals and alienating certain types of fans is no longer an excuse. As Cloud states in the essay, "We don't have time for that. Not when lives are being lost."
Upon reading Cloud's essay, I immediately thought of another WNBA player: Minnesota Lynx star Maya Moore. Moore made headlines after announcing she was taking the 2019 season off while still in her athletic prime at 29 years old. One of her reasons was to support Jonathan Irons, who she believed was wrongly convicted of a crime he did not commit in 1998 that led him to be sentenced to 50 years in prison.
Moore's work with Irons finally paid off this past March, when a Missouri judge overturned Irons' conviction, releasing him after spending 23 years in a maximum security prison. Moore was recently named as a finalist for the Muhammad Ali Sports Humanitarian Award at this year's ESPY awards. Whether she wins it or not is likely inconsequential to Moore, but more attention must be paid in regards to her efforts off of the basketball court.  
Former NBA player Stephen Jackson, who played 14 years in the league, led a protest in front of Minneapolis City Hall last Friday. Jackson and Floyd grew up in the Houston area together. They developed a close friendship due to their physical resemblance, so much so that Jackson referred to Floyd as his "twin."
Now, Jackson mourns the loss of a brother. Jackson's words have been powerful in demanding justice for Floyd's death, but something else resonated with me too. Supporting Jackson at that protest was Minnesota Timberwolves all-star Karl Anthony-Towns.
For those who may not know, Towns experienced the tragic loss of his mother, Jacqueline Cruz-Towns, back in April due to complications from COVID-19. She was 58. Nobody would cast aspersions on Towns had he not shown up to that rally or decided to remain silent during this time to continue grieving his mother's untimely death. Yet Towns put his own personal grief aside to support Jackson, the entire Floyd family and black people everywhere asking for change.
It seems not too long ago when four of the NBA's biggest stars, LeBron James, Dwyane Wade, Chris Paul and Carmelo Anthony opened the 2016 ESPY awards by calling for an end to police brutality and retaliatory violence. James asked his fellow athletes to "to educate ourselves, explore these issues, speak up, use our influence and renounce all violence." Wade pleaded with everyone listening and watching, saying, "The racial profiling has to stop. The shoot to kill mentality has to stop. Not seeing the value of black and brown bodies has to stop."
I think back to the last time a prominent athlete was told to "stick to sports" after voicing their opinion through constructive discussion. In February of 2018, Fox News host Laura Ingraham told LeBron James to "shut up and dribble" when he decided to discuss issues unrelated to the game of basketball, which included his thoughts on political matters. James responded perfectly to Ingraham by saying, "We will definitely not shut up and dribble. I mean too much to society, too much to the youth, too much to so many kids who feel like they don't have a way out." James would take it one step further when he titled his three-part documentary series "Shut Up and Dribble," which premiered later that fall on Showtime. The docuseries focused on the changing role of athletes in America's cultural and political environment through the lens of the NBA.
This is exactly the type of mentality we should expect from all of our athletes. That type of mentality prompted Muhammad Ali to declare himself a conscientious objector to the Vietnam War in 1967. He refused induction into the U.S. Army and was subsequently exiled from boxing for three years because of what he believed in. It's what led Tommie Smith and John Carlos to raise their fists in protest at the 1968 Olympics in Mexico City, knowing they were literally risking their very lives in doing so.
I'd be remiss if I didn't mention Colin Kaepernick in the same breath with those figures. After kneeling for the very first time before an NFL preseason game in 2016, Kaepernick declared, "I am not looking for approval. I have to stand up for people that are oppressed."
He used his constitutional right to protest peacefully, sacrificing his football career in the process for a cause bigger than himself and bigger than everyone who cheered or judged him for it. Kaepernick tried to warn us four years ago that the system in this country is inimically unjust towards people of color, primarily black people. And in return, NFL fans labeled him "anti-American" and NFL owners effectively blackballed him out of the league. Ironic when you consider the NFL uses a shield in representing its logo, but where was that proverbial shield when it came to protecting and supporting one of its players utilizing their platform to peacefully protest in Kaepernick?
When asked whom he was protesting for after initially kneeling, Kaepernick said, "I couldn't see another hashtag Sandra Bland, hashtag Tamir Rice, hashtag Walter Scott, hashtag Eric Garner. The list goes on and on and on. At what point do we do something about it? At what point do we take a stand and as a people say this isn't right?"
These words from Kaepernick, so clearly ahead of the curve in addressing these social issues peacefully back in 2016, ring as true now as they did then. However, this time, the entire community of athletes need to echo these same sentiments for change to be made, especially from the prominent non-black athletes. And that goes for the entire collective human race too. We can never progress as a society if we don't come to this fundamental conclusion: all lives will not matter until black lives matter to all.