Women's Basketball Surrenders 17-Point Second Half Lead in Atlantic 10 Semifinal Loss to VCU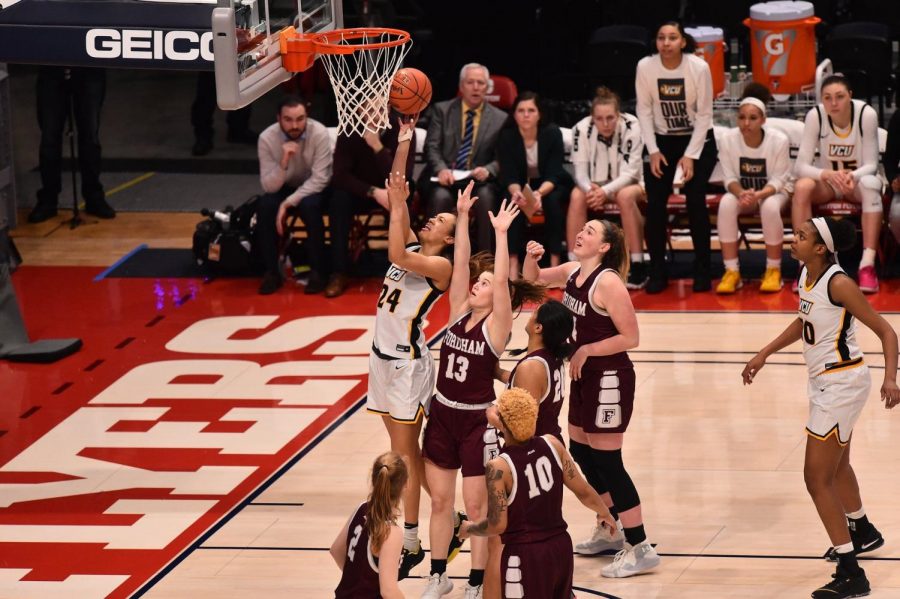 Jimmy Sullivan, Sports Editor
March 8, 2020
Fordham Women's Basketball has prided itself on execution and limited mistakes over the past few years. Fordham is first in the Atlantic 10 in turnovers per game and second in the conference in turnover margin. The Rams don't commit silly fouls, and they play a hard-nosed brand of defense that makes it difficult for teams to come back once Fordham has built a lead.
All of this makes what happened on Saturday afternoon all the more confusing.
Despite holding a 41-24 lead late in the third quarter, Fordham fell to Virginia Commonwealth University 60-55 in the Atlantic 10 semifinals in Dayton, Ohio. VCU outscored Fordham 36-14 in the final 13 minutes of the victory to earn a trip to the A-10 title game and stunningly eliminate Fordham from the tournament.
The first 27 minutes of the game were a dream for Fordham and head coach Stephanie Gaitley. Fordham held VCU to just 2-13 (15%) shooting in the first quarter en route to a slim early lead. VCU tied the game at 17 with over four minutes left in the first half, but Fordham closed the half on a 9-0 run to take a nine-point lead into the half. Freshman guard Anna DeWolfe was the offensive catalyst for Fordham, as she scored the first six points for Fordham and finished the half with 11 points. Junior guard Bre Cavanaugh added nine points, and most importantly, Fordham held VCU to 17 points and 22% shooting in the first 20 minutes.
Coming out of the halftime break, Fordham threw a haymaker that threatened to end the semifinal fight.
The Rams made their first three shots of the second half to go on a 6-0 run and extend their lead. Baskets by sophomore forward Kaitlyn Downey, Cavanaugh and DeWolfe put Fordham up 35-19 with 7:45 left in the third quarter. Fordham maintained this edge over the next few minutes, and a three by Downey that hit all parts of the rim — including a slight bounce off the backboard — put Fordham up 41-24 with 3:14 left in the third quarter. Fordham was in the best possible position: a lead of nearly 20 points with VCU struggling to put the ball in the basket. The Rams could smell a Sunday showdown with Dayton for the A-10 championship and a chance to win a conference championship for the second year in a row. And then the wheels fell off.
In hindsight, Fordham began to write its epitaph by sending VCU to the free throw line. After Downey's three, VCU — which hadn't made a field goal in over four minutes — scored its next five points on free throws to pull within 12 points. At the end of the quarter, the Rams from Richmond got rolling, with a three from sophomore Madison Haddix-Covington and a basket from senior Atlantic 10 Defensive Player of the Year Danielle Hammond. After three quarters, VCU had made 15 free throws in 17 attempts while Fordham had been to the line just four times. 
In the fourth, the teams spent the first few minutes trading blows. Hammond's basket to cut the Fordham lead to five was met with a quick 5-0 run from the Rams to extend the margin back to double digits. However, VCU scored the next six points and the fight to the finish was on. Free throws from VCU junior Tera Reed cut the lead to three, but four straight points from Fordham gave them a seven-point lead with 4:57 to play. However, Fordham would make just one field goal the rest of the day.
Junior Taya Robinson — who led all scorers with 22 points — brought VCU back within five with 3:28 to go on a jumper, and after a Hammond free throw made it a four-point game, Robinson's three brought VCU within one with just inside a minute to play. Downey was fouled on a rebound attempt on the next possession and went to the line for two free throws. Downey had missed just four free throws on the year, but she missed both this time, and VCU took advantage on the next possession when Robinson's floater put her team up by one. After a missed jumper by Cavanaugh and a missed free throw by VCU's Haddix-Covington, Fordham junior forward Zara Jillings was fouled and had an opportunity to tie the game. However, she missed her second free throw, and Fordham never got closer to victory.
Hammond hit both of her free throws with 21 seconds left to put VCU up by three. Instead of going for the tie, Fordham opted to extend the game, and Cavanaugh made a layup with 13 seconds left to get it back to one. Robinson nearly lost possession for VCU on the ensuing inbound, but she was fouled and made both free throws. With both teams out of timeouts, Fordham decided to go for three to force overtime, but Downey's three-point attempt was blocked by Hammond and recovered by VCU senior Nyra Williams with 0.8 seconds left to send VCU to the A-10 title game.
In the final analysis of VCU's comeback, Fordham will have regrets, but the team will most rue the free throw disparity. VCU made 24 of their 28 attempts from the charity stripe while Fordham had just 10 attempts and made six. The Rams also may regret going away from DeWolfe, who finished the game with 16 points but did not take a shot in the fourth quarter. Cavanaugh led Fordham with 17 points but missed 15 of her 22 shot attempts.
Now, Fordham waits to find out if it made the WNIT, which is the premier postseason tournament for non-NCAA Tournament teams. Fordham is expected to have a place in the Invitational, which starts March 18. Although the Rams should look ahead to this opportunity, provided they get it, they will spend a fair amount of time wondering what could have been.