Women's Basketball Wins First-Round Game Against St. Joe's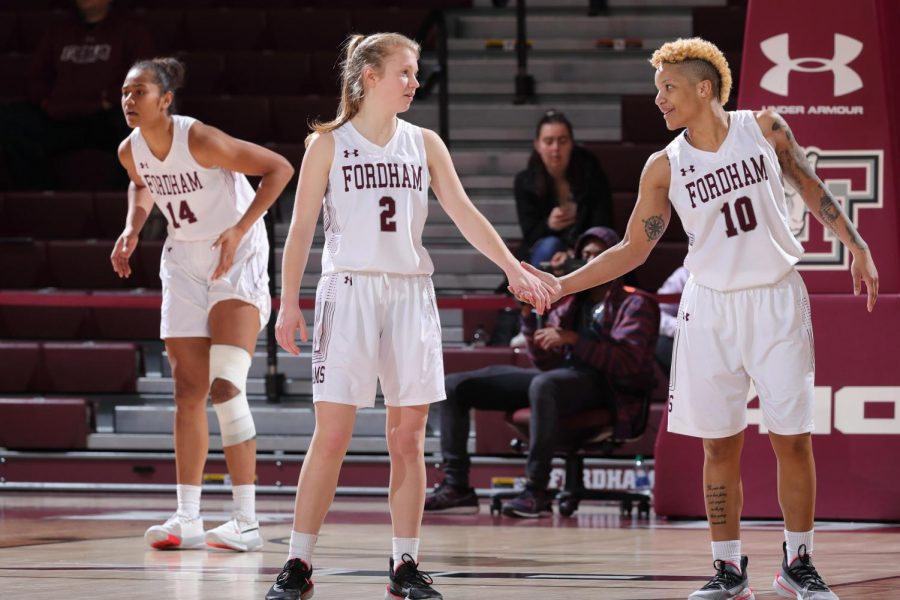 Jimmy Sullivan, Sports Editor
March 4, 2020
Fordham Women's Basketball entered the Atlantic 10 Tournament on a quest to win its second-straight conference title. So far, that journey is off to an excellent start.
Fordham defeated Saint Joseph's University 59-36 on Tuesday night in front of a lively crowd at the Rose Hill Gym. The Rams had a particularly noteworthy performance on the defensive end, holding St. Joe's to fewer points than it allowed from any other opponent this season.
The win over St. Joe's was the second-such victory in four days, as Fordham ended its regular season with a home rout of the Hawks 67-45 on Saturday. The win clinches a spot for the Rams in the A-10 quarterfinals and a matchup with Duquesne University on Friday night at University of Dayton Arena.
"I thought (freshman) Sarah (Karpell) did another great job defensively and of course, (junior) Bre (Cavanaugh) stepped up offensively, but you could look at a lot of different people who stepped up and did some great things," Fordham head coach Stephanie Gaitley said.
Fordham suffocated St. Joe's from the outset defensively. Karpell, the Rams' foremost defensive stopper, held the Hawks' leading scorer, sophomore Katie Jekot, to just eight points on 2-13 shooting from the field. Cavanaugh, despite a barrage of double teams and all of St. Joe's' defensive attention, still got her offense, scoring 22 points on 8-17 shooting in her closing argument to be named A-10 Player of the Year.
Junior Kendell Heremaia also chipped in 15 points, and Gaitley was impressed with her effort on both ends.
"I challenged Kendell in practice yesterday and she responded really well. To me, she's our missing link; when she plays well, I think we're a different team, so I was really proud of her."
Fordham led the game 13-7 after the first quarter and caught fire offensively at the end of the first half, taking a 10-point lead into the locker room and maintaining a 18-4 run from the end of the first half to the beginning of the second.
In the third quarter, the Rams blitzed St. Joe's with hot shooting, as Fordham shot 8-16 and outscored St. Joe's by 13 points to make the game a blowout heading into the fourth. Despite struggling early on, Fordham was able to defend well all night en route to a blowout victory.
With the win, Fordham will face sixth-seeded Duquesne in the A-10 quarterfinal on Friday. Fordham lost 74-63 to Duquesne last Tuesday in what was by most measures Fordham's worst defensive performance of the season.
"I think the only blip on our radar was Duquesne defensively," Gaitley said. "We have a great shot of getting them back." Shortly after this quote, Gaitley learned that her team would be facing Duquesne, and Fordham knocked out Duquesne with a dominant 76-34 win in the semifinals of last year's A-10 Tournament in Pittsburgh.
Fordham will need all hands on deck to win another Atlantic 10 crown. Teams like Duquesne, Virginia Commonwealth University and Dayton will be difficult to take down this time around, and Fordham will enter Ohio with a target on their back as the defending conference champions. Still, the team is feeling good as it tries to win thrice in three days to return to the NCAA Tournament.
Looking ahead to Fordham's road through the conference, it will be difficult. Starting on Friday night, Duquesne boasts multiple double-digit scorers in juniors Libby Bazelak and Laia Sole, both of whom went for at least 20 points when Duquesne toppled Fordham last Tuesday.
If the Rams win, they'll face either Davidson College or VCU, both of whom beat the Rams once in the regular season. Davidson would have beaten Fordham twice had it not been for Cavanaugh's last-second buzzer-beater to win the game for Fordham on Feb. 13.
After that, if Fordham reaches the final, its likeliest opponents are Saint Louis University or Dayton. Fordham played both teams twice in the regular season and split the meetings.
The toughest test for Fordham may be simply playing away from home. Fordham is currently 20-10 on the season and 14-2 at the Rose Hill Gym. Everywhere else, the Rams have a record of just 6-8. That being said, Fordham enters this tournament confident that they can make their way through the conference, and that task starts at 7 p.m. on Friday night at UD Arena.
"I think they're in a great place right now," Gaitley said. "I think we realize that one of our worst efforts was against Duquesne. They're a very good team, don't get me wrong, but I just don't think we played our best basketball so we're looking forward to getting that chance again."