Heremaia's Career Day Leads Fordham Past Richmond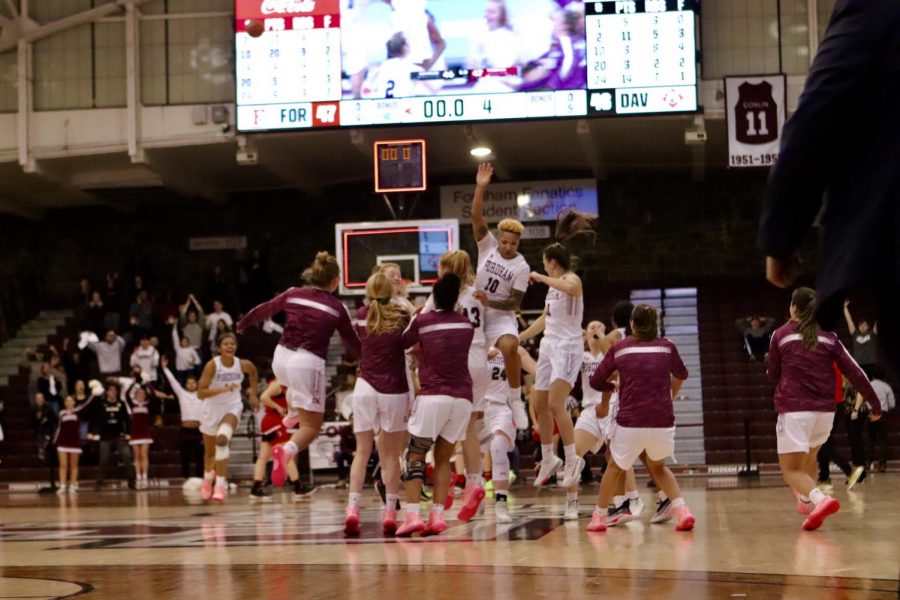 Jimmy Sullivan, Sports Editor
February 19, 2020
At this stage of the season, teams will take wins any way they come. However, as the fight for postseason positioning reaches a crescendo, a team also wants to be playing its best basketball as the season nears its conclusion.
Fordham Women's Basketball did that last season, and the Rams are doing the same so far in 2020.
Fordham notched its fifth straight victory on Sunday with a 64-47 win over the University of Richmond. The story of the afternoon was the play of junior forward Kendell Heremaia, who scored a career-high 29 points to go along with 10 rebounds on 12-17 shooting from the field.
"We went to mass today at 7:30 and I said, 'Kendell, did you pray to God to stay calm and slow down?' and she just laughed," Fordham head coach Stephanie Gaitley joked. "That's how good Kendell can be, and that's why I'm on her so hard, because that's what she's capable of doing."
Heremaia has emerged as one of the best players in the Atlantic 10 Conference and one of Fordham's most important players of the season. Her performance on Sunday, which led Fordham through a competitive first half in which Richmond kept the game close, helped carry the Rams on a day in which other offensive weapons struggled from the field.
Another significant storyline for Fordham, and one that should encourage the team, has been its strong defense as of late.
Sunday's game was the fourth out of five in which Fordham held an opponent to 50 points or fewer, and after dealing with some problems early in the season, the team has appeared to work out its issues on the defensive end.
"I think this team is based on team defense," Gaitley said. "I think that team (last year's A-10 championship team) had some great individual defenders. I think Sarah (Karpell) does a great job individually, but I think it's defense by committee with this team."
That team defense was in full force on Sunday. The Rams forced 27 turnovers on a Richmond offense that averaged over 18 turnovers per game entering the day.
Fordham ended the day with 22 more shots than Richmond, and while the teams shot the ball equally well, Fordham emerged with a blowout victory in part because they valued possession far more than their opponents.
Fordham outscored Richmond by 15 points in the second half and held the Spiders to just 31 points in the final 30 minutes of game action. Richmond led 16-15 after one quarter, but the Rams got it together after that and played one of their best defensive games of the season.
"I thought the defense was terrific," Gaitley said. "I actually thought from the second quarter on it was good. I was disappointed in the first quarter, but I thought the second quarter was great, and from then on, I thought we did a terrific job."
Fordham is now 9-3 in A-10 play and 17-8 on the season. The team is trying to earn a top-two seed in the A-10 Tournament in March, which would entail a first-round bye. Right now, Fordham is tied with Virginia Commonwealth University for second place, but VCU holds the tiebreaker for the second seed because they beat Fordham 62-52 on Jan. 29.
Still, Fordham is once again playing its best basketball at the perfect time. Fordham has not lost a regular-season game in February or March since 2018, and the Rams look primed for their title defense.
That being said, a tough test awaits Fordham over the next few games. The Rams travel to Saint Louis University for a 12 p.m. game on Wednesday before hosting the University of Dayton on Saturday; Dayton leads the conference with an undefeated 12-0 record. After that, Fordham will take on Duquesne University and Saint Joseph's University to close out the season before the A-10 Tournament kicks off in the first week of March.