2/24: What the World Should Remember About Kobe Bryant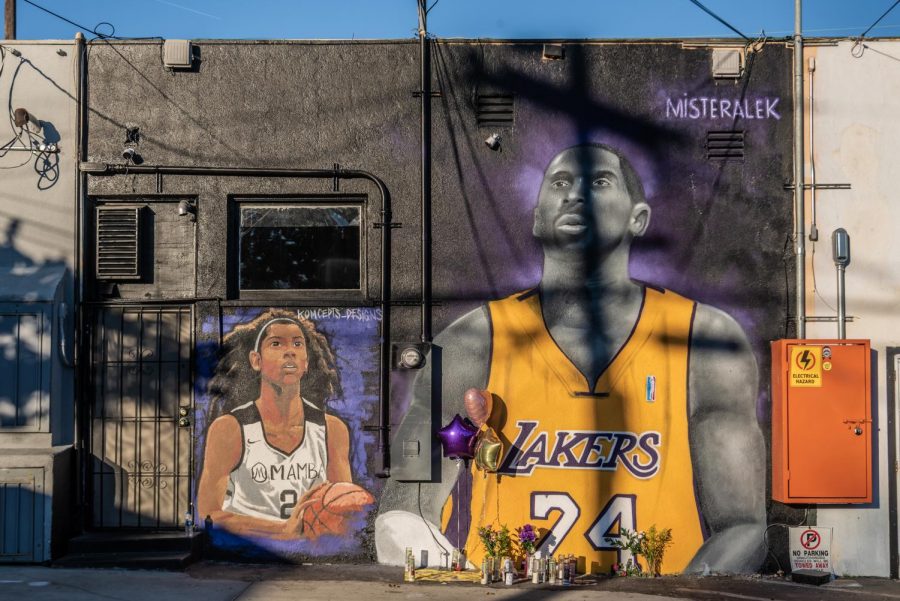 Stephen Lebitsch, Staff Writer
February 25, 2020
February 24. 
This date may be just another 24-hour cycle in the 365-day trip around the sun or another block on the yearly calendar for many. However, for the sports world, it will signify so much more than that. From this point on, it will be a day of remembrance for a fearless athlete, a game-changing activist, a proud girl dad and one of nine lives tragically lost way too soon. 
It has been about a month since we lost Kobe Bryant, his daughter Gianna and seven others in the helicopter crash that shook the world. Even after a full turn of the page on the calendar, the impact and feelings of pain and sorrow from such a tragedy haven't diminished one iota, and who knows if they ever will. 
The tributes and memorials continue to clutter social media platforms, decorate city streets and buildings in graffiti and appear at many sporting events and arenas. Kobe jerseys — both vintage and new — are popping up everywhere you look. An entire league has adjusted aspects of its game to honor one of the greatest to ever represent the logo. 
With every passing sign of respect and homage, it still does not feel like the reality present before us has happened. As more and more information came out, nothing deep inside felt that this was real. 
Now, as we began this new week, it was time for the ultimate gathering of respect and remembrance. 
It was decided shortly after their passing that Feb. 24 would be the official date of the public "Celebration of Life" service for Kobe, Gianna and the seven other victims of the helicopter crash. Congregating in Los Angeles at the Staples Center, family, friends, teammates, NBA accomplices and celebrities would come together to eulogize and celebrate the life and legacy of the Black Mamba. 
This is exactly what the entire sports world should be doing as well, as there is so much to remember and idolize Kobe Bryant for, both on this 2/24 day and those to come. 
At the forefront of Kobe's legacy is his nearly unparalleled athletic resume and accomplishments. 
In a 20-year career, it was the five NBA championships, two Finals MVPs, two scoring titles, combined 29 All-League selections, 18 All-Star appearances and a league MVP title. It was the 81-point game against the Toronto Raptors that became the staple of high scoring totals for individual players to come. It was even the final performance back in 2016 when the Mamba dropped 61 for the final curtain call recognized by the words "Mamba Out." 
There is also his untiring hustle and Mamba-like dedication to both basketball and the other pursuits in his life. The early morning and late nights spent in the gym, racing back and forth across Los Angeles to support his daughters and pursuing other activities such as film production. Very few athletes had the heart, mindset and determination that Kobe showed each and every day. 
There is even his unwavering activism and support for the advancement of women in basketball,  sports and life as well. 
Kobe single-handedly started a social trend that took over the world, expressing pride in being a #GirlDad, while teaching fathers and current athletes that it is just as great to have female children as it is male for athletic succession. Soon after, thousands would follow suit, sharing photos and reasons why they are proud to be a girl dad. 
This would carry over into his life with his own daughters, particularly with Gianna, whose basketball team he coached. Even in his final hours, Kobe was spending time with his daughter, riding the helicopter on their way to play basketball. Despite all the career accolades, his daughters were all he needed in life. 
Above the rest, if there is one thing that stands out about Kobe Bryant, it was his desire to help as many people as possible achieve success, to use his platform to bless and shape the lives of young people. Standing at the podium to speak at the "Celebration of Life" memorial, Lakers general manager Rob Pelinka expressed this best when recalling his last text conversation with Kobe. 
"I quickly saw that Kobe was asking me if I happened to know a certain baseball agent based in southern California," he said. "He texted back explaining his desire to help a friend of his secure a baseball agency internship for one of his young daughters."
"Kobe vouched for the girl's character, intellect, and work ethic, he clearly wanted to champion a bright future for her… Kobe's last human act was heroic, he wanted to use his platform to bless and shape a young girl's future."
For Kobe, life was not only about elevating himself, but elevating those around him as well so that they could reach their full potential. 
Kobe Bryant was truly a special, talented athlete, but more so he was a special father and human being. Whether you were his best friend or a random fan watching him in the arena or on television, the qualities that made him who he was stuck with you and had an impact on your life.
There is a reason why basketball fans everywhere shout his name when they shoot a paper ball into the wastebasket. There is a reason why his two jerseys forever adorn the rafters at the Staples Center. There is a reason why the loss is so tough for the average Joe to accept. What was lost is irreplaceable. 
Which is why Feb. 24 is the perfect date and "A Celebration of Life" is the perfect name for describing the remembrance memorial of such a compelling and inspirational soul. The disbelief of Kobe's absence from this world and the sorrow that brings may never disappear, but at least we can look back on and cherish his incredible life and legacy with awe. There truly is so much to remember about Kobe and be inspired by. 
The world may always feel a little empty without the presence of Kobe Bryant, his daughter and the others lost on that helicopter on that tragic day. However, the reality is he will never truly leave the league, the game and the world because he has forever become a part of it.