Men's Basketball Drops Sixth Straight After Loss to Duquesne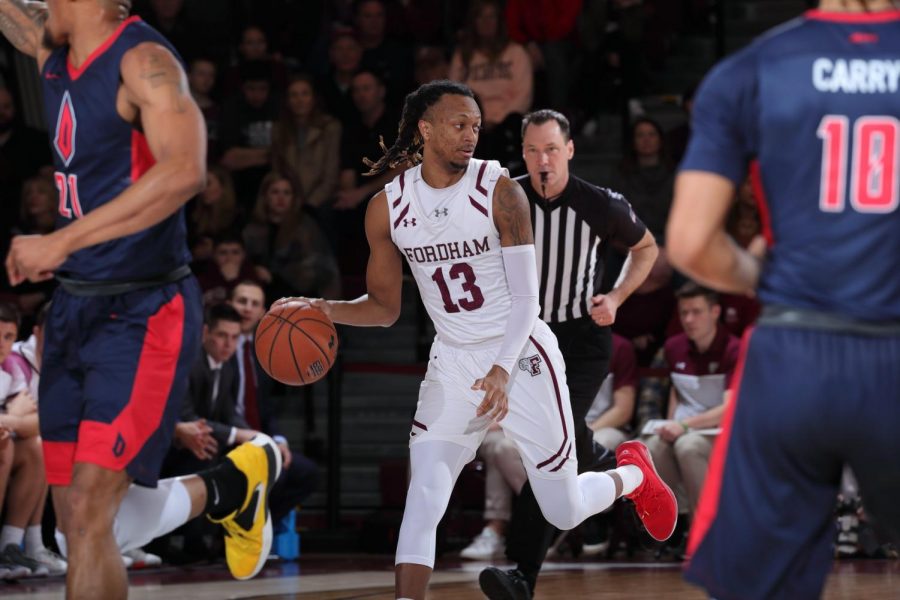 Andrew Posadas, Managing Editor
February 19, 2020
After their first encounter went into overtime last month, Fordham Men's Basketball battled Duquesne University down to the wire again in a game that saw the lead change nine times.
Ultimately, Duquesne was able to beat Fordham 59-54 in the Rose Hill Gymnasium and sweep the season series.
Sunday's contest saw two squads who both boast staunch defenses, unafraid of utilizing a methodical style and comfortable playing in a low-scoring game. The Rams and Dukes entered the weekend ranked first and fourth, respectively, in scoring defense amongst Atlantic 10 conference teams.
However, solid defensive play has yielded different results for the two teams.
For the Dukes, it has resulted in the team's best start through 23 games since the 1971-72 season and Duquesne now finds itself in contention for a potential top-four seed come A-10 Conference tournament time.
Unfortunately, similar success continues to elude Fordham this season, with head coach Jeff Neubauer's Rams having lost five straight and 10 of 11 games in A-10 play thus far.
Stellar defensive effort was on full display in the first half, with neither team able to get into a consistent rhythm on offense. The Rams suffocated Duquesne into shooting just 31% from the field in the first 20 minutes of regulation. As for the Dukes, their defense was able to make life difficult for Fordham, holding the home team to 32% shooting in return.
Fordham led for nearly 11 minutes of the first half, but went back into the locker room down 27-25 at halftime. In the first five minutes of the second half, Duquesne knocked down a pair of three-pointers on its way to taking a 34-29 lead.
Fortunately, Fordham's offense finally woke up and responded by outscoring the Dukes 16-7 in a seven-minute span. A three-pointer by junior transfer guard Josh Colon gave the Rams a 45-41 advantage with less than eight minutes remaining in regulation.
Knowing a loss to Fordham would put a serious dent in Duquesne's NCAA tournament hopes, head coach Keith Dambrot's team answered the bell by going on a quick 7-0 run and securing the lead for good.
Guard Lamar Norman Jr. scored all 11 of his points in the second half after being held scoreless in the previous half. Reigning A-10 Sixth Man of the Year guard Tavian Dunn-Martin added 15 points, sinking huge free throws down the stretch to seal Duquesne's 18th win this season.
With Sunday's loss, Fordham drops to 7-17 on the season and sits alone in 13th place at 1-11 during conference play.
Senior guard and captain Antwon Portley scored a game-high 16 points off the bench, also grabbing six rebounds in his best game offensively since returning from injury. Sophomore Ty Perry netted 15 points and added three steals, but missed the potential game-tying three-point shot with nine seconds remaining in regulation.
The Rams have now lost six games by single digits during A-10 play, showing signs of gumption against superior teams in-conference but still lacking consistency in closing out games down the stretch.
Fordham Men's Basketball is back in action this Wednesday at 8 p.m. when they go on the road to face La Salle University.
The Explorers took the first meeting this season 66-60 at the Rose Hill Gym, with the Rams poised to return the favor at Tom Gola Arena. Wednesday's game can be heard on WFUV 90.7 FM and seen exclusively on ESPN+.