"Sure, Take It": Cavanaugh's Game-Winner Lifts Fordham Over Davidson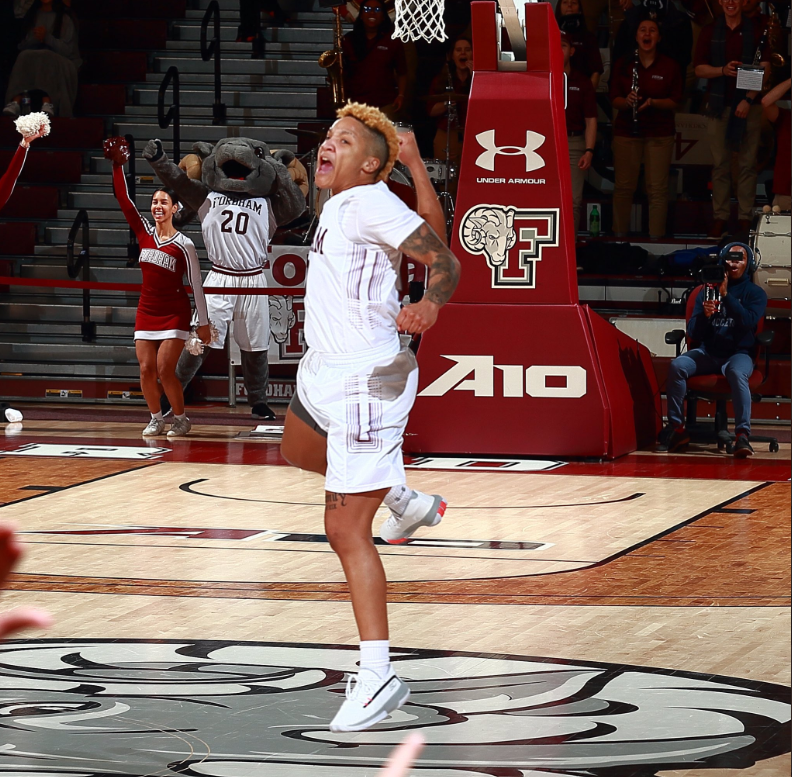 Jimmy Sullivan, Sports Editor
February 14, 2020
Fordham shot the ball atrociously from downtown on Thursday night against Davidson College. The Rams missed their first 15 three-pointers of the night, the team's most misses from downtown without a make since 1996. Fordham didn't make a three-pointer until there were 2.1 seconds to play in the game.
Yet out of Fordham's 16 three-point attempts, its lone make was the only one that mattered.
Fordham — somehow — defeated Davidson 47-46 on Thursday on redshirt junior Bre Cavanaugh's corner three with just over 2.1 seconds left. It was Fordham's only made three on the night and Cavanaugh's first career game-winner; the frontrunner for Atlantic 10 Player of the Year finished the game with 20 points on 8-27 shooting.
"Bre came over to me and she said, 'Coach if I'm open, can I take it?' cause the call was to go inside to Kaitlyn (Downey)," Fordham head coach Stephanie Gaitley told WFUV. "But if Bre was open we were gonna give it to her and I'm like 'Sure, take it.'"
Fordham struggled profoundly from the field all night, but particularly so from behind the arc. The Rams had shot just 31% from the field over the first three quarters and hadn't made a free throw until the fourth. Davidson — who had defeated Fordham 74-62 in early January in what is, to date, Fordham's worst defensive performance of the season — could not run away with the game, despite leading by as many as nine points early in the third quarter.
But the Rams slowly chipped away, and their trademark lockdown defense kept them in the game throughout. That being said, there was a figurative lid on the rim for Fordham all night. Even when things seemed easy, they were not. With just over two minutes left, Fordham junior Kendell Heremaia — who was mired in foul trouble all night and never got going — got a steal and led a 3-on-1 break for the Rams. She dished it off to Cavanaugh, who went up for a layup but missed in what seemed like a game-defining blown opportunity at the time. 
An earlier Cavanaugh jumper cut the Davidson lead to 44-42 with 3:38 to play, but both teams went scoreless over a three-minute stretch to follow. Davidson inbounded with 33 seconds left in a situation where Fordham either had to get a steal or a foul; Cavanaugh was able to get the latter and earn an immediate foul and trip to the free-throw line to try to tie the game. She did just that, and it was Davidson's turn to respond, which they did. Senior Ally Welling, who finished with eight points and seven rebounds, made a midrange jumper to put the Wildcats up two with 4.5 seconds to play.
With the lid on the rim all night, it did not seem like Fordham would have an answer. Keep in mind: Fordham was 0-15 from three on the evening. That is, until the Rams were 1-16.
Freshman Sarah Karpell was tasked with the inbound pass in the frontcourt. She passed into Cavanaugh in the left corner, and Cavanaugh's back was to the basket right before she made the catch. In one motion, Cavanaugh squared to the basket and fired, making a fadeaway three, giving Fordham the lead and sending the Rose Hill Gym into hysterics. She followed up her shot with a gravity-defying, fist-pumping celebration that was reminiscent of the likes of Michael Jordan and the late Kobe Bryant.
On the ensuing possession, the Wildcats were able to get into the paint, but freshman Adelaide Fuller missed a difficult turnaround jumper, and Fordham stole a victory on a night in which it led for just 2.1 seconds in the second half.
Cavanaugh finished the night shooting 8-27 from the field, and she started by shooting just 1-12 in the first half. To put the ball in her hands, with the way she and Fordham shot the ball all night, required a great deal of trust from Gaitley and her staff. Cavanaugh rewarded that trust by doing what she does best: nailing a difficult shot in the face of tight defense.
"We did that in spite of Bre not shooting well in the first half and Kendell (Heremaia) not playing her normal game," Gaitley told WFUV.
Cavanaugh played with her usual relentless energy despite her shooting woes and fell just one rebound short of a double-double. The only other Ram in double-figures was freshman Anna DeWolfe, who had 10 points and helped keep Fordham in the game with some tough shots in the first half. The win was significant for Fordham to try to keep pace in the A-10 standings; the Rams now sit at 8-3 while the loss dropped Davidson to 6-5. Fordham is still third in the conference and, as it stands right now, would have to play a first-round game in the A-10 tournament.
Fordham also got a significant jolt from redshirt sophomore Vilisi Tavui, who has played more meaningful minutes in the past few games. Things seem to be clicking for Tavui, who struggled earlier in the season but has started to thrive in a bench role recently. She proved her worth again on Thursday night as she amassed a career-high 26 minutes, equally due to Heremaia's foul trouble and her own strong play. 
With the win, which can best be described as a "steal," the Rams are winners of four straight games. Next up is an intriguing road matchup with Richmond on Sunday afternoon at 2 p.m. The Spiders enter the game at 5-6 in conference play, but with so few games remaining in the season, every game is expected to be a battle.
Fordham probably shouldn't have won on Thursday night. The Rams couldn't make a basket and, despite excellent defense, they weren't scoring enough to keep pace with Davidson.
But just because you don't succeed on your first 15 attempts doesn't mean that the 16th won't be the one that changes everything. Fordham proved that on Thursday and in the process, got one of its biggest wins of the year.