Living Sustainably on Fordham's Campus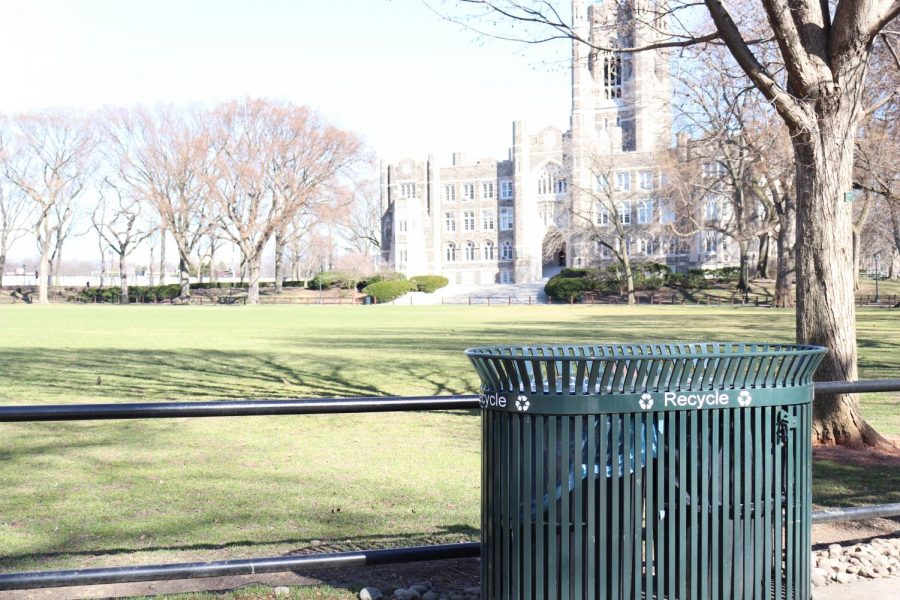 Maggie Rothfus, Copy Chief
April 3, 2019
With the start of April comes the start of sustainability month here at Fordham. Not only is Earth Day coming up, but organizations like the United Student Government's (USG) Sustainability Committee and Aramark have decided to emphasize environmental awareness this month.
As environmental movements have gained more mainstream support, it is important that people at Fordham know what their sustainable options are and that a sustainable lifestyle is more than possible for college students to achieve. Here are some tips and insights on how to live sustainably at Fordham.
Perhaps the most essential part of a student's life, especially when they are a freshman or sophomore, is making use of on-campus dining locations. Aramark has already instituted a policy at each location not to give out plastic bags unless asked.
If you do need a bag while shopping at P.O.D., consider bringing your own or purchasing a reusable bag from that location. Also offered are reusable mugs and straws that come with cleaning brushes. At the Marketplace, one can purchase a reusable to-go container to use at any dining location at Rose Hill. This also extends to any reusable cup or mug, just make sure that your container is clean before bringing it to Urban Kitchen for a smoothie, for example.
If you frequent Starbucks, try asking for a straw-less lid. Even if it seems small, a conscious effort to reduce plastic usage will help sustainable habits form.
Aside from other habits such as turning your dorm room's lights off when they are not in use, there are bigger actions students can take for sustainability. The St. Rose's Garden gives students the opportunity to compost on campus. "We have students drop off their compost and we use it as fertilizer," Molly Brodowski, FCRH '20, stated. She also mentioned that the club upcycles trash, such as repurposing plastic containers into a place where plants may grow.
While St. Rose's Garden is only so big, the Fordham Plaza Greenmarket has a composting option as well. The Greenmarket occurs on Fridays in June through November, so take advantage of it in the fall semester (or if you live on campus over the summer).
Composting may seem a bit daunting to some, but it can start out on a small scale. "I started carrying around a little mason jar in which I can put my banana peels or apple cores during the day so that I can add it to my compost container (which is a Chinese takeout container that I keep in my freezer), which I empty at St. Rose's," Anita Gitta, FCRH '21 and head of Students for Environmental Awareness and Justice (SEAJ), shared.
If students have time to dedicate themselves more to sustainability, there are several groups on campus that they can reach out to. St. Rose's Garden, as already mentioned, is a community that supports the Commuting Students Association and encourages students "to eat healthy and buy local," as described in a statement from the club's Instagram. Any students interested in growing their own produce, partaking in a sustainable community, or contributing to the occasional potluck should look into joining.
USG's Sustainability Committee, chaired by Gabby Perez, FCRH '21, offers students an active role in sustainable efforts. Last weekend, the group brought "Earth Hour," a national event of one hour with no essential electricity, to Keating steps. Each month, the committee promotes a different sustainable item, spanning from reusable straws to Dr. Bronner's soap.
Along with SEAJ, USG also runs Fordham Flea, an occasional pop-up thrift store in McGinley where students can donate clothing items and buy used ones for cheap. The committee meets weekly on Wednesdays at 8 p.m. in Bepler Commons.
Another student-run organization to consider is SEAJ, which has a great history of collaboration not only with the Sustainability Committee but also with other clubs such as the Humanitarian Student Union, with whom they are screening National Geographic's "Paris to Pittsburgh" on April 30. SEAJ hosts regular meetings on Thursdays in Dealy 204 at 7 p.m. and anyone is welcome to attend.
Lastly, another way to get involved is to become a residential hall's "eco-rep." While these elections are done in the fall semester, it is good to keep this position in mind. Eco-reps help their fellow residents become more sustainable and can assist with composting at St. Rose's.
Start small. "There are a lot of easy switches that a person can make to become more sustainable," Gitta said. "Getting in the habit of having your own reusable cup, bag or utensils is something that isn't too difficult but makes a huge difference."
Perez from the Sustainability Committee also shared her tips. "Buy less, and take care of what you have. Overconsumptions, especially in wealthier nations like the United States, is what fuels the environmentally-destructive and exploitative corporations. … Be a conscious consumer," she continued. "The most sustainable thing to do in any situation is to use what you have."
Whether it is educating yourself on proper recycling practices or learning where you can recycle on campus, even the little things can help out. Look out for programs from the Sustainability Committee, SEAJ, St. Rose's Garden and Ram Dining during this sustainability month.