Student-Athlete Column: Championship Season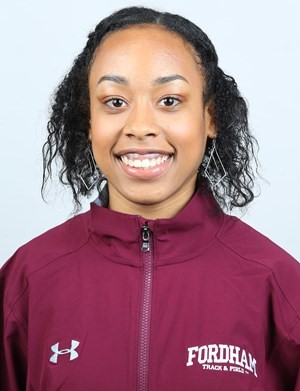 By Kaley Bell
The time has snuck up on us once again. Championship season has arrived, and as always, it feels all too soon. Outdoor season flew past, and now we are in the home stretch. In a couple of days we will compete in the Metropolitan Championship. After that, we have another conference meet at Stony Brook University. After Stony Brook, it's Penn Relays and then the big A-10 conference meet. After A-10s, it is ECAC/IC4A championship and then NCAA regionals. Half of these mentioned are championship meets that will end our season strong.
My teammates and I have been working so hard. We have been pushing through tough practices all year long. Everyone has been so dedicated to doing well for each other as a team that I know we will do well. Our coaches have faith in us, and we have faith in each other. As long as we have the right mentality and maintain positive thoughts, I think that we will be able to do whatever we set our minds to.
So much of being a part of a team requires being on the same page, and I believe that now my teammates are all on the same page, which is the last page of the book of our track season. We all want to finish the year off strong, and I know that we will be able to.
As the year comes to a close, I reflect on my athletic performances. As this was my first year of college athletics, I surprised myself by getting through the tough year. I actually got through the tough workouts that I did not think I was going to get through.
There have been many times that I have been running, and I thought to myself, "There is no way I'm going to be alive after this," but here I am, alive and well, and of course, stronger. I am ready for what's to come, and I am excited to get better. I'm focused on being the best that I can be and doing what I can to do more.