Fordham Baseball Drops Two of Three Home Games to St. Louis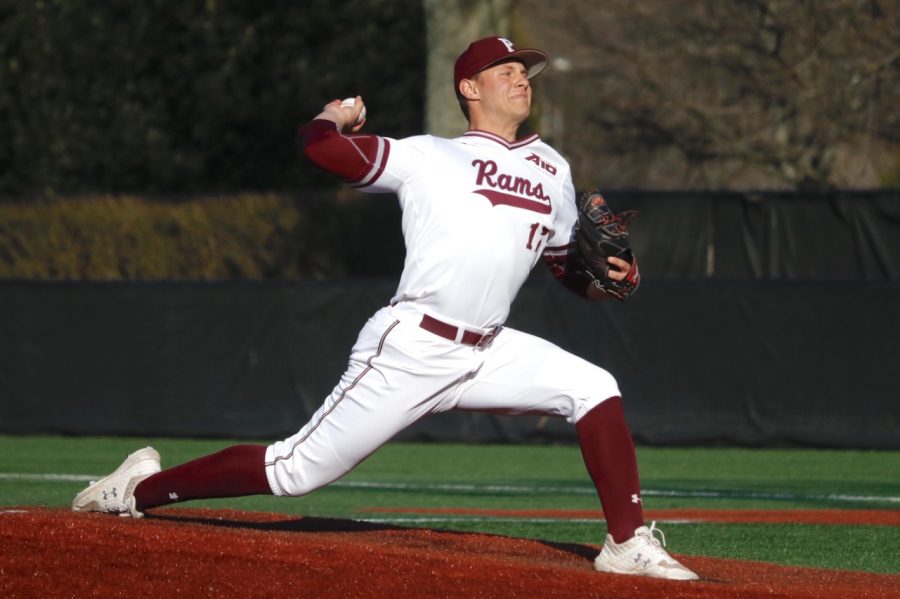 By Jack McLoone
So far in 2019, Fordham Baseball has been stellar at home, coming into its weekend series against the St. Louis University Bilikens with a 13-2 record at home. However, the visiting Atlantic 10 foe left with a series win, taking two of three from the home Rams.
Fordham is now 8-7 in the A-10 and 23-18 overall, putting the Rams at seventh overall. That puts them in as the final qualifier for the A-10 Championship with one month left in the season, which will be played at Houlihan Park.
"I know our guys are going to do anything they can to make the tournament, so I like our chances, but we are going to have to earn our spot and our guys know that," said head coach Kevin Leighton in an email.
The series started with a double header on Thursday and then a game on Friday instead of the usual weekend series due to the holiday.
And it started off on the wrong foot with sophomore Matt Mikulski on the mound for the Rams. After getting into and out of a jam in the second inning, he couldn't do the same in the third. Over the course of the inning, he walked four batters and gave up three singles and a double, resulting in six runs. Many times this season, the big innings given up by Ram pitchers have been pushed along by errors in the field. This time, all six runs were earned.
While the Ram bullpen performed admirably over the rest of the game, allowing just one run over the final six innings, the offense was unable to pick up their starting pitcher, scoring one run apiece in the sixth through ninth innings, which included two RBIs for freshman designated hitter Andy Semo and a solo home run for sophomore shortstop Jake MacKenzie (his second of the season). They eventually lost 7-4.
But the Rams bounced back in the second half of the doubleheader behind yet another stellar pitching performance from senior Anthony DiMeglio. After a rough start against VCU last weekend, he fired seven innings of one-run ball, striking out seven and walking two. He also hit two batters.
Both Semo and MacKenzie stayed hot for the Rams, helping drive in all three of the Rams' runs in the second game. Semo hit an RBI infield single in the fourth, with another run coming across on a wild throw from third. MacKenzie then doubled home junior outfielder Jake Baker in the fifth to give the Rams a 3-1 lead. Junior closer Kyle Martin came in and slammed the door for his seventh save of the season.
MacKenzie is having an unreal season. He is third in all of Division I baseball with 33 steals (on 37 attempts), which is exactly as many as he had last season with still a month to play. But more than that, he's leading the team in batting average (.349), on-base plus slugging percentage (.908), hits (58), doubles (10), triples (6) and runs scored (34).
"My only concern with Jake going into this year was that he'd try to top what he did last year and try to do too much. He is on pace to top his performance from last year!" said Leighton. "It's hard to expect any player to hit at the pace he has this year because you will inevitably hit some balls hard for outs but he has a skill set that you can't really defend with the combination of speed and ability to hit. He can create offense the minute he steps in the batters box. I'm just glad he plays for us!"
The Rams sent sophomore John Stankiewicz and his second-best-in-the-country 0.90 ERA to the mound for the rubber match on Friday, and through five innings it couldn't have gone better: he had a perfect game through five, striking out seven batters in the process.
"John has been incredible for us this year. I think he is a great example of what a pitcher is," said Leighton. "He locates his pitches very well and can throw any pitch in any count. He has given us a great chance to win every time he's taken the mound and that's all we can ask out of our pitchers."
However, he started to scuttle in the sixth, giving up back-to-back singles to start the inning. After a sacrifice bunt moved up the runners, a walk and a single allowed the first run to score. He also allowed another run to score in the seventh, putting the Rams down 2-0. The two runs "ballooned" his ERA to 1.11, now merely sixth-best in the country.
Senior Anthony Zimmerman gave up two runs in the eighth to put Fordham down 4-0. Baker plated the only Ram run in the eighth with an RBI single. As a whole, the team had just five hits and struck out 13 times on the day.
The Rams won't have another A-10 opponent until May, instead playing Farleigh Dickinson and St. Peter's at home this week before heading to UMass-Lowell for a three-game set this weekend.