Senior Uses Instagram Fame to Fight Eating Disorders and Promote Healthy Living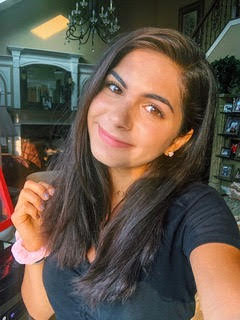 Briana Scalia, Operations Director, Opinion Editor
September 11, 2019
Editor's Note: The following article discusses eating disorders and may be triggering for some audiences.
When it came to choosing a school, Angie Caruso, FCRH '20, a New Jersey native, says Fordham was the best fit.
"The distance was perfect," she said. "I liked the idea of being able to go home when I needed."
One club Caruso found herself gravitating toward was Autism Speaks, where she served as the vice president for two years.
However, this year she handed in her resignation in order to spend more time tending to her homegrown business. Her Instagram account @healthfulradiance, currently has over 106 thousand followers.
One look at the page gives a clear image of its purpose. Healthful Radiance is a wellness account dedicated to promoting healthy behavior, whether that be through powerful, positive messages or tasty food recipes.
But Heathful Radiance was not originally made to host a community; in fact, its original purpose was to serve as an anonymous food diary.
At the age of 13, Caruso developed anorexia. She also struggled with restrictive eating and exercise addiction from the ages of 13 to 17.
"I was in and out of inpatient hospital treatment programs and therapy for years but nothing stuck," she said.
She explains that after several relapses, she had a sort of epiphany, feeling like she had hit rock bottom during her junior year of high school.
"I realized I could pull out a shovel and keep digging, or I could suck it up and finally get better," Caruso said.
She committed herself to recovery the summer before her senior year. This journey included keeping a food diary to keep track of her three daily meals and snacks.
"For some reason, posting a photo of my snack and knowing my three random followers saw it made me feel obligated to eat," she said.
As she worked toward a healthier mindset, she noticed a change in her anonymous account, reflective of her efforts to recover. As time went on, she came to realize that she actually enjoyed cooking, and more so enjoyed sharing her thoughts online.
"I use my platform to share food but it is not exclusively that. I touch on my recovery, share advice and try my best to provide comfort for those living my old past," she said.
This advice extends not only to those struggling with eating disorders or mental illness, but everyone trying to maintain a healthy lifestyle. She expresses her distaste with trendy diets and comparisons of exercise routines, explaining that healthy habits are "unique to each individual."
"Society convinced me that hours and hours of exercise and extremely clean eating were indicators of health," she said. "I followed that belief blindly and nearly died."She has made it a point not to post a guide of her daily meals and preferred snacks.
Caruso has decided to dedicate most of her time to the account now, even going so far as to gain profit through sponsored posts and brand collaborations. Her advice to her fellow student entrepreneurs: "Networking is key. It's important to get exposure not only to the general public, but specifically to a community of like-minded people."
Regardless of her new forays into the world of sponsorship, her true message centers around the pursuit of a healthier lifestyle and of being able to "recognize your pain."
Caruso goes on to explain that eating disorders manifest themselves in several forms, in contrast to how media and society depict them.
"I have people message me all of the time about how they don't think they're sick enough to get help," she said."Don't wait for a diagnosis. You are deserving of the help you need to restore a nurturing and loving relationship with food, exercise and/or your body."
Caruso said her ultimate goal when it comes to her growing platform is "to open the conversation and break the stigma around eating disorders."
Go follow her Instagram account @healthfulradiance!
If you are struggling with mental health issues, do not hesitate to contact the following resources:
Fordham University Counseling and Psychological Services (RH): 718-817-3725
Suicide Prevention Lifeline: 1-800-273-8255
Crisis Textline: Text START to 741-741