Edgar Santana Encapsulates The Bronx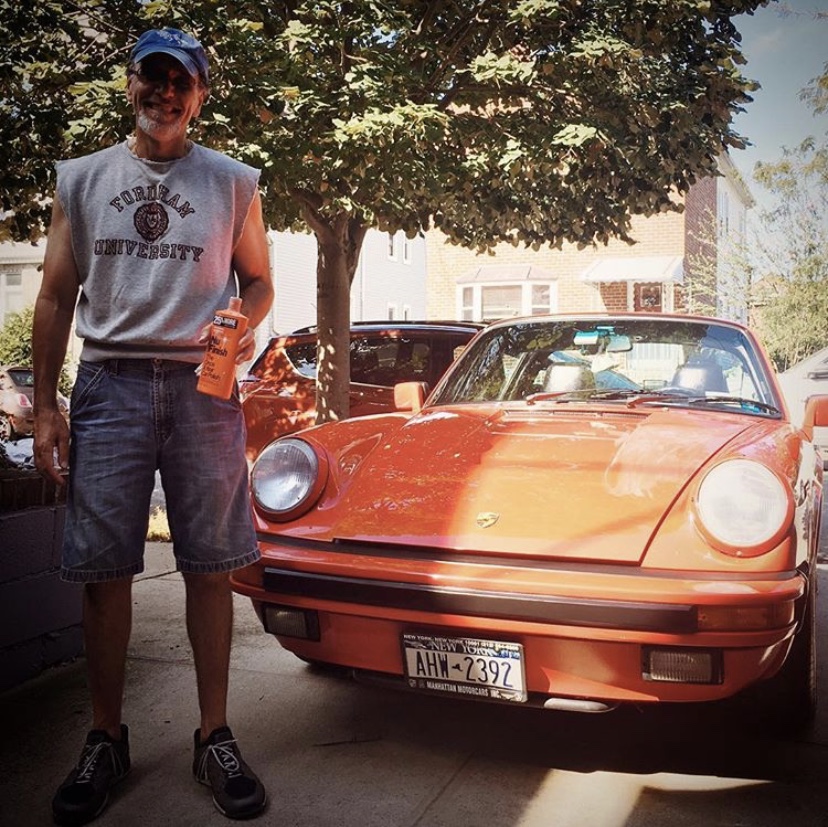 Sara Tsugranis, Contributing Writer
December 4, 2019
Meet Edgar Santana, a Bronx photographer whose photographs capture daily life in the borough, and a lot of cars. His photos are on display on his Instagram page @esantana as well as @everydaybronx and @carsofthebronx, which have become more like community pages.
Santana has worked for an early intervention program that services children with special needs for the past sixteen years, which keeps him on the streets daily and allows him to explore and photograph the different parts of the Bronx. The Fordham Ram sat down with Santana to get more insight into his work.
Q: Which artist did you admire as a young artist and why?
A: I was always a fan of Keith Haring. I loved his street art. When I was younger I felt like his art was very cartoony and being a young kid I loved that style of work. As I got older and started to appreciate art as well as photography, he was definitely one that inspired me.
Q: How did you choose street photography as your genre?
A: I've always been into photography. When I was younger I always used to carry a disposable camera with me and just capture moments with friends hanging out, things like that … But not until about five, six years ago is when I solely concentrated on the Bronx.
I try and focus solely on positivity of everyday life so people that live in the borough can appreciate where they live, and people that don't live in the borough can appreciate what the last true borough looks like.
Q: Of all the pictures you have taken, which is your favorite? Why?
A: There's two of mine that always stand out. One of them was I believe about four years ago, it's an older woman smoking a cigar in the street. She was waiting for the bus, it was a really cold day … I just stopped and I had to ask if I was able to take a picture of her. And she put the cigar in her mouth and the picture came out incredible.
The picture was actually chosen to be hanging in the 149th, Third Avenue shopping district for a while … but unfortunately someone stole it … I'm assuming somebody likes it so much that they wanted it for themselves.
The second picture of mine that is a very close second is a photo of a classic car. It's a Volkswagen Beetle … and there's two young kids that are working underneath the car and all you see is the Beetle and then four legs hanging out from under the bottom. It's a really cool picture … it was an opportunity I couldn't pass.
Q: What do you think is the biggest misconception about the Bronx?
A: That it's horrible … which is not true. There's good and bad everywhere … The Bronx never really gets the respect that it deserves … the Bronx isn't just about the zoo and Yankees and Botanical Gardens. The Bronx is the home of hip-hop. The Bronx is the home of the real Little Italy, Arthur Avenue, which I'm sure you've been to plenty of times being a Fordham U student. City Island! … the Bronx is beautiful … That's something I'm proud to showcase in my photography, but also proud to be a part of.
Regarding the @everydaybronx and @carsofthebronx Instagram communities and Santana's 718 campaign, Santana told me:
I have so many people that let's say have lived here ten, twenty years ago and they follow my feed and they'll reach out to me [and say] … "I want to thank you for posting this because I grew up in that area and it's changed so much but it brings back so many memories" or "thank you for posting that car because my dad had that and he used to drive us every Sunday to City Island to eat shrimp."… I want to bring the nostalgia back to people who used to live here or people who do live here and don't appreciate their own neighborhood.
This past summer I actually had a huge billboard in the Bronx. I was part of an AT&T campaign called "It's a 718 thing."…It was a scene from Orchard Beach with a Puerto Rican flag. It's so Bronx…and I got so much love for that.
Q: Regarding that photo of Orchard Beach, and other photographs you take in the Bronx, what do you think is the historical importance of these photographs?
A: The Bronx changes daily and unfortunately, due to gentrification, the Bronx is definitely not the same as it was yesterday or even the day before. But the Bronx came from a very difficult place in the 1970s when the Bronx was burning … to see how far the Bronx has come … is incredible.
And that's why it is extremely important for people to recognize the history behind it because there's a lot of history in the borough. John F. Kennedy owned a house in Riverdale, you have the Edgar Allan Poe cottage right there on the Grand Concourse, Poe Park … the same thing with City Island, it was a clam digging village … it's important for us to showcase that … not only natives but to people who are interested in knowing where we're from.
Q: Has contributing to @everydaybronx changed your perspective at all as an artist? If so, how?
A: It's changed a lot. The @everydaybronx feed is incredible…The feed is specifically driven by our followers … it's a cool opportunity to see so many different views of so many different parts of the Bronx. Whether it be an African family sitting on the train or an Irish person in Woodlawn … I'm very proud to be a part of that feed. It really expanded my eye and I've been extremely inspired by a lot of the people that have submitted photos to be featured.
Q: Future plans?
A: Now that it's the winter it's not like I stop shooting, I continue … I want people to see my photo without knowing it's mine and be like "Oh I know whose photo that is. That's Edgar's photo." Usually, during the winter, people hibernate, so I'll probably be hibernating with them.
Q: What would you tell a young artist or photographer aspiring to pursue this track that you have taken?
A: Don't be a follower. Do not follow trends. Do what you feel comfortable doing. Do what you like. Don't do what anyone else is doing. Unfortunately, a lot of young people nowadays fall into that trap. Especially with social media, they want to do what everybody else is doing. Don't do that.
Go another route. Go a way you feel comfortable. Be yourself … That's the best advice I can give to anybody that is starting out or is interested in photography.