Overtime: Major League Baseball's Major Crisis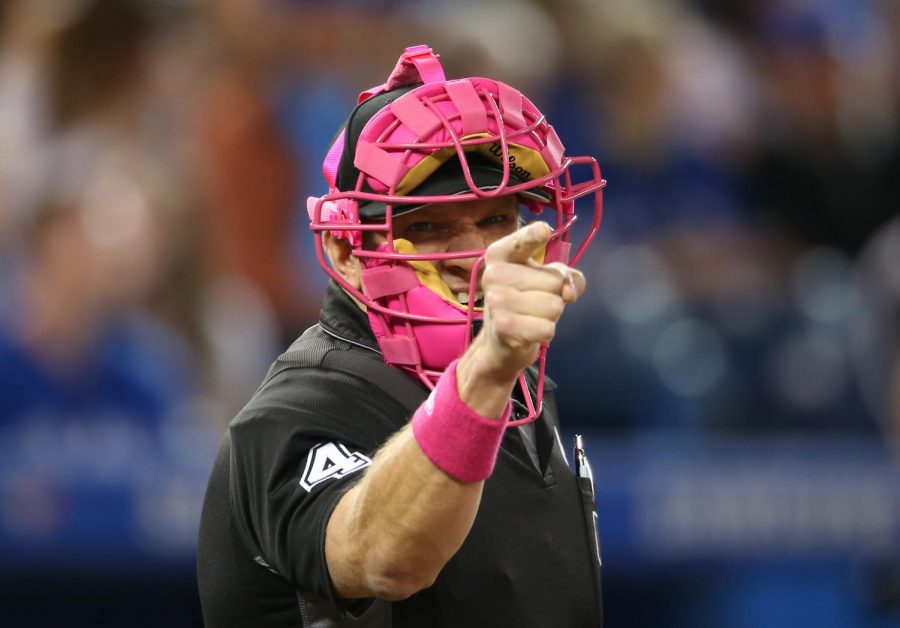 Jimmy Sullivan, Sports Editor
October 30, 2019
Major League Baseball's (MLB) umpires are under more scrutiny than ever, and rightfully so.
The improved technology and proliferation of instant replay over the past decade have exposed flaws in some of baseball's most important arbiters. While a review/challenge system has alleviated some of these around the bases, it has not improved things behind the plate.
After the 2018 season, Boston University researcher Mark T. Williams and a group of graduate students found that home plate umpires missed 34,294 ball/strike calls at home plate over the course of the season. This averages out to 14 per game, which does not seem significant, but bear with me.
According to Baseball-Reference, there were 3.9 pitches per plate appearance last season and 76.1 plate appearances per game. Multiply these two numbers and round the product up to the next whole number and you get 297 pitches per game. About 150 of these are not put in play by the batter, meaning that they are judgment calls from the umpire. Divide 14 by 150, and you find that umpires were incorrect on 9.3% of pitches last season and over one pitch per inning. Again, this does not seem significant, but, depending on that one pitch, it could be make-or-break in the outcome of a game. See: 2019 World Series, Game Five.
With the Nationals trying to rally while down 4–1 against Astros ace Gerrit Cole, home plate umpire Lance Barksdale had what can be described charitably as one of the worst innings of his career. First, with two outs and the bases empty, he called ball four on a pitch to Nationals first baseman Ryan Zimmerman that was over the outside corner of the plate. In the next at-bat to center fielder Victor Robles, Barksdale was in the same spot, and Cole threw a pitch further outside than the one to Zimmerman. Barksdale called strike three, ending the inning and robbing Washington of the chance to get the tying run to the plate. Even though three rights make a left, two wrongs don't make a right. This case was no different.
The inning before, Barksdale should have called strike three on Astros outfielder Michael Brantley, on a 2–2 pitch that was solidly over the inside corner. He didn't, and afterwards, mild-mannered Nationals skipper Davey Martinez kindly asked Barksdale to "wake up" because this was, you know, Game Five of the World Series.
Barksdale's foibles, though, have less to do with one umpire doing a bad job and more to do with a larger discussion of automated umpiring, or so-called "robo umps," behind the plate.
These were instituted in the Atlantic League this past summer, and they weren't perfect. The automated strike zone was bigger than the human one, and it took hitters, catchers and pitchers a full summer to adjust to this system. It may not be ready for the bright lights, and MLB will want to get rid of the glitches before it brings such a big change to the big leagues. However, once the kinks are worked out, robo umps will be the future of baseball, despite the fact that actual human umpires will never go for such a thing.
Will robo umps remove certain aspects of the game, like arguments between the home plate umpire and opposing managers? Yes, and this is a good thing. Robo umps, like them or not, have an impartiality that is sometimes lacking with human umpires. One early-season example from this year went against the Astros. In an April game against the Rangers, Houston manager A.J. Hinch argued home plate umpire Ron Kulpa's strike zone. Kulpa told Hinch, as shown on the broadcast, "I can do anything I want." Hinch and hitting coach Alex Cintron were both ejected as a result of the incident.
This unchecked power has also manifested in other ways. In June, Padres third baseman Manny Machado was suspended for making contact in a heated argument with umpire Bill Welke. The suspension was decried in a truly ridiculous statement that claimed Machado had "no regard for anyone's safety" and that "violence in the workplace" is not tolerated. The statement closed with this question: "Is this truly what MLB wants to teach our youth?" First of all, this is absurd. Machado is a $300 million superstar who knows exactly what he can and can't get away with. Second of all, baseball's umpires have not exactly been exemplary citizens, as longtime ump Rob Drake showed last week.
Drake, during Game One of the World Series, tweeted that he was planning to buy an AR-15 because "if you impeach MY PRESIDENT this way, YOU WILL HAVE ANOTHER CIVIL WAR!" The tweet was bonkers, but more than that, it was disturbing. Drake quickly apologized, but, again, the guy calling balls and strikes just threatened a Civil War because of a completely legitimate congressional investigation. Drake, believe it or not, is a well-respected umpire, who worked many postseason games earlier in the decade. And sadly, he's part of the problem.
We, as Americans, have begun to come around on automation. It isn't perfect, but we can see that, sometimes, it does a better job than we are capable of. Heck, even legitimate Democratic primary contender Andrew Yang is basing much of his campaign off this idea.
America has come to its senses on automation in other areas. Baseball should do the same so that we never see something like Sunday's seventh inning again.
Editor's Note: an earlier version of this article misstated and underestimated the percentage of wrong ball/strike calls from home plate umpires.