Hot Goaltending from New York's NHL Teams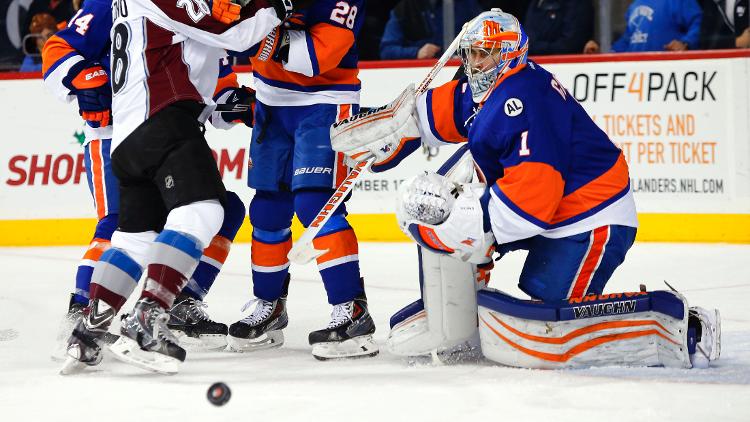 Chris Hennessy, Contributing Writer
November 13, 2019
Goaltender is a fascinating position in the NHL; a player willing to stand in front of a hard piece of rubber traveling at 100+ miles per hour will never not amaze me. A hot goalie can take you places in the NHL, especially come springtime. In New York in 2019, hockey fans have seen great goaltending, from continued systemic success on the Island to a new tactic at the Garden. 
Starting with the Islanders, because it is the same story we told a hundred times last year.  Thomas Greiss and Seymon Varlamov — Robin Lehner last year — are not the best goalies in the league but are merely middle of the road in terms of talent and past career numbers.  However, here we are again with both goalies putting together career years early in the season.
Greiss is second in save percentage, one-tenth of a point behind Arizona's Darcy Kuemper, after his Jennings Trophy campaign last year with Lehner. Greiss' best year with the Isles before the arrival of Barry Trotz was 2015–16, when he had 23 wins in 38 starts, posted a .925 SV % and a 2.36 GAA. It is no coincidence that the best season was 15–16, where he only played in half the games.  He showed that again last year, with a career high in SV % and GAA in 39 starts.
This season, we should expect the same, 35–45 games for each goalie, and a number spike for both of them. As for Varlamov, he has had one great season in his career, 2013–14 in Colorado. He had 41 victories in 63 appearances, and a remarkable 27.45 Goals Saved Above Average, testing the save percentage on certain types of shots against league average. Since then, it's been straight downhill. He was benched for Philip Grubauer last year and he turned the Avalanche around.  Colorado decided to go a different direction when Varlamov was a free agent in July, and the Isles swiped him. This will be Varly's first season in a time-share scenario. In every season he's been healthy, he's played over 40 games. He has flourished so far, ranking above average in every stat.
Speaking of timeshares, Ranger fans have been more than pleased with the way their two goalies, Henrik Lundqvist and Alexander Georgiev, have been playing thus far. Lundqvist has played eight games while Georgiev has started the remaining seven, and both have been impressive. At 37, it is appropriate for Lundqvist to be a part of a timeshare and seeing how it worked with the Islanders last year, it's smart for David Quinn and his staff to be cycling the two goalies through the lineup. Lundqvist hasn't posted a .500+ record in the last two seasons — granted with a terrible team in front of him — and it's time to decrease his load. They have the ability to do this because of how good Georgiev has been since he came up last season. Add him to the list of goalies that have looked great backing up Lundqvist, helped him stay fresh for the playoff push, and might eventually get a starting job elsewhere because of the seemingly ageless Lundqvist. Cam Talbot and Antti Rannta know something about that. Lundqvist has had two extremely impressive victories over the past week over both the Carolina Hurricanes and Detroit Red Wings. He was named the first star of the game both times.