Long before the world ignited with hot cheetos, fire mixtapes and wildfires, one man's flame burned with fashion, flavor and flare. His authenticity shonethrough as a fiery spark against a world trending towards monotony and is still burning today. I speak of the man of three Ds: Guy Fieri.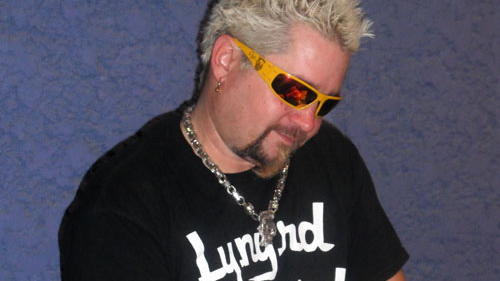 With the Emmy-nominated "Diners Drive-ins and Dives," Fieri introduced grit to the small screen culinary arena. Over the course of 384 episodes, his show enthusiastically explored America through the quintessential pastimes of football, beer and barbeque sauce. Though his television days are over, Fieri is far from a stale ex-Food Network host. In addition to serving wings and bbq, Fieri also serves hashtag looks.
Fieri is a fashion king. Fueled by his eccentricism, spunk and love of fire, Fieri created a recipe for his own unique style. Most importantly, he uses his physical canvas as a backdrop for his personality, thereby encouraging people to embrace individuality and authenticity, even if it means deviating from the norm.
Fieri's signature look is defined by his dazzling crown of frosted tips, spiked up with messy ease. His bleached hair shines as a bright beacon and broadcasts a message of rebellion against formalities. Instead of adhering to traditional styles, Fieri is unapologetically bold.
Though Fieri was forged in fire, the man also knows ice. As a culinary master, he knows how to properly present his accessories in order to make a snack look like a full course meal.
This means that at the time when the current e-girls and e-boys were still learning to speak, Fieri was iced up in chunky chains and edgy piercings. He created the tasteful soft grunge aesthetic that the e-children now emulate.
As a man well tuned to human limitations, he knows not to attempt low-rise jeans, and instead embraces his own unique aesthetic: slightly oversized. Instead of drowning in baggie jeans and draping button-downs, his outfits form a subtle statement that allows his personality to shine. Only a few (see: Gustavo Rocque from "Big Time Rush" or Billie Eilish) have been able to handle the Fieri fashion sauce.
Fieri's attention to tasteful eccentricism is what makes him a star capable of evolving from chef to television host to entrepreneur to meme.
Compared to his Food Network peers Rachel Ray and Anthony Bourdain, Fieri's casual edge stands out.
In many ways, it is his uncustomary defiance which contributes to his lasting popularity. Fieri is unwilling to compromise his personality to match the prevailing norms and has been rewarded with flaming success, demonstrating the ultimate triumph of originality.