Tame Impala's "The Slow Rush" Lives Up to the Hype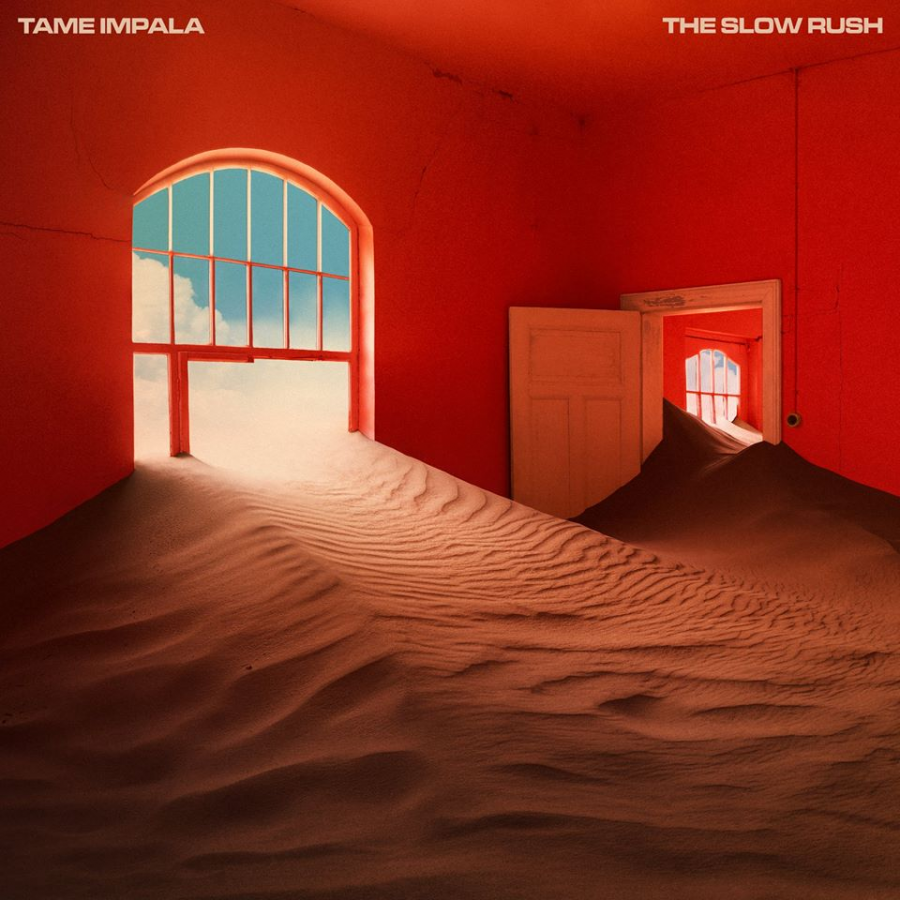 Alexandra Lange, Staff Writer
February 19, 2020
For half a decade, music fans have been wondering what Tame Impala will do next. The 2015 album "Currents" cemented mainman Kevin Parker's status as one of the biggest rock acts on the festival scene. It not only gained rave reviews from nearly every publication, but was also nominated for a Grammy and named one the decade's best albums.
Pressure began mounting for Tame Impala's next album as soon as "Currents" was released and only grew stronger each year a new album was not released. With dizzyingly high expectations, it's easy to wonder if "The Slow Rush" was worth the wait.
To put it simply: yes, it was. "The Slow Rush" is the apex of Tame Impala's genre-blending. It takes inspiration from rock, disco, synthpop, hip-hop and more. It continues their trajectory away from overt John Lennon worship and acid-trip guitar riffs and pushes toward a different brand of psychedelia in its airy pop and dance beats.
The intricacy of the production on "The Slow Rush" is a marvel in itself. Parker's angelic vocals float above manicured synth textures, soul melodies and disco, funk and hip-hop beats. Tame Impala's signature layering of instrumentation flourishes, with the sheer number of keyboard sounds Parker uses being almost as impressive as what he actually does with them.
Every sound is obsessively considered. Hi-hats are given just as much attention as lead melodies, Auto-Tune is repurposed as a sonic effect rather than a vocal concealer and cathedral reverb gives Parker's voice an otherworldly aura. The retro-futuristic production is both an ode to the past and a symbol of the future, as it echoes '80s Fleetwood Mac as much it resembles the EDM vibe of Daft Punk. "The Slow Rush" never feels overly cluttered or too composed; the psychedelic swirl is truly an organic blend.
Tame Impala's production style is even more impressive when considered in light of the current generation's emphasis on sampling and mega teams of producers. Parker doesn't need to sample or rely on other producers to coach his sound. He is able to make loops that sound as if they are sampled from classic rock or soulful R&B of the past. The immense amount of talent and musical genius needed to craft such a sound makes it seem as if a team of music powerhouses is behind the effort. However, Tame Impala is a one-man band. As the credits read, "All music written, performed, and mixed by Kevin Parker."
Parker's complete artistic control over "The Slow Rush" continues with his introspective lyrics. He continues to create albums revolving around an overarching theme. Whereas the theme of "Currents" was transformation, "The Slow Rush" is fixated on the passage of time.
This theme manifests itself on the album through songs about the way falling in love makes you consider the impermanence of things. Parker, a self-proclaimed loner, emphasizes seizing the day and focusing on the present in the midst of love. He shares his own experience with overwhelming emotion on the album's opener "One More Year." Comparing lovestruck bliss to a panic attack about spending forever with another person, Parker sings, "I never wanted any other way to spend our lives / I know we promised we'd be doing this until we die / And now I fear we might."
Tame Impala continues the theme of a more mature type of love throughout the beginning of the album. On songs like "Instant Destiny," Parker declares he's "about to do something crazy." "We can get a home in Miami / Go and get married / Tattoo your name on my arm," he croons. He showcases his euphoric vision of love on "Breathe Deeper," assuring, "If you need someone to tell you that you're special / Believe me, I can."
Parker also reflects on the death of his father on "The Slow Rush." He confronts the complexity of coping with loss on "Posthumous Forgiveness," one of his most brilliantly intimate songs to date. A mournful guitar frames Parker's emotional lyrics as he cycles through anger, blame, longing and despair on the six-minute track. Since he lost his father before achieving superstardom, the song is a confessional from a son to his father. He mournfully admits, "Wanna tell you 'bout the time / I was in Abbey Road / Or the time that I had / Mick Jagger on the phone."
The beauty and essence of Tame Impala's genius are at their peak on "The Slow Rush" thanks to Parker's self-contemplation. Even as he filters through his most private demons, upbeat psych-synths and ethereal vocals take listeners on a transcendent trip. Despite the long wait, the sonic euphoria of the "The Slow Rush" proves Parker deserves all the time he needs to keep us dancing, even if it is with tears in our eyes.