Student-Athlete Column: Staying Positive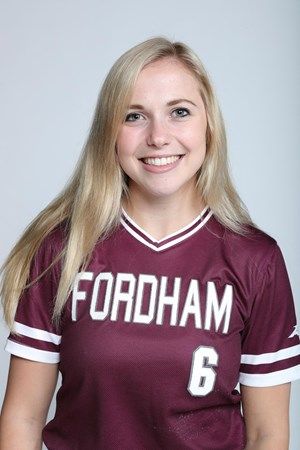 Kelly Bright, Contributing Writer
April 1, 2020
For me, like many, quarantine began on a rather ugly note. I lost my season, moved away from my best friends, unknowingly transferred from Fordham to Zoom University and no longer have access to an actual gym or a softball field. My plans for the semester and the daily routines I'd spent months normalizing were suddenly replaced by uncertainties, frustrations and questions no one seemed to have answers for. 
In the beginning, it was hard to find the motivation to be productive and all too easy to come up with excuses. No squat rack, no throwing partners, no batting cage, no football field to run gassers on (okay, I wasn't too upset about that one, but still). No team practices to grind through, no games to get hype for, no championships to win, no reason to keep trying. 
However, all that being said, sitting around and lamenting about the situation we find ourselves in today is a story everyone's tired of hearing. Including me. So instead, I've decided to switch things up. Without further ado, here's a list of ten positive things I've learned in the past few weeks. 
Bodyweight exercises can still make you sweat. Adding tempo, adding resistance or increasing reps or sets are all great ways to ramp up at-home workouts. 

Also, "weights" are everywhere if you get creative enough. I've used buckets, wooden chairs, towels, backpacks and a case of water so far, and there's no telling what's next. 

It's apparently physically possible to consume the recommended three meals a day at their normal times. (I guess it's a lot easier without class, lift, conditioning, practice and class again consecutively).  

To quote Enes Kanter's Twitter, "MJ's 'Flu Game' just seems irresponsible". I'm hoping after this is all over, everyone takes health and good hygiene a lot more seriously in everyday life, especially in sports. 

You can burn at least 15 calories per TikTok dance if you go hard enough. 

Real nature makes for much nicer scenery than a treadmill screen. Gyms are shut down and not everyone has Pelatons or treadmills in their basement, but you know what's not closed? The great outdoors. It's amazing. There's never a shortage of air (unlike in Lombardi Center at Fordham — if you've ever conditioned in there, you know exactly what I'm talking about). There's something new to look after every step. You can go at your own pace. 

Softball might be the most COVID-19 conscious sport in college athletics. I mean, we wear gloves, masks on our helmets and stand at least six feet apart pretty much the whole time. 

You know those "mirror drills" coaches always preach, they're actually not that bad. If you can't take live reps or practice with another person, it's better than nothing. My hitting coach emphasizes how the goal during technique training should be feeling what each part of your body is doing during specific motions. This is as good a time as ever to really hone into this practice and work on getting your mechanics as fine-tuned as possible.

I love my teammates. I already knew this, but this break has reminded me that sometimes you take for granted the special relationships you form while being on a team. Even though we're socially distanced doesn't mean we're socially distant. You can still take the time to reach out to the people you care about — even if you can't see them in person.  

Sports have amazing powers. They can unite people in ways that not many other things in life can, and this is especially true in the wake of tragedy or widespread panic. I mean, take the Yankees winning the ALCS after 9/11. It didn't just uplift New Yorkers; it inspired the whole country. After getting to rewatch classic games and great sports moments all over major networks and social media during quarantine, it truly excites me for what's to come after this is all over.