Quarantines Act as Band-Aids on the Climate Crisis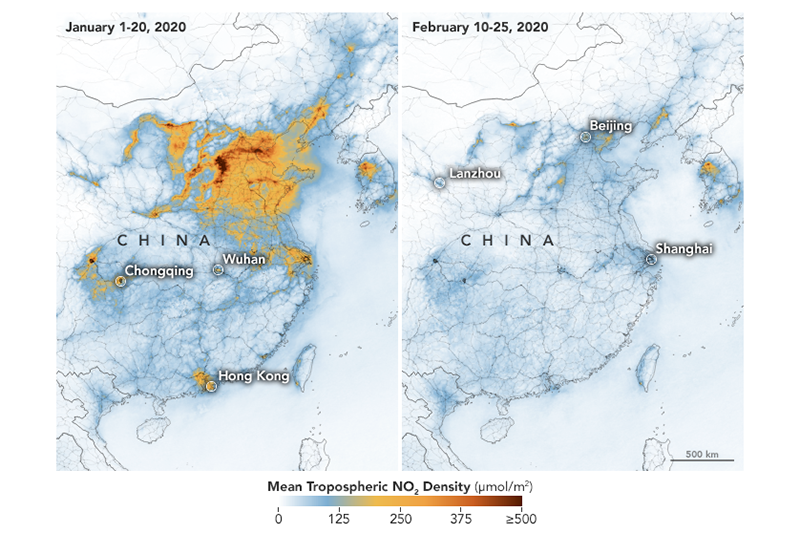 Rachel Gow, Culture Editor
April 1, 2020
As the coronavirus spreads throughout the world, infecting and killing thousands, the healing of our planet has provided some with needed respite. Tweets about the clearing of waterways in Venice and a stark reduction of pollution over Chinese cities have punctured an endless timeline of grief and anger and popularized the hashtag #WeAreTheProblem. CNN even asserted that the planet was a beneficiary of coronavirus.
While these events are progressions in ecological wellness and we should not shame those scrambling to find upbeat headlines in a newspaper of desperation, we did not need a global pandemic to tell us humans are the drivers of climate change. The shelter-in-place laws prompting these successes are unsustainable; we are celebrating small victories in a losing war. A real sustainability revolution must be brought about in the recovery from the coronavirus crisis, not in the temporary changes the emergency has spurred. 
To be clear — the reduction in pollution levels in China is astounding. Airborne nitrogen dioxide, a gas produced by factories, power plants and motor vehicles was 10% to 30% lower in February in eastern and central China than is normally observed during this time of year. In Wuhan, the epicenter of the COVID-19 outbreak, the mean levels of tropospheric nitrogen dioxide dropped precipitously. Nitrogen dioxide causes a range of harmful effects on the lungs, including increased asthma attacks and inflammation of the airways.
However, more astounding may be the draconian measures put in place by the Chinese government to stop the spread of the coronavirus. 780 million people, more than half of the country's population, were placed under some form of travel restriction. In cities more severely impacted such as Wuhan, household members were limited to one person going outside every two days. Food and other necessities were delivered by government workers. In essence, the country ground to a halt. It was this unprecedented freeze in the use of cars and manufacturing equipment that helped clear the air of nitrogen dioxide. A return to normal life for Chinese citizens will also mean a return to heavy pollution levels. 
It is not hard to see why quarantines cannot be the solution to climate change. Extreme social distancing measures upended human life, taking a toll on the psychological wellbeing of those isolated, tanking the global economy and impeding celebrations of human culture and achievement. There is a telling irony in the similar symptoms of declining lung health caused by nitrogen dioxide pollution and the coronavirus; we are not celebrating success but rather the swapping of one major issue for a host of others. Furthermore, experts predict that after social distancing measures are lifted we will see a massive rebound in the emittance of climate-warming gasses. After being stuck at home for months, people are more apt to jump on planes and take road trips. 
 Thus, we must be careful in the way that we commemorate these seeming accomplishments in ecological health. While it is okay to celebrate the small pieces of good news we can find, it is important that we do not conflate quarantines with climate change solutions. To do so is to suggest that normal and happy human existence and sustainability are mutually exclusive. We must find feasible solutions to global warming and pollution that work with our routines, not throw them into disarray. 
That being said, the coronavirus may provide a unique opportunity for us to take climate action. The understanding that humans — specifically, the industries essential to our current economy — are the main drivers of ecological degradation is accepted by almost all scientists. However, the images displaying the stark decreases in nitrogen dioxide levels over China are a profound reminder of this fact. The coronavirus may force us to confront our climate-degrading actions in a way we have not been able to previously; this time, there is no debate that our daily routines are harmful to the environment and subsequently human health and must be changed. 
There is also an opportunity in the process of rebuilding after the coronavirus. In the wake of flight cancellations and postponed concerts, many industries are struggling and in need of financial help from the government. Here, we can force our economy to be more compatible with sustainability goals. Our government should only bail out corporations that have set limits on their carbon emissions or pledged to limit the output of other harmful pollutants. 
Perhaps the most profound take away from the coronavirus crisis is our ability as humans to work together and make sacrifices in an effort to abate catastrophe. We are witnessing one of the most powerful examples of individual action in human history. If we confront the climate crisis with the same level of solidarity and determination, we have a real shot of saving the planet and ourselves.
Rachel Gow, FCRH '22, is a journalism major from Worcester, Mass.