Junior Researches Neural Tissue Engineering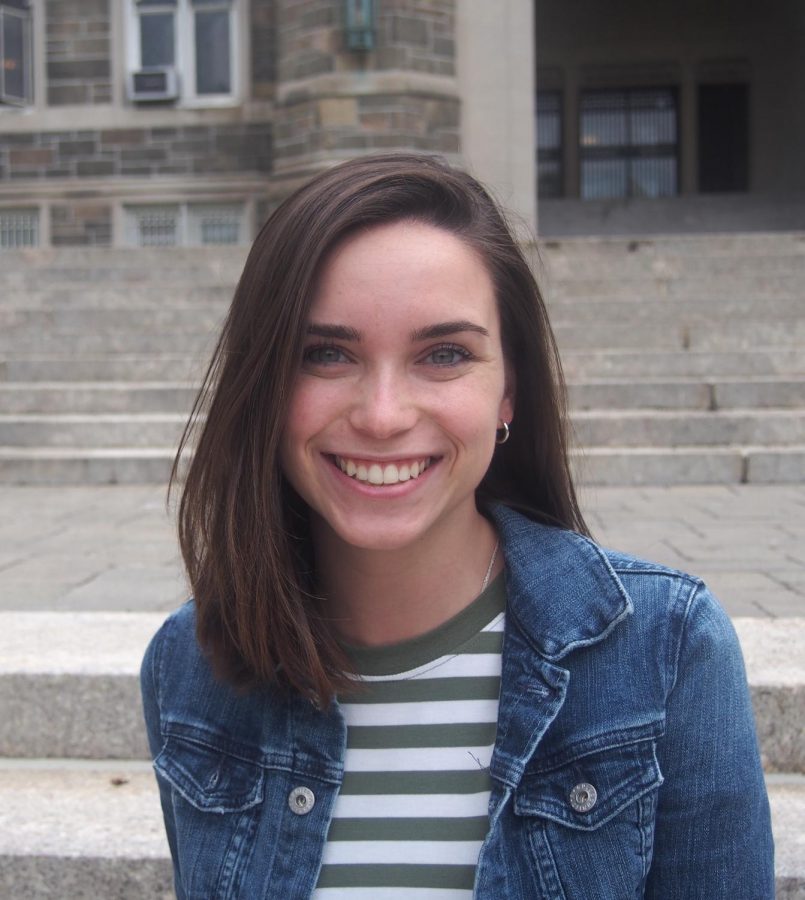 Carmen Collins, Contributing Writer
April 15, 2020
Research by Margaret Whalen, FCRH '21, on neural tissue engineering has been severely affected by the coronavirus pandemic. 
As an integrative neuroscience major, Whalen's multiple projects involve the handling of biological cells, which are incredibly delicate. With the closure of Fordham's campus, these cells may no longer be viable for study. 
"It's a very big possibility that the cells that have been growing over the course of two or three months will just be dead when we come back," said Whalen. "That's the reality of what most bio and biochemical labs are working with, is that the stuff that we're working with is just going to be dead."
Whalen's work with her laboratory partner, Rachel Daso, FCRH '21, under the guidance of chemistry professor Ipsita Banarjee, Ph.D., is trying to regenerate neural tissue in the brain. Whalen and Dasos started this research in September of 2018, but they didn't start working with cells until January of this semester. 
"A really, really fascinating and growing topic and what people do in tissue engineering is they create scaffolds made of proteins or other organic compounds … that basically create a support for the cells to grow on," Whalen said. "When there's been any injury to the tissue, that requires a lot of tissue to be regrown."
By creating this scaffolding, Whalen said there can be regrowth of tissue such as nerves that can regain brain activity and feeling in the body. This means that Whalen and Dasos are researching how to help the brain recover from traumatic injuries.
"Our hypothesis is that in creating these peptide ionic liquid nano scaffolds, we can not only help neuronal cell proliferation, but we can also functionalize them so that they can actually be used in the body," Whalen said.
Whalen said she is very interested in neurodegenerative diseases, and she's doing an independent research project on the two hallmarks of Alzheimer's, which was inspired by the project she is working on with Dasos. These two hallmarks are neurofibrillary tangles and beta-amyloid plaques. 
She said she wondered how peptides could potentially be used to help mitigate the biochemical symptoms that come about during the progression of Alzheimer's disease.
"So essentially those two biomarkers are misfolded proteins that, because they're misfolded, they aggregate in various areas of the brain and they disrupt brain functions, which is how you get a lot of the symptoms of Alzheimer's disease," Whalen said. "So my goal in my research is to create a kind of peptide therapeutic in combination with more of these novel products like ionic liquids to basically help reshape these misfolded proteins."
As a pre-med student who hopes to get into medical school, Whalen said her research experience at Fordham has been invaluable. She said she hopes her research in the realm of Alzheimer's, though long, will pay off because it can mitigate the symptoms of the disease. 
"The fact that I was able to go in and connect with the head of the chemistry department and develop this independent research project that I really get to take charge, with a lot of hands-on learning, is really amazing when you just step back and think about it," said Whalen. 
Whalen said her time at Fordham and working under Dr. Banarjee has allowed her to make many connections and meet professors from different departments. These connections let Whalen have the opportunity to publish her independent research project down the line, which as an undergraduate, is a remarkable experience applicable to the problem of Alzheimer's.