Epcot is Closed But Its Magic Abounds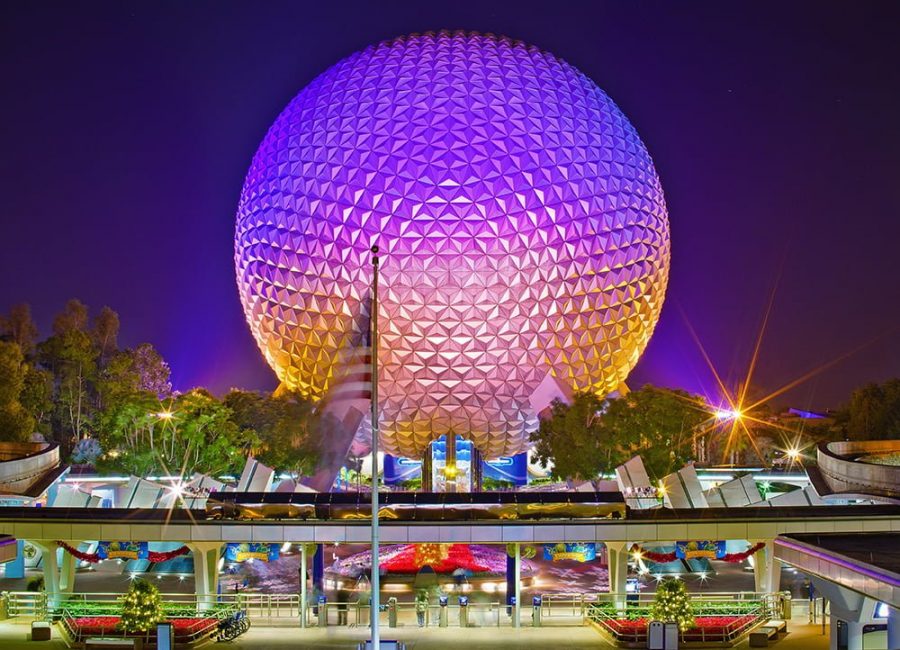 Kelly Christ, Opinion Editor
April 22, 2020
The quarantine imposed to stop the spread of COVID-19 has changed so much about our lives. While these measures are incredibly important, everyone is feeling a sense of loss at the plans that have had to be canceled. In an ode to my own canceled Walt Disney World vacation, I want to pay tribute to an especially magical part of the most magical place on Earth: Epcot.
Epcot was the second theme park opened at the Walt Disney World Resort in Orlando, Florida. First opened in 1982, the name originally came from Walt Disney's idea for an "experimental prototype community of tomorrow." It was a vision for the future filled with technological innovation and grounded in human achievement. 
One half of the theme park is known as Future World, and it celebrates the endless innovation of mankind. The park's "icon" is located here, a massive geodesic sphere that holds "Spaceship Earth," a slow-moving dark ride that praises human progress and is perhaps the epitome of Walt Disney's vision for the park. 
Spaceship Earth is often derided for being more like a history lecture than an exciting theme park-caliber attraction. But, on the whole, Epcot is not your typical theme park, and it was never intended to be. It is a different kind of magic that permeates the ride as you journey through time. I'm not sure if it's the (somehow comforting) burning smell of the Library of Alexandria or the stars that guide you home at the ride's conclusion, but it is undeniable.
Other rides in Future World include the fast-paced "Test Track," where passengers can design and test their own car designs, and the turbulent "Mission: Space," where passengers embark on a thrilling (virtual) trip to Mars. 
Future World is also home to "The Land," a pavilion dedicated to nature and all that the Earth offers us. Though the flying adventure "Soarin'" receives the most attention, guests should not overlook "Living with the Land," a boat ride through environmental innovation with a visit to Epcot's greenhouses where this innovation is being put to work. 
The other half of Epcot, called the World Showcase, celebrates international culture. 
This region includes pavilions showcasing the cultures, traditions and cuisines of 11countries: Canada, the United Kingdom, France, Morocco, Japan, a revolution-era United States, Italy, Germany, China, Norway and Mexico.
Each pavilion is meticulously designed to recreate the atmosphere of their respective country. Many even include recreations of famous landmarks, including the Eiffel Tower in France and St. Mark's Campanile in Italy. All cast members who work at the pavilion are from that country, further immersing guests into the culture. 
World Showcase is a change of pace from what many typically associate with Walt Disney World. It is perhaps best enjoyed slowly, paying attention to all the small details. Practically all the pavilions are much larger than they first appear, with stores, cultural exhibits and, most importantly, restaurants.
My personal favorite restaurants are Biergarten in the Germany pavilion, where guests enjoy a gluttonous buffet in family-style seating to the tune of German folk music, and San Angel Inn Restaurante in the Mexican pavilion, where guests can enjoy delicious traditional Mexican dishes under a perpetual night sky.
Epcot represents hope for human achievement and a celebration of culture. The magic that Epcot brings is a more real and human sense of magic. It is the magic of innovation, of the human desire to improve and of progress through time. 
The future, just as Walt Disney wanted to emphasize in the park, is ever-evolving. Epcot will be subject to an intense evolution in the coming years. Though I do think the nostalgia of the 1980s vision for the future is part of the park's appeal, there is always a need to continue to evolve. 
All Walt Disney theme parks are currently closed for their longest stretch of time in their history amid the COVID-19 pandemic. Walt Disney World had only ever previously closed due to hurricane threats, with the exception of a mid-day closure after the 9/11 terrorist attacks. 
It is unsettling to know that such a constant fixture in American culture is closed like this, but it is what must be done. After all of this ends, we will certainly need a bit of magic in our lives. 
While we may not know what the future holds, Epcot's message should resonate with all of us. As the dedication plaque on the park states, Epcot was meant to "instill a new sense of belief and pride in man's ability to shape a world that offers hope to people everywhere." 
I don't know about you, but that sounds pretty magical to me.