Students Return to a Changed Campus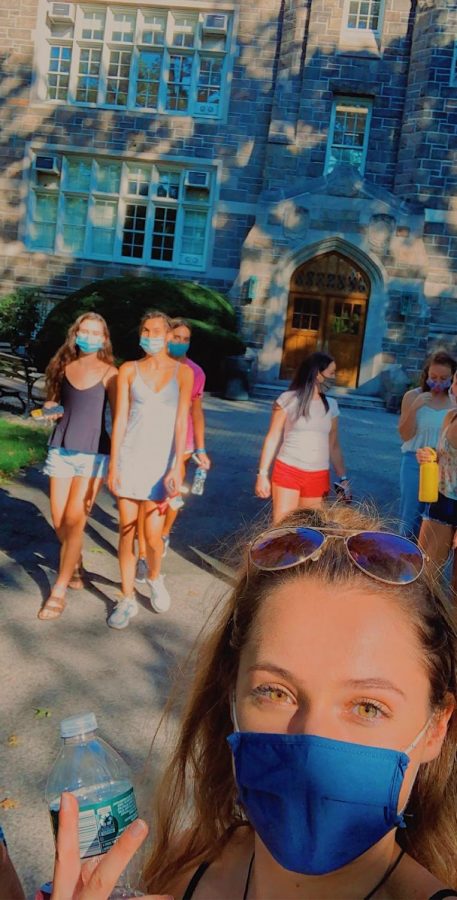 Multiple Writers
September 9, 2020
 Fordham students share how the Covid-19 regulations have impacted their return to campus: 
 Grace Robinson 
In my off-campus apartment, I'm sheltered from the overwhelming fear of packing away my college life. I feel disconnected from the campus now more than ever. As a junior, I'm lucky to have experienced the craze of late nights at Goose followed by University Pizza and aimless wandering from house to house. I have so much appreciation for my previous in-person classes. I took my freedom for granted with each day that I complained about a 10-minute walk to the classroom. The remote platform strips us of  human connections, consistent routine and a level of engagement that can only be achieved through face-to-face discussions. It has become increasingly more difficult to find ways to busy myself and be outside. Walks through the Botanical Garden and picnics in the parks have kept me sane during a time when outdoor freedom is so limited. While the unknown future haunts me the most, I can only hope that Fordham students are making the safe decisions that will help keep us on campus. The familiar sounds of loud music and laughter that made up my first two years of college now bring me so much fear.
Taylor Mascetta 
From a Running Perspective
History repeated itself when the Atlantic-10 Conference announced on July 17 that all fall sports would be "postponed indefinitely" due to the ongoing coronavirus pandemic. To say I was bummed out is an understatement. I've spent the fall running in a cross country season for the past five years now, and this is my first fall in a long time without it. I'm already lamenting the loss of cherished cross country memories, from team victories, to pasta parties, and even the pre-meet bus rides. 
Fordham scheduled official team practices to start again on Sept. 8, but the date got pushed back again until Sept. 15 after the initial COVID-19 testing began. Even that date remains tentative. All the fall season sports teams need to wait even longer until some sort of competition resumes. 
The lack of practice has led to a personal lack of routine. Last year at this time, I woke up at 7 a.m. every morning for training at 7:30, and the rest of my day consisted of set lifts, classes and meals. Now, I roll out of bed right before my 11:30 classes and usually push the runs until evening. Small, informal dinner groups on Eddie's replaced the classic post-practice cafeteria sessions.  
Nevertheless, the team still manages to spend time together while following social distancing guidelines. This includes planning last-minute runs on the turf, introducing the incoming freshmen to the wonders of Pugsley's Pizza and simply walking around campus together (with a mask on, of course!) after a long day of Zoom classes. Eddie's, in particular, has been a great place to hang out — it's spacious, outside and a perfect way to enjoy the weather. When we do go off campus, we usually hit Arthur Avenue to support the local restaurants — the outdoor dining setups are awesome!  
This year I'm living in Finlay Hall with two of my friends on the team.  A few of my other teammates live right across the hall, which has already been an awesome experience. It's reassuring to have a group to see regularly during these tumultuous times.
Campus feels much emptier and lonelier than usual, and it's tough to tell when this pandemic will cease to exist. However, I am proud of how the Fordham community is currently handling the pandemic. Everyone on campus wears their masks without complaint, classes over Zoom seem to be working well and numbers are staying relatively low. Here's hoping that everything will return to somewhat normal in the coming months!
By Emma Nelson
Coming back to Fordham certainly caused a lot of anxiety for many (if not all) students, but things have kicked off to a great start around campus. On Sunday, Aug. 23, the majority of the freshman class moved into their on-campus residence halls. Orientation leaders and resident assistants (RAs) remained socially distant when helping new students arrive on campus by directing traffic, providing information and commencing orientation activities starting early Sunday morning. Leaders and RAs made sure to provide any parents or students with masks and a hearty Fordham welcome to all arriving on campus! From checking testing and quarantine papers in the parking lot to directing students to residence halls, everyone involved in freshman move-in was socially distant and compliant with CDC guidelines. Later that night, Fordham's traditional candle lighting ceremony was livestreamed to all new students via Zoom, providing words of welcome to the class of 2024. With such a great start to the semester, one can only hope that students will continue to keep this campus and our Bronx community safe!
By Erica Weidner
The campus Starbucks has a bouncer. That's not a sentence that I ever thought I would say, but here we are. Given the small amount of space in the Starbucks and the large number of people trying to order coffee on an average Tuesday, it makes sense. But there's something weird about queueing outside a building, where a masked man at the door lets people in one by one, just to order an iced coffee. 
My roommate and I are two people living in a room for three. Our third roommate elected to take only online classes from her home in Madison, Wisconsin. It's a bittersweet living situation. We love having an unused third bed, which we've turned into a "couch" of sorts, and we each get a full closet to ourselves. However, I'd willingly relinquish the couch and the space if it meant all three of us could be here. We've joked about setting up a "shrine" for our missing third, with a few photos, a fake candle and the Green Bay Packers Cheesehead that she left behind last spring. It won't be quite the same, but it will at least make me laugh when I walk by.
Finally, I've spent more time outside on campus in the past two weeks than I did in my past two years at Fordham. I've eaten my lunches on benches and my dinners on stone stairs. I've sat on curbs and walls. I've laid in the grass on Eddie's for hours, and I have surprisingly few bug bites to show for it. After a spring of quarantine and a summer of stay-at-home orders, this pandemic has finally forced me outside, rather than in. They say that sunlight is the best disinfectant, and I can only hope that's true.