The Internet Reckons with the Rise of Anti-Semitic Crimes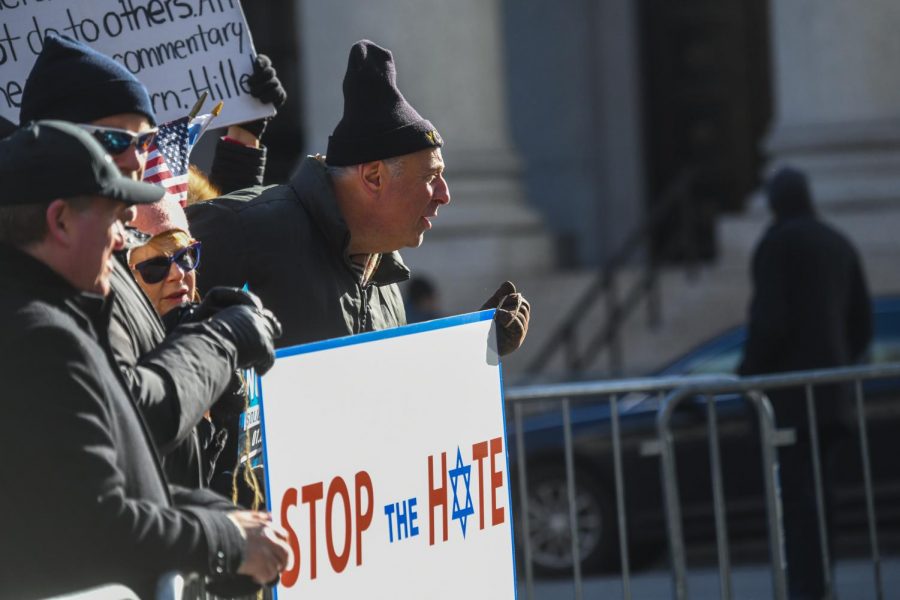 Taylor Herzlich, Staff Writer
September 9, 2020
A Chabad Center at the University of Delaware has been set on fire. An online fast-fashion chain has been scrutinized for selling a necklace brazenly bearing a swastika. Top NFL and NBA players have publicly supported anti-Semitic leaders, perpetuating their ideals and spouting forth anti-Jewish sentiments. All of these headlines have, of course, garnered a shocked response on the internet. What's most shocking about it? The fact that these events have all occurred in the year 2020. 
There has been a significant increase in the number of violent anti-Semitic crimes committed in the New York and New Jersey areas, two locations that typically convey forward-thinking and accepting attitudes. While the Anti-Defamation League, a Jewish organization, has yet to release its statistics for 2019, the data points toward an almost 20% increase in anti-Semitic hate crimes just from the year prior. 
America's biggest cities, usually prided for their diversity and political progressivism, most clearly display the rapid increase in anti-Semitic behavior. New York City is set to have recorded the most anti-Jewish hate crimes in the past year since the early '90s. Not only is the sheer amount of anti-Jewish hate crimes going up, but the statistics show that these attacks are becoming increasingly more violent. 
A recent fire at the University of Delaware Chabad Center caused damages of approximately $200,000. While deemed an intentional case of arson, the fire somehow showed "no indication of a hate crime" according to Assistant State Fire Marshal Michael Chionchio. A criminal investigation is open, though it is difficult to see how a case of arson against a well-known cultural hub for Jewish students could be ruled as anything besides a hate crime. The wrecking of the Chabad Center, which frequently hosted Shabbat dinners, holidays and other celebrations, will leave a void in the campus' Jewish community.
Alongside the literal fires lies a flame that sparked online when Shein, a popular online fast-fashion site, stirred controversy in their sale of a "metal swastika pendant necklace." The e-commerce site has already received heat from online customers for selling religious Muslim prayer rugs and marketing them as decorative carpets. When Shein received backlash from the sale of a swastika necklace, they said it was being sold as a Buddhist swastika, which initially has ties to spirituality. The word swastika comes from the Sanskrit word for "good fortune."
 This claim from Shein attempts to feign innocence while boldly disregarding the offensive associations that come with the swastika symbol. The symbol is so intricately tied to the Nazi party and their despicable actions during the Holocaust that this necklace's sale is extremely offensive to Jewish individuals.
Besides hate crimes and retail rampage, the rise in anti-Semitism can also be observed in the world of sports. DeSean Jackson, wide receiver for the Philadelphia Eagles, received backlash after public support of anti-Semitic remarks from , Nation of Islam leader Louis Farrakhan online, as well as posting quotes falsely attributed to Adolf Hitler. The Eagles were quick to release a public statement assuring viewers that they would be taking steps to resolve the issue and working towards a more open-minded playing field. Jackson's colleague, former NBA player Stephen Jackson, came to DeSean's defense on Instagram Live, claiming that he bore no ill will towards the Jewish population while making stereotypical references to the Rothschild family and making comments like, "I don't think [Jews] stand up for [black people] as much as they should." 
While all these incidents occurred in varying formats, one thing that they have in common is a  quick response from outraged individuals online. Although it is deeply saddening to think of how prevalent anti-Semitism is in present-day America, it is comforting to see perpetrators held accountable.  "Cancel culture" is a popular issue in society, constantly making headlines in recent months. While there is a fine line between cancel culture and holding people accountable, these anti-Semitic actions are a clear example of the internet doing everyone a service by not allowing these people to erase their deeds from history. 
The burning of the Chabad Center in Delaware is heartbreaking, but the students joining together online to raise funds to rebuild the center is an inspiring display of community ties. The sale of an offensive, anti-Jewish symbol by Shein is downright unbelievable. Still, the power of the internet to hold an entire company accountable simply by expressing their outrage in comments helps to show us that maybe people aren't as divided as we think. The outdated comments made by idolized sports players are disappointing, but the ability of viewers and fellow athletes to remind people that these comments are unacceptable is a positive change and a sign of progression. 
The rise of anti-Semitism is extremely disappointing. However, the individuals' ability to band together online in great enough numbers that their voices are finally heard and loud enough to bring about change shows us just how influential we are. The internet is a powerful tool, and it is our responsibility to continue to use it for the ultimate good. 
Taylor Herzlich, FCRH '23, is a journalism major from Mt Sinai, N.Y.