Fordham Curriculum Moves to Address Racism Amidst Waves of Protest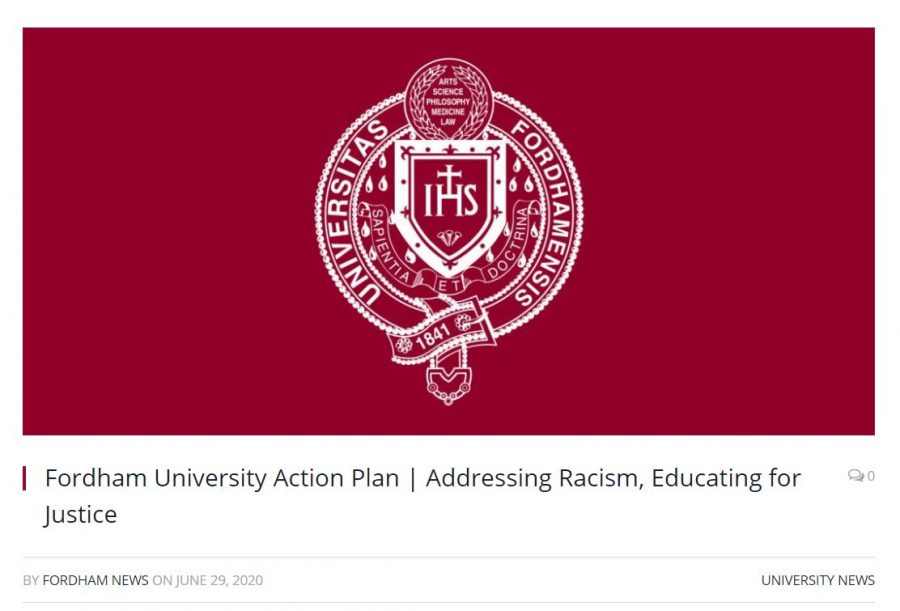 Patricia Whyte, Staff Writer
September 9, 2020
As the school year begins, we find ourselves in the wake of our nation's largest civil rights movement. The Black Lives Matter movement is calling for reform in the criminal justice system as well as confronting the repercussions of systemic racism in this country.  
On June 29, Fordham released an action plan addressing racism and educating for justice. Listed as part of this plan was an initiative to develop curricular and co-curricular plans that support anti-racist pedagogy. 
"The deans of all of the schools will work with their faculty members to ensure that courses include content-appropriate discussions or treatment of issues of racism, inequality, and diversity as often and as richly as possible," the plan stated. 
This message came in response to George Floyd's death in May, but also to emails, petitions and Instagram posts testifying instances of everyday racism experienced by the university community. 
"This moment has made it clear that we can and must do more. We all know this in our bones and in our hearts," Fordham's plan said. 
On June 22, ASILI, Fordham's Black Student Alliance, released a list of demands for administrators. This included committing to combating anti-Blackness at Fordham through course requirements. 
"The administration needs to be more open to having a dialogue with students of color regarding combating racism at Fordham," Gerald De La Cruz, GSB '22, social media director of ASILI, said. "Our demands highlight issues at Fordham that have been brought up by members of the student body." 
The club has since released a second volume of demands, composed of previous demands not addressed by the university and new demands brought up by the student body.
"We need to have these tough conversations now to make Fordham better for students in the future," De La Cruz said. 
The Diversity Action Coalition (DAC), a committee within the United Student Government (USG), worked with ASILI to write a proposal to implement a full anti-racism attribute requirement for the class of 2026 and beyond. 
Arianna Chen, FCRH '22, chairperson of DAC, and Maya Bentovim, GSB '23, vice president of Communications on USG, developed a proposal to implement anti-racism into our core curriculum. 
"[Maya] came to me talking about the national climate and the need to address anti-racism into our curriculum, because anti-racism is very pedagogical," Chen said. "It's very relevant to a 21st-century education; it's really important even to our Jesuit values." 
Within the proposal, ASILI made a statement voicing their beliefs and reiterating their pleas to the university. Through working with ASILI, the proposal evolved into a multifaceted implementation plan for anti-racism throughout the curriculum as well as student life programming, Chen said.
In addition, the proposal calls for an anti-racism module to be added to New Student Orientation, a lecture series about social justice and anti-racism and modification of the pluralism attribute to more adequately address racial disparities in America. Eventually, this would lead to an anti-racist attribute to be added to our full curriculum, Chen said.
"To be honest, I think what we want is a course that addresses these issues and also talks about moving forward and being men and women for and with others," Chen said. "How do we participate in the good fight and how do we contribute to this fight for racial justice?"   
Though it is not an official requirement, many educators across various departments utilize anti-racist texts in their curriculum. Annika Hinze, Ph.D., director of urban studies, said she uses many anti-racist texts in her teachings to offer a wide variety of perspectives to her students. 
"I think any course that you teach in urban politics is going to be informed by the history of racism in this country and by race in general," Hinze said. "I can't claim to know certain things that I might know if I had experienced them first hand."
As an immigrant from Germany, Hinze said she was brought up in the German education system. There was a strong conversation and acknowledgment of Nazi Germany's past, which Hinze says contributed greatly to her political perspective. 
"It's always surprised me how little in the school curricula here the history of racism and the key part that slavery played in building the U.S. economy, how little that is acknowledged here," Hinze said. 
Hinze said she has tried to make an effort to include readings by people of color (POC) in her syllabus on the history of racism in this country but has perhaps done too little to acknowledge the contributions that African Americans have made to our society and culture. 
"I think one of the key things of an anti-racist curriculum would also not just talk about oppression, not just talk about discrimination and racism, but also make a more concerted effort to talk about contributions of African Americans that maybe sometimes go overlooked," Hinze said. 
Jesse Baldwin-Philippi, a communication and media studies professor, said she also strives to incorporate anti-racist texts into her courses. 
"I think of anti-racism and anti-racist education and pedagogy, as being fundamentally about learning about those systems and learning about how power is maintained through a variety of institutions," Phillipi said. 
Phillipi said she aims not only to curate a syllabus where POC are visible but also for her students to think critically about these oppressive systems of where power lives. 
"It's up to the professor to help work through, how do we overcome those [systems] or work against them or at least be critical of them, if we can't live outside of them," Phillipi said. "I think that's my approach at least to doing this work; rather than if you read this text you'll suddenly get it right." 
Phillipi said current events are a constant topic of discussion in her classes, and the resurgence of the Black Lives Matter movement this summer proves no different. 
"I'm like, I can't not talk about this right now, and I think it raises the absence that existed," said Phillipi. "This has always been a problem; racial justice has always been needed in this country, even when it wasn't at the center of all news reports in our daily life. The fact that it took us this long to realize that it deserved central billing, I think, is regrettable."