Despite working long hours every day and prioritizing your work, there will be times when you will need more time for the things that matter most. Managing time has become a challenge in the 21st century, so there's nothing wrong with you!
Emails, phone calls, Facebook updates, meetings, and other forms of communication are just some of the many interruptions that modern life brings. However, the good news is that there are plenty of free online time management courses that can help you learn how to manage your time more effectively.
In this article, we'll look at some of the best online time management courses in 2023, including free and paid versions.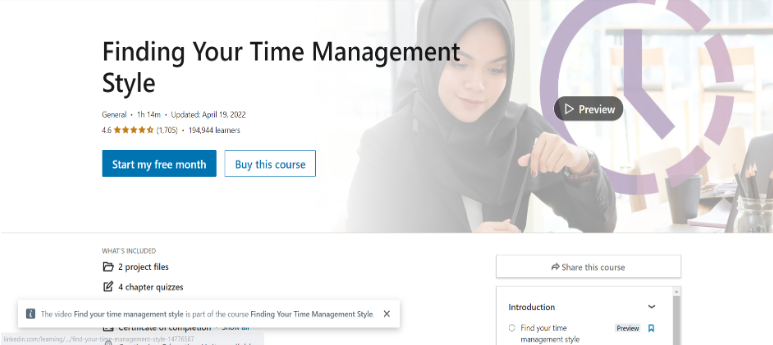 In this course, you will learn how to assess your daily habits and how reliable you are at time management. 
This training aims to assist you in becoming more efficient by teaching you how to manage your time better. Dave Crenshaw, a productivity expert, focuses on the topics addressed in his other courses on time management.
Understanding time management shifts will be much simpler if you've studied consistency and variety-based styles and learned how to collaborate with people with different approaches.
When it comes to managing your time, everyone has their own preferences. In this course, productivity expert Dave Crenshaw walks you through an assessment to find out what your preferences are. He then shows you how to change even the most basic time management techniques to fit your needs.
In addition, you should learn how to work effectively with coworkers who use time management techniques that are different from yours.
Key Learnings:
Learn to appreciate the range of possibilities, reliability, and daily successes.
Learn how to manage your time effectively.
Explore your own personal and professional styles and those of your coworkers.
Build your own method of time management to maximize your efficiency.
Duration: 1 hour 14 minutes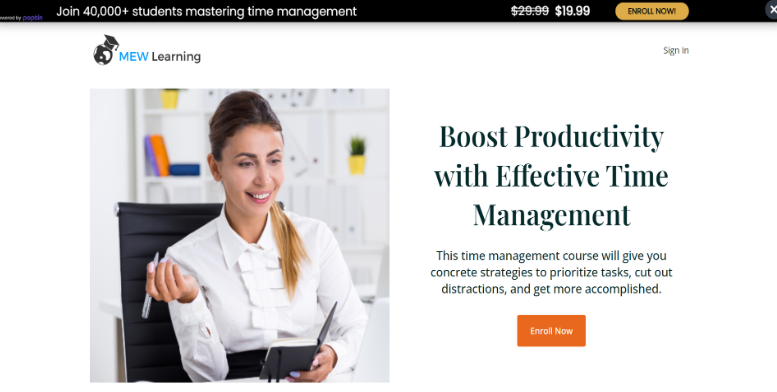 This course is ideal for anyone who wants to learn how to maximize their time and achieve more success in any area of their lives.
Over the course of 50 in-depth video courses, three-time Amazon best-selling author Alex Genadinik teaches you how to prioritize tasks, establish achievable goals, and develop a habit of maximum productivity.
Topics like minimizing distractions, beating procrastination, getting enough sleep to function at peak efficiency, and making the most of modern technological advances are also discussed.
Get the self-assurance and knowledge to manage your time effectively, zero in on your goals, and unleash your full potential with the help of real-world case studies and clear, actionable instructions.
This course will help you make the most of your time and energy no matter what you do for a living: study, teach, run a business, or raise a family. A company can train their entire staff to manage their time more effectively by enrolling them in this course.
Key Learnings:
How to start saving time right away by automating and delegating routine tasks.
Ways to avoid unnecessary distractions during work.
Methods of increasing efficiency through the use of modern tools.
Tips on how to keep your spirits up and your mind on the job.
Methods for setting priorities among tasks.
How getting enough rest, moving around, and eating right can boost your efficiency.
Methods for successfully establishing and fulfilling objectives.
3. Duration: 56 lessons over 3.5 hours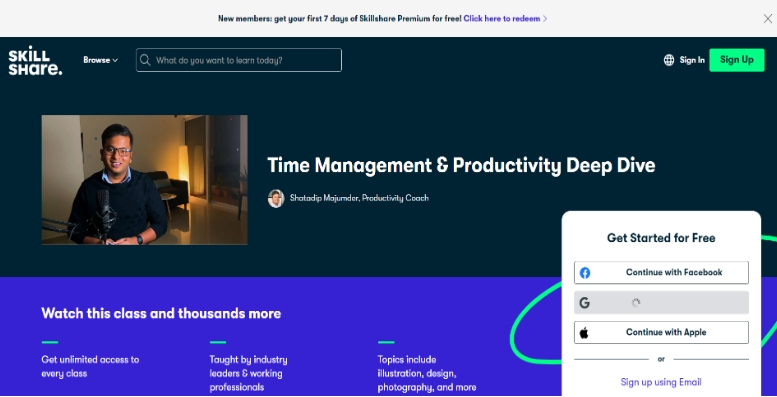 Time Management and Productivity Deep Dive by Skillshare are meant to help you establish a schedule and system of procedures that work best for you.
This course, offered by Shatadip Majumder, will teach you how to manage your time effectively and become highly productive by using several straightforward ideas and principles, such as the Eisenhower Matrix, the Pomodoro Technique, and the Pareto principle.
The 80/20 rule can help you get twice as much work done in half the time by implementing some of the tactics covered in the course on basic time management techniques. You'll also develop a mindset that makes zeroing in on the tasks at hand easier.
To help you stay productive at work, this course covers two medication strategies and the top five self-care tips.
In short, this training program offers you an arsenal of proven methods that you may adapt to your own needs.
After completing this course, you should be able to create a time-management system that works for you, whether you're self-employed, have a 9-to-5 job, or are a graduate student. This will allow you to get more work done while still having time for fun.
Key Learnings:
Learn about the potential obstacles that could slow you down and the steps you can take to eliminate or reduce them.
Find out how to concentrate better and see immediate results.
Learn the ins and outs of successfully planning, prioritizing, and carrying out tasks.
Develop the skills to assign, eliminate, and automate tasks.
Duration: 2 hours 53 minutes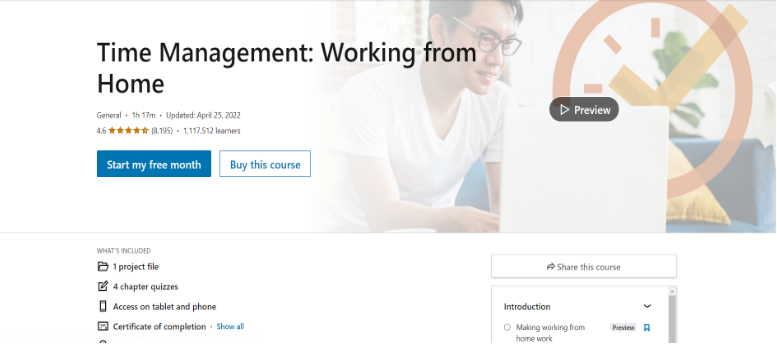 Dave Crenshaw, author and productivity expert, shares his tried-and-true methods for managing time effectively, whether you work from home full-time or occasionally.
In the first module, you will learn how to optimize your working environment for maximum efficiency. This will include tips on configuring your computer to help you stay focused.
Then, Dave shows how to arrange a day for maximum output while including restorative breaks to avoid burnout.
He explains how to maximize the benefits of virtual meetings and other tools for allowing productive collaboration with remote coworkers.
You'll also learn some strategies for balancing your personal and professional commitments so that you never feel overwhelmed.
Key Learnings:
Make the most of your office space by installing cutting-edge technology.
Identify your most productive time and make a routine for yourself.
Improve the efficiency of your interactions by using industry-standard procedures.
Be ready to deal with unforeseen circumstances and setbacks.
Duration: 1 hour 17 minutes
The Career Success Specialization course Work Smarter, Not Harder by Coursera offers a comprehensive manual on time management for both professional and personal productivity.
Margaret Meloni, the course's lecturer, encourages students to dive into self-awareness and professional development issues and learn how to apply the correct methods and tools to achieve their objectives.
This online course will provide an in-depth look at time management techniques and the factors that can hinder or boost your efficiency.
The trainer will show you how to make your plans and prioritize them to maximize productivity. Also, it talks about work-life balance and how to achieve it.
In addition to sharing insights from her experience in time management and maximizing one's productive energy, Margaret Meloni also offers practical tips for increasing one's productivity.
After successfully completing this free online time management course's interactive quizzes, you'll be given a shareable completion certificate.
Key Learnings:
Recognize the obstacles that stand in the way of effective time management.
Learn the art of strategic planning, and you'll be well on your way to accomplishing both your personal and professional objectives.
The training provides you with the perspective you need to foresee and handle problems.
Figure out how to make the most of the resources at your disposal.
Duration: Approx 10 hours.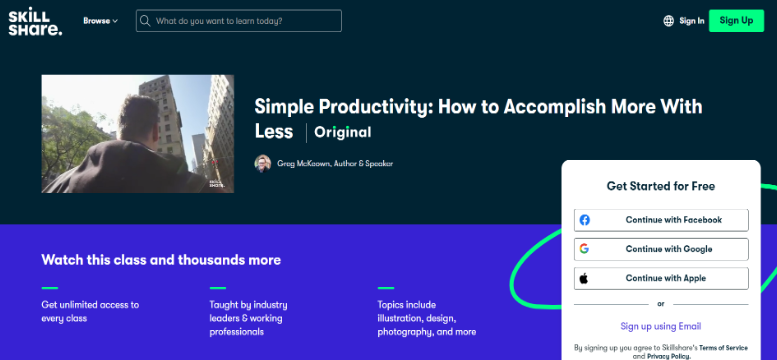 Famous author Greg McKeown offers a class on how to be more productive with less effort. This course teaches students how to effectively manage their time based on Greg McKeown's book Essentialism.
It will teach you effective methods for managing your time, such as creating an email filing system and creating folders for different types of messages.
As you move through the lessons, you'll have the opportunity to reflect on your priorities through a series of exercises. You'll get better at keeping yourself accountable and letting go of commitments that aren't important to your happiness over time.
Greg also shares some of his favorite advice, from perfecting the "slow yes" to maintaining focus in any circumstance.
As a result of this training, you will view productivity from an entirely different perspective. Rather than feeling like you have to squeeze in more, you'll realize that you have the power to create a meaningful, balanced life by analyzing the value of new tasks, commitments, and ambitions right away.
This simple productivity course is offered on the website Skillshare. The training program demands a Premium subscription, which costs $32 per month after a free one-month trial.
Key Learnings:
Learn how to assess your priorities and choose the things that are most important to you.
Take daily guidance to maintain a healthy lifestyle.
Learn the skills you need to confidently refuse commitments that aren't necessary.
Duration: 45 mins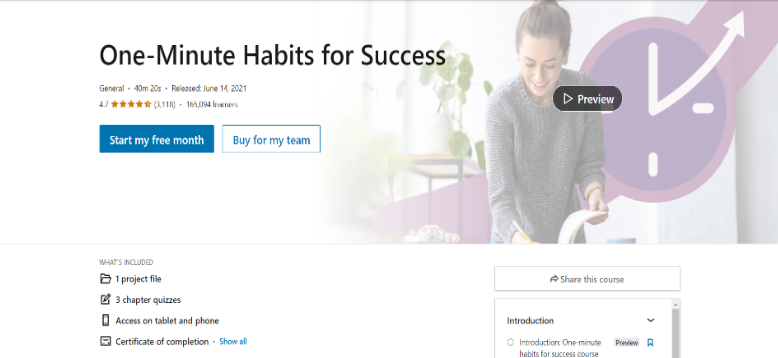 "Practice makes perfect" is an old saying that has stuck around, and it's proven to be true.
Mastering the art of time management involves learning how to prioritize and organize your tasks so that you can get everything done reasonably without sacrificing quality or tiring yourself out.
It sounds like a challenging task, doesn't it?
Well, the tried-and-true method for accomplishing that goal is practicing, practicing, and practicing some more. What is the purpose of practice? It turns into a habit, and habits are hard to break.
Whenever successful people face a tough challenge, you will find that they all have a set of routines that they rely on.
That's precisely what the instructors of this web-based course on time management stress: the importance of establishing and maintaining good habits. Although you may find the subject of building a habit overwhelming at first, as you progress through the course, you'll begin to understand the craft.
One who is teaching you With his extensive experience, IU professor and best-selling author Scott Mautz has a deep understanding of the human condition. Thus, he stresses the importance of developing short, one-minute routines that can be implemented quickly and consistently despite our natural procrastination and laziness.
Scott's enthusiasm and enthusiasm for teaching make him an ideal instructor for a course in time management.
This course is free for the first month of the LinkedIn Learning free trial, so you don't have to spend even a penny to complete it.
Key Learnings:
Putting your current abilities to good use.
The value of starting over fresh.
Strengthening one's sense of self-esteem.
Keeping calm in tense times.
Creating long-lasting habits.
How to maximize practice time and why it's so crucial.
Developing a routine that works for you on every level.
How to get past procrastination and prevent it from returning?
Duration: 4 chapters spread over 40 minutes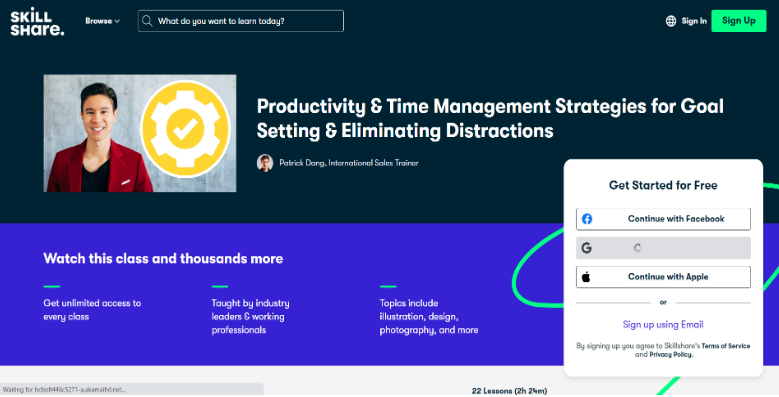 This course on productivity and time management strategies for goal setting and eliminating distractions will teach you everything you need to know about the various time management methods and how to implement them effectively.
Professional sales trainer Patrick Dang emphasizes a time-tested strategy of productivity that will help you focus on what matters most.
The instructor will guide you to success by revealing the strategies that high achievers regularly employ to get more work done in less time and the practical implementation of these methods in your own life.
You will also learn how to overcome self-doubt and develop a growth mindset to accomplish your dream goals.
After completing this course, you will have a better grasp on how to prioritize your activities and maximize your time for maximum productivity. It is made for people who desire to organize their time more effectively at home and work.
Key Learnings:
Learn the ins and outs of setting goals and establishing a detailed strategy for achieving your objectives.
Apply the best strategy for zeroing in on your most important work and ignoring all other distractions.
Figure out the best method to design your life so you can achieve your goals.
Learn how professional performers achieve more in less time by using the fundamental building elements.
Duration: 2 hours 24 mins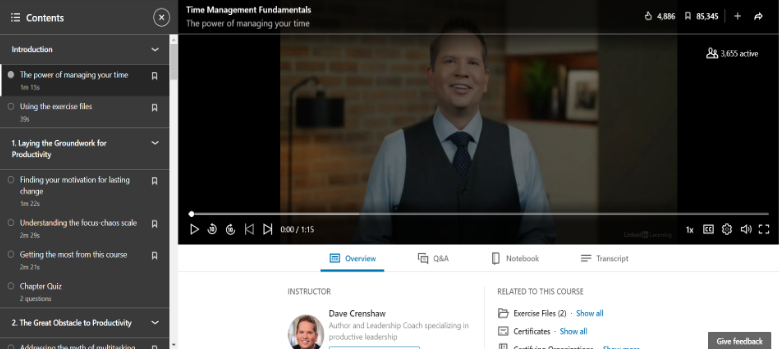 Dave Crenshaw, a leading expert on productivity, created a practical course on time management called "Time Management Fundamentals." He'll show you how to maximize your time so that you can get more work done.
This course not only addresses the obstacles to productivity but also offers the theoretical and practical foundations for overcoming those obstacles.
After that, it offers practical advice on becoming more productive in three main areas: building more orderly routines, cleaning up your workstation, and maximizing your time.
You'll figure out how to channel your attention, eliminate unnecessary distractions, and schedule your time effectively.
Ultimately, you'll learn to zero down on what matters most. If you want to learn some strategies to manage your time better, this course may be worth your while.
Key Learnings:
Learn the fundamentals of effective time management.
Figure out why switching between tasks frequently is a waste of time.
Learn the ins and outs of creating efficient routines for yourself.
Keep your mind and body focused on the task at hand and maximize your time by developing various techniques.
Duration: 1 hour 47 minutes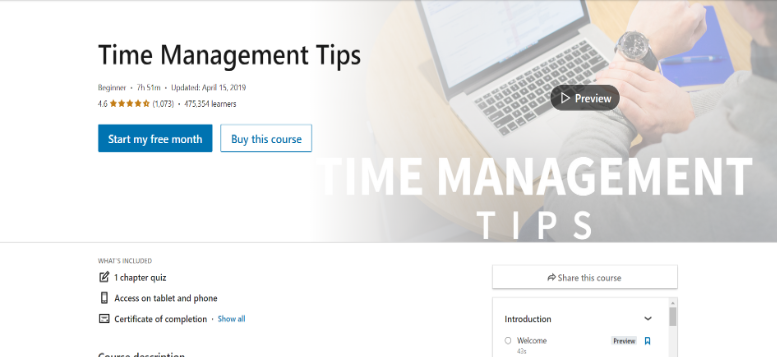 In this series, you will learn how to manage your time in surprisingly simple ways effectively. This is yet another offering from Dave Crenshaw, who has developed courses covering various topics and teaching multiple techniques.
Its goal is to help individuals become more efficient and better manage their time. The instructor will guide you on managing your time, from responding to emails and scheduling meetings to deciding what's most important.
He also stresses the need to work along with coworkers and keep distractions to a minimum. In addition to using several techniques for better time management, you'll also cultivate a productivity mentality that will help you focus on the task at hand.
In the end, you'll know how to create a more pleasant and effective working environment to keep yourself motivated to get the job done.
Key Learnings:
Learn various tips for better time management.
Create a routine that encourages productivity.
Cultivate a brown productive mindset.
Make the workplace more comfortable and productive.
Duration: approx 8 hours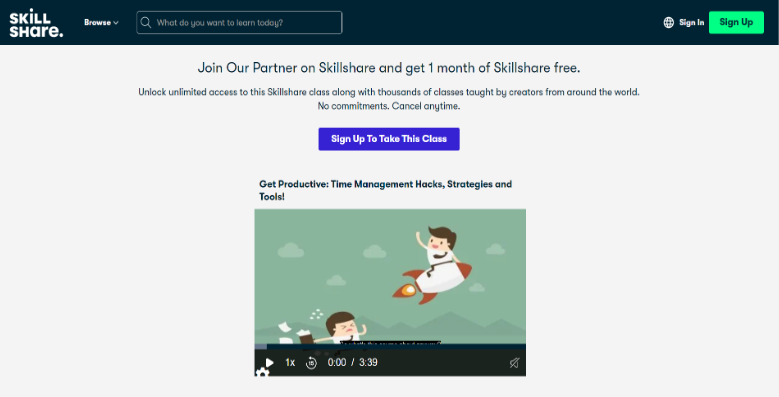 Do you lack grit and determination? Are you looking to make some changes to your lifestyle?
To become a productive powerhouse, you need to learn the fundamentals of time management, and that's precisely what you'll get in this course. The fundamentals of productivity, such as switching between tasks without losing momentum, avoiding procrastination, and managing a high volume of data, would become natural to you.
This professional-level course is designed to improve students' efficiency in various workplace contexts, including project management, meetings, employee relations, and more. It explains how to be more effective in other areas of life as well, like maintaining a healthy lifestyle.
If you're interested in Skillshare, you may try it out for a month without spending a dime and take this course for free during that time.
Key Learnings:
How to maximize your time with the help of the four productivity quadrants.
Methods for cultivating self-discipline, inspiration, and sound decision-making.
How to organize your staff, hold effective meetings, communicate more effectively with your coworkers, and create a positive work environment.
Ways to put what you know into practice.
Critical factors in effective project management
Duration: 39 lessons over 3+ hours

The goal of this course on time management is to help you make more informed choices about how you spend your time. It will educate learners on time management and the best way to divide their time between various tasks.
Using Parkinson's law, you can get more work done in less time, even when you're stressed.
In this course, you will learn to organize your time effectively and to create meaningful objectives. You will also become familiar with the 80/20 rule, the ABCDE framework, several approaches to multitasking, and other methods for improving efficiency and productivity.
You'll learn to approach activities more flexibly as you mature and accept that you don't need to be constantly switched on to be effective.
By the end, you will have mastered the art of goal-setting, task-prioritizing, and multitasking. After finishing this free online time management course, you will also be awarded a completion certificate.
Key Learnings:
Understand the benefits and potential of time management.
Learn the process of developing SMART objectives.
Practice time-management strategies, such as the ABCDE method and Parkinson's law.
Improve your output by mastering time management techniques.
Learn to embrace adaptability as a core component of your time management toolkit.
Duration: 1-hour
Wrapping Up
There are many excellent time management courses, but those mentioned above are some of the best.
These courses will educate you on how to manage your workload so that you can complete the tasks that are crucial to your personal and professional success. Additionally, they help you with time management.
Taking one of these classes teaches you how to prioritize tasks to get the most out of your time and effort. Enroll in one of the aforementioned courses to enhance your time management abilities.
Last but not least, feel free to share your thoughts below by leaving a comment.