Have you ever seen handwriting that left you amazed? Calligraphy is a notable skill, one that you can use for wedding invitations, poster presentations, and creating great front covers for movie posters or books!
Believe it or not, calligraphy does not take years of painstaking work! An online calligraphy course can help you write in style and embellish written designs that will leave your friends, family, and colleagues in awe.
Here we describe a number of online calligraphy courses to join for a unique experience from the comfort of your home: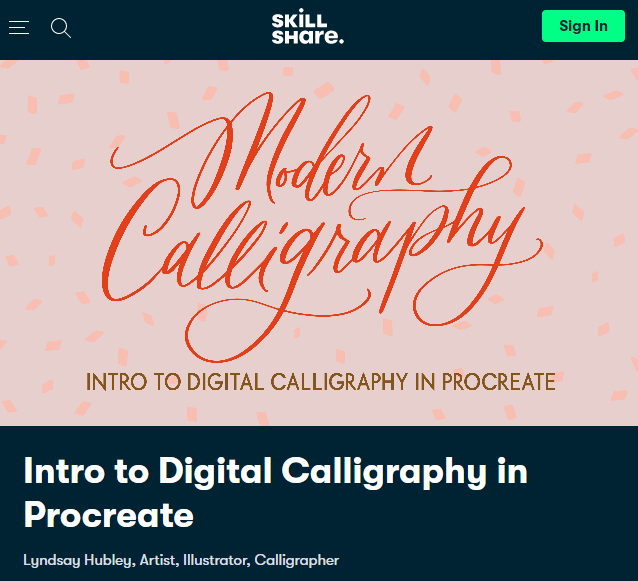 Since the digital world came into place, virtual art is the next big thing; where this course, led by Lyndsay Hubley, introduces and familiarizes beginners with how to use Procreate for digital calligraphy.
Modules:
Intro to Digital Calligraphy in Procreate
Procreate Overview
Layers
Layer Adjustments
Brushes + Properties
Importing
Basic Strokes
Ascenders + Descenders
Connecting + Bouncing
Exporting
Bonus – Recoloring Your Work
Class Project
Pros: Trending and current skills, business potential and entrepreneurship opportunity, a class project for practical experience, on-the-go device availability
Cons: iPad/electronic requirements must be met, short course duration
Hours: 1 hour 13 minutes (12 lessons)
Cost: Paid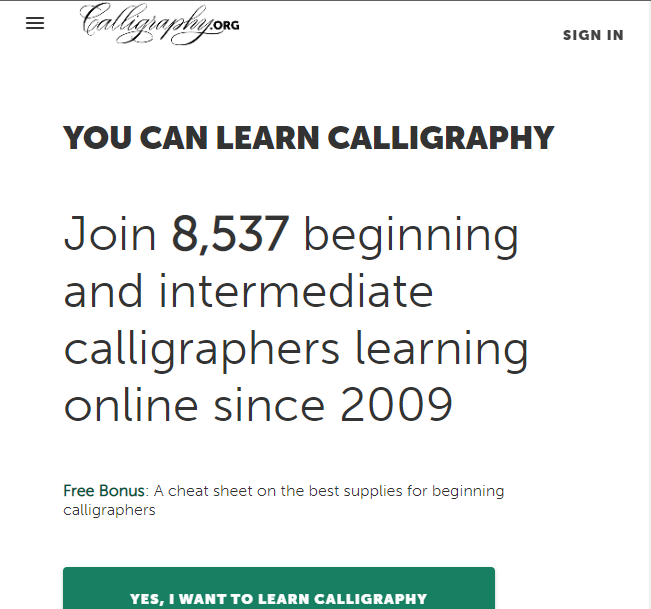 Taught by Melissa Esplin, this website offers not only access to a course but a network of calligraphers across the world who will read and respond to any feedback requests from students and learners seeking a critique.
Modules:
Modern Calligraphy – It is a pointed-pen course for classic writing using the traditional alphabet. Line quality is more precise and consistent, ideal for writing envelopes, cards, wedding invitations, and place cards for events.
Brush Calligraphy – Suitable for beginners and intermediate learners, this course is meant for calligraphy in different settings, using alternate letter patterns that can still be read; it is meant for informal signs and posts, casual labeling, and larger projections that can be created.
Spencerian Calligraphy – With hairline strokes, this course also requires no prerequisites and takes designs to the next level.
Chalk Lettering – With a simple chalkboard and chalk, this course helps create stylish 2D and 3D designs using chalk.
Pros: Individual feedback system with instructors for challenges, lifetime access to course material, personal contact with instructors, unlimited feedback availability, IOS and Android compatible website, course return policy, video subtitles available, designed for beginners and advanced learners, self-directed course
Cons: Supplies may take time for delivery if not self-sourced
Hours: 2-4 hours per week for 30 days (Lifetime access)
Cost: Paid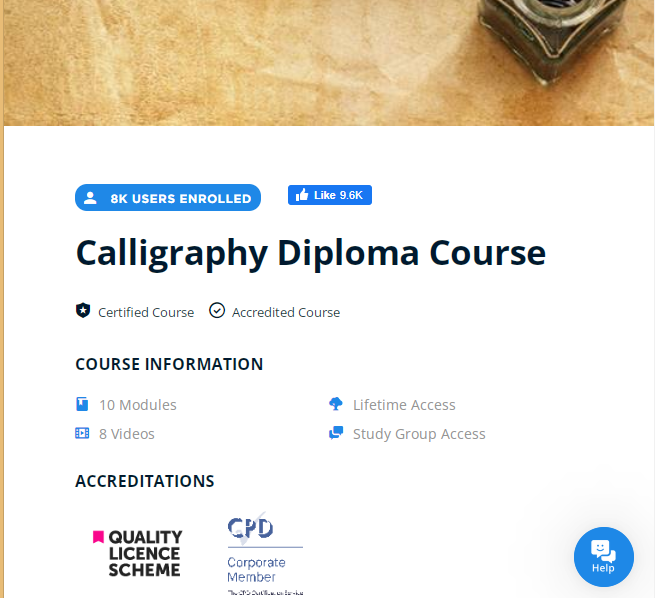 With over 8,000 enrolled learners, this course is a great catch for those looking for a certified online course with accreditation. The course is designed for beginners and those intrigued by calligraphy as an art form. It is also professionally accredited by the Quality Licence Scheme and CPD (Continued Professional Development), based on which 2 certificates will be awarded to those completing the course assessments.
Modules:
What is Calligraphy?
Tools and Materials
Getting Started
Modern Calligraphy
Foundational Hand
Roman Script
Italic Script
Gothic Script
Flourishes
Turning Your Calligraphy Skills into a Business
Pros: Several certificates available for career development, 24/7 accessibility on any device for on-the-go learners, lifetime access, application-based course, study group access
Cons: Additional costs for optional certificates
Hours: 8 videos
Cost: Paid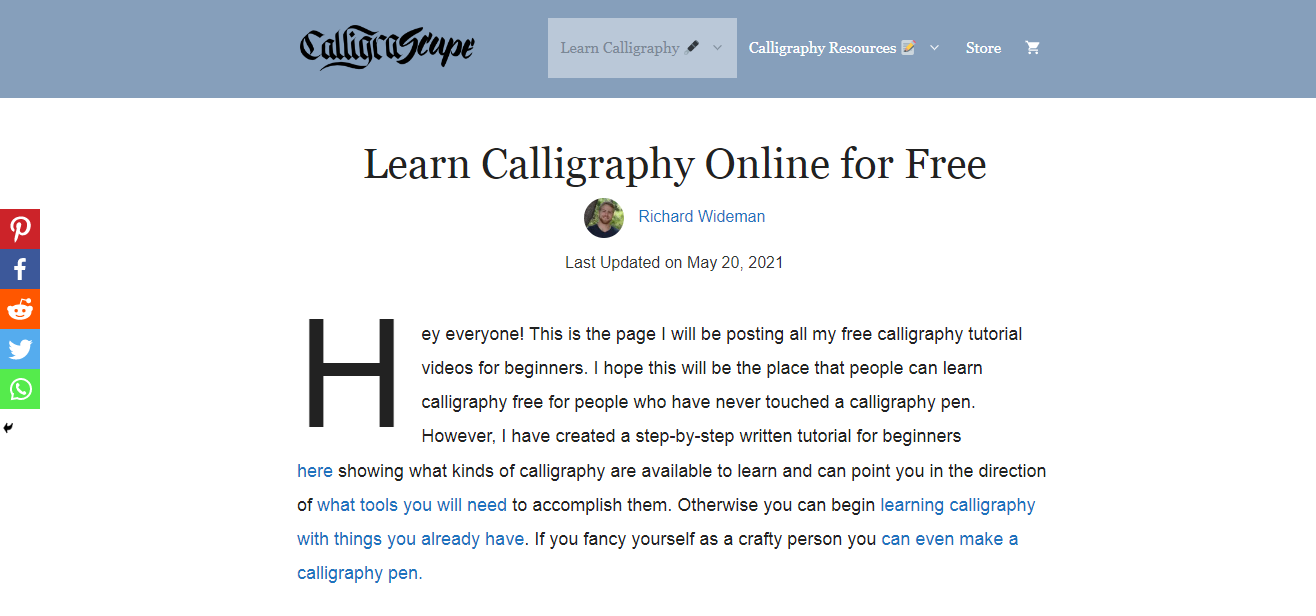 With different types of calligraphy videos, Richard Wideman definitely guides beginners in a great direction by offering free videos with minimal tools in several series.
Modules:
Pencil and Pen Calligraphy – Intro to Gothic Calligraphy, Full Gothic Alphabet, Uncial Blackletter Script, Brush Calligraphy with Pencils, Copperplate Calligraphy with a Pencil, Monoline Calligraphy with a Fountain Pen
Blackletter Calligraphy – Simple Gothic Lowercase, Gothic Capitals, Foundational Calligraphy with a Highlighter
Pointed Pen Calligraphy – Modern Calligraphy, Modern Calligraphy Capitals,
Brush Calligraphy – Modern Brush Calligraphy (With a Crayola Marker), "Casual" Alphabet Brush Calligraphy, Master Modern Brush Calligraphy
Lettering – Serif Script with a Sharpie
Pros: Practice sheets, self-paced, on-the-go availability of videos, difficulty levels noted
Cons: No certificate
Hours: Depends on Learner and Course
Cost: Free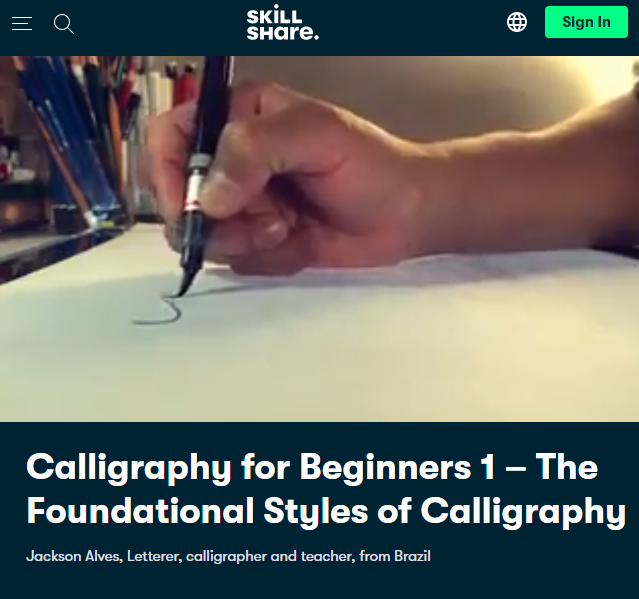 The course focuses on fundamental calligraphy for beginners and how to utilize it using a humanist script, where handmade calligraphy is made simple and easy.
Modules:
Making your handmade calligraphy pen
Preparing Your Surface
Using Your Pen for the First Time
Warming up exercises
Basic Strokes
Writing Lowercase
Writing Uppercase
Writing Numbers
Writing Words
Basic Swashes
Using pencils to make calligraphy
Conclusion
Next Steps!
Pros: Hands-on project
Cons: Lesser one-to-one contact, brief duration
Hours: 1 hour 42 minutes (14 lessons)
Cost: Paid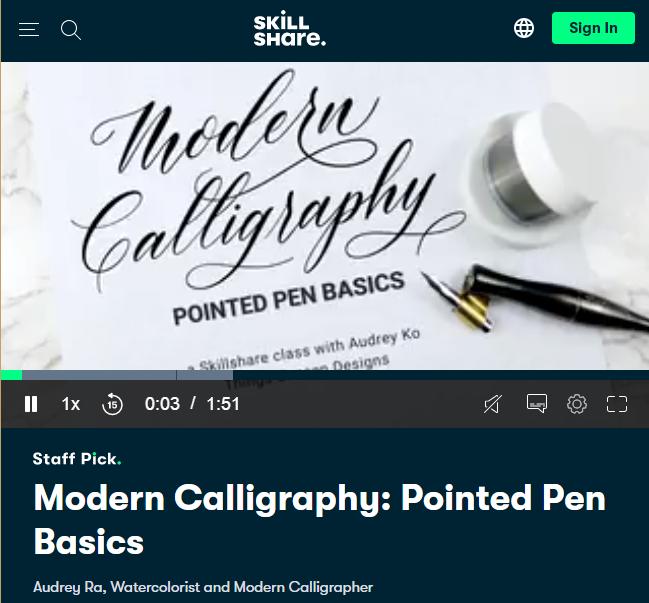 Known as the Staff Pick and taught by Audrey Ra, a watercolorist and modern calligrapher, the course teaches 8 basic strokes and modified strokes, as well as lowercase and uppercase letters.  Words, numbers, and punctuation will be practiced using downloadable guidesheets, which will help fresh learners and experts as well.
Modules:
Welcome!
What is Modern Calligraphy?
Tips & Troubleshooting
Letter Anatomy and Guidesheet
Supplies overview
8 Basic Strokes
Modified Strokes
Lowercase, a-m
Lowercase, n-z
Connecting, a-e
Connecting, f-l
Connecting, m-z
Lowercase words
Uppercase, A-M
Uppercase, N-Z
Uppercase Words
Numbers & Punctuation
Project time!
Manipulating Letters and Exploring Styles
Final Thoughts
Pros: Intermediate time duration, detailed and thorough modules, rated highly for clarity and organization, device availability
Cons: Self-pacing may not be suitable for all students
Hours: 3 hours 43 min (20 lessons)
Cost: Paid

Instructed by Vinitha Mammen, the course has been known to put both hands to the test and is designed for any skill level, including advanced learners who may receive insight into negative spacing and how to carry it out efficiently.
Modules:
Introduction
Class Overview
Your Class Project
Materials
Negative Space And Its Use In Art
Lettering Essentials
Scaling Up Your Lettering
3D Lettering
Paint Consistency
Brush Control
Finding Inspiration
Creative Soul Name Generator
Concept And Sketching
Painting With Watercolors
Final Thoughts
Pros: Clear instruction, engaging instruction, on-the-go lessons
Cons: Self-pacing may not be suitable for all students
Hours: 2 hours 10 min (15 lessons)
Cost: Paid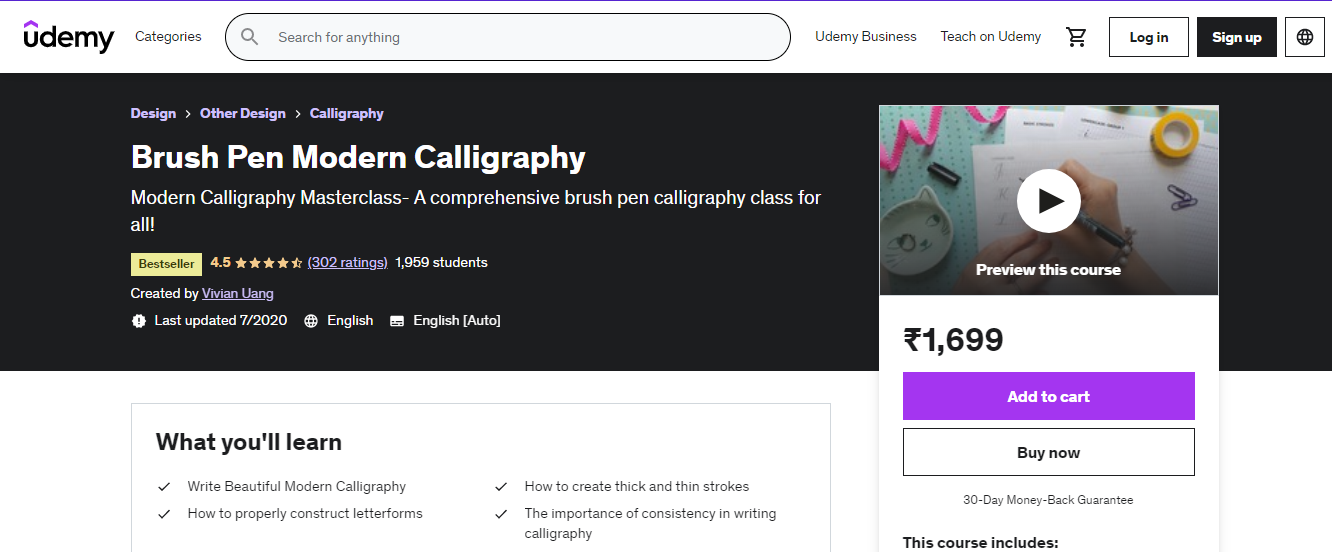 Instructed by Vivian Uang, the course goes through all brush-related techniques aimed to make the learner a pro at flourishes in calligraphy and expert strokes without any prior knowledge needed.
Modules:
Introduction and Preparation
Basic Strokes
Lowercase Letters
Uppercase Letters
Advance Techniques and Class Project
Thank you!
Pros: Beginner level, basic tools needed, step-by-step instruction, highly rated, 30-day money-back guarantee
Cons: Short-term courses may not suit all learners
Hours: 1 hour 25 min (10 lessons)
Cost: Paid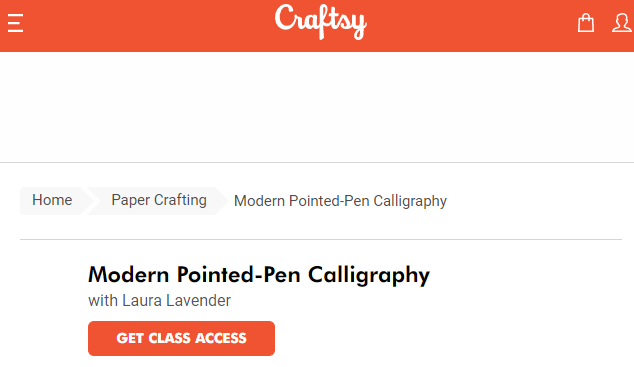 Artist Laura Lavender provides hand lettering and modern calligraphy lessons where learners get experience in creating and connecting letters, spotting similar shape and stroke formations, and getting a grip on letter and line anatomy.
Modules:
1. Intro, Tools, and Setup
2. Essential Exercises
3. Minuscules and Variations
4. Majuscules and Numbers

Pros: Beginner-level, on-demand access 24/7 to videos
Cons: Short
Hours: 2 hours minimum (4 lessons)
Cost: Paid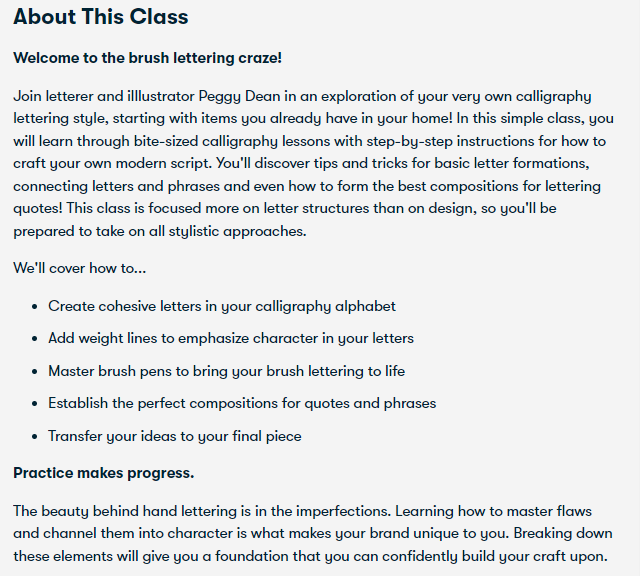 Taught by Peggy Dean and with free resources included, this course goes through common mistakes in first-time calligraphy, as well as thorough step-by-step methods for bringing the writing to life using helpful examples and actionable steps.
Modules:
Welcome to Modern Calligraphy
Materials & Supplies
Top 6 Mistakes to Avoid
Foolproof Letter Structure – PART 1
Foolproof Letter Structure – PART 2
Use Proper Spacing to Create the Vibe You Want
Where to Add Weight Lines
Introduction to Brush Pens & Their Basic Strokes
Apply Brush Pen Strokes to Your Letter Forms
Time to Break the Rules: Bounce Lettering
How to Create Compositions
Create Your Final Piece
Your Class Project + Flourishing
Pros: Detailed modules, troubleshooting methods included, on-the-go lessons
Cons: Reviewed as fast by some learners
Hours: 1 hour 49 minutes (13 lessons)
Cost: Paid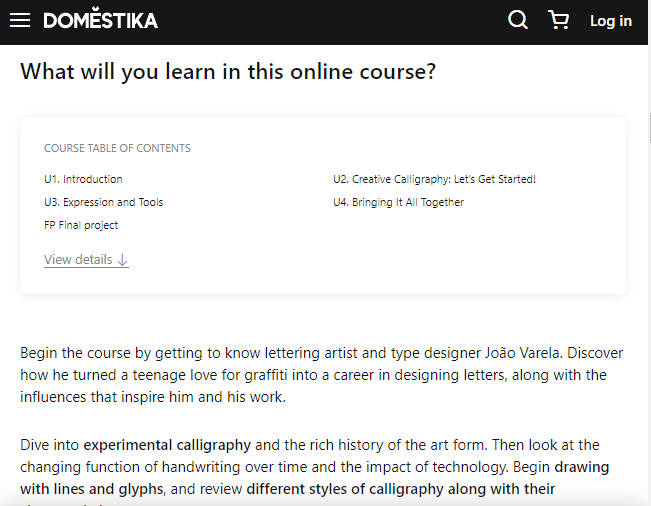 Using traditional calligraphy, instructor Varela teaches traditional calligraphy ranging from geometric strokes to complex letters, through creative lettering exercises.
Modules:
Introduction
Creative Calligraphy: Let's Get Started!
Expression and Tools
Bringing It All Together
Final Project
Pros: Professional instructors, self-set pace, custom certificates, connections with a global community
Cons: Brief duration
Hours: 2 hours, 37 minutes (15 lessons)
Cost: Paid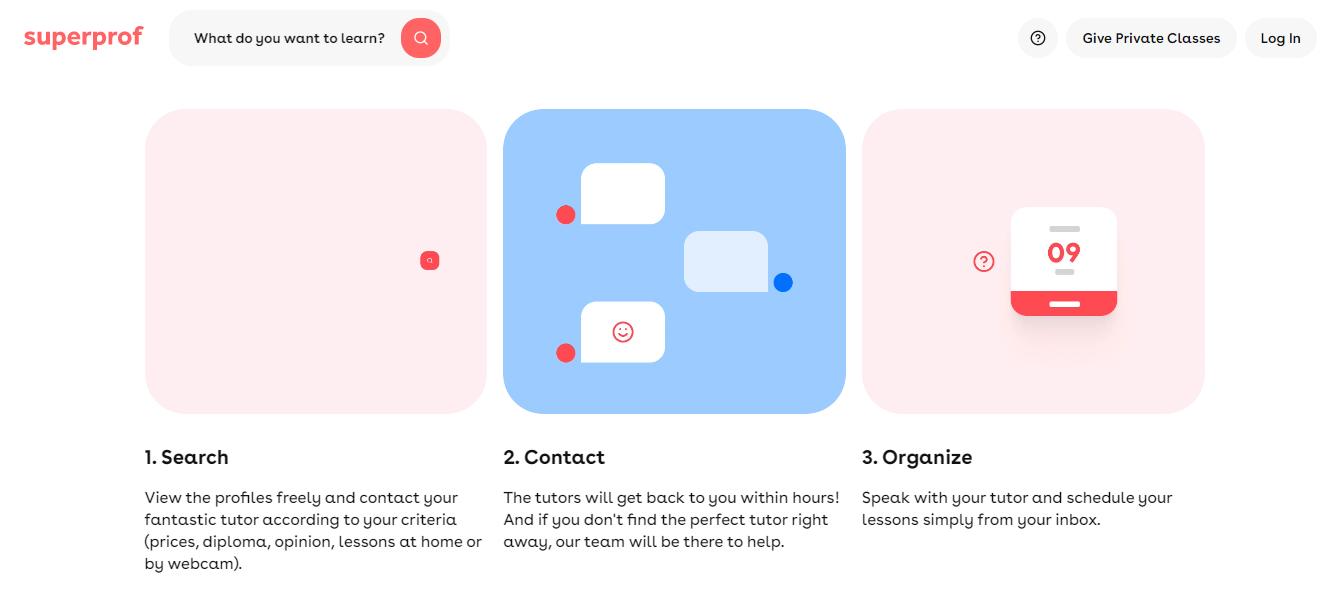 Superprof is a platform on which individuals are able to bring their skills for hire and can be hired to teach anyone interested in a particular skill, e.g., calligraphy, similar to personal tutoring.
Modules: Vary
Pros: One-to-one personal lessons, availability at student convenience, the pace can be adjusted to student needs, range of reviews are available for selection, class schedules agreed upon by teacher and student
Cons: Trial and error may be needed to find a suitable teacher and course
Hours: Student-Based
Cost: Paid
Conclusion
From the above courses, it is obvious that there are a number of great courses out there for getting familiar and experienced with calligraphy through practice. 
On the whole, the course selection is best made after a learner decides their desired pace and how much individual support they need, as Skillshare courses offer great hands-on projects and lifetime access to class material, whereas Calligraphy.org features access to a worldwide expert network. 
Some learners may want exposure to digital calligraphy skills, a budding skill for a number of e-commerce platforms and entrepreneurs to put to use. 
Online calligraphy courses are a great skill to invest in for any career path and will amaze both family and colleagues alike.