Canva is one of the most versatile tools of today, through which you can bring your content to life.
Whether designing a resume, personal portfolio, collage, or calendar, Canva can make it extra special.
Have you ever been impressed by the bright and precise designs of a digital advert or poster?
With Canva, you can create these designs, too!
But is Canva just a need-based tool, or can you put it on your resume for career value?
Let's find out.
What is Canva?
Canva is an efficient multipurpose online platform for creating specially designed posters, social media posts, and so much more.
It allows creators to design trendy social media graphics and presentations using a wide assortment of available templates suited for ease and variety.
Canva can help users present information attractively and effectively, including online posters, calendars, planners, and reports.
Is Canva a Skill?
Yes, Canva is a key skill, especially in the digital world we live in. It is such a vital skill because Canva can be used in marketing sections of companies and small businesses and for a visual representation of different messages that an entity wants to convey to customers or clients, who are often drawn to businesses and companies advertising with bright and exuberant colors and designs.
Therefore, learning how to use the features of Canva is one thing, but paying attention to properly placing the details is what makes knowing Canva a skill, just as with Microsoft Office software.
Can You Add Canva as a Skill on Your Resume?
Yes, Canva is definitely a skill to add to your resume. Rather than learning about it from descriptions, Canva is best learned through firsthand experience in applying the features and building new visual creations.
Knowing how to use Canva shows employers that you are able to channel your creativity and that you are updated with the current trends and online multipurpose platforms.
Which Features Make Canva Such a Valuable Skill?
Below are reasons why Canva is such an important tool, along with the uses that can help you further in your career:
1. Multipurpose Social Media Marketing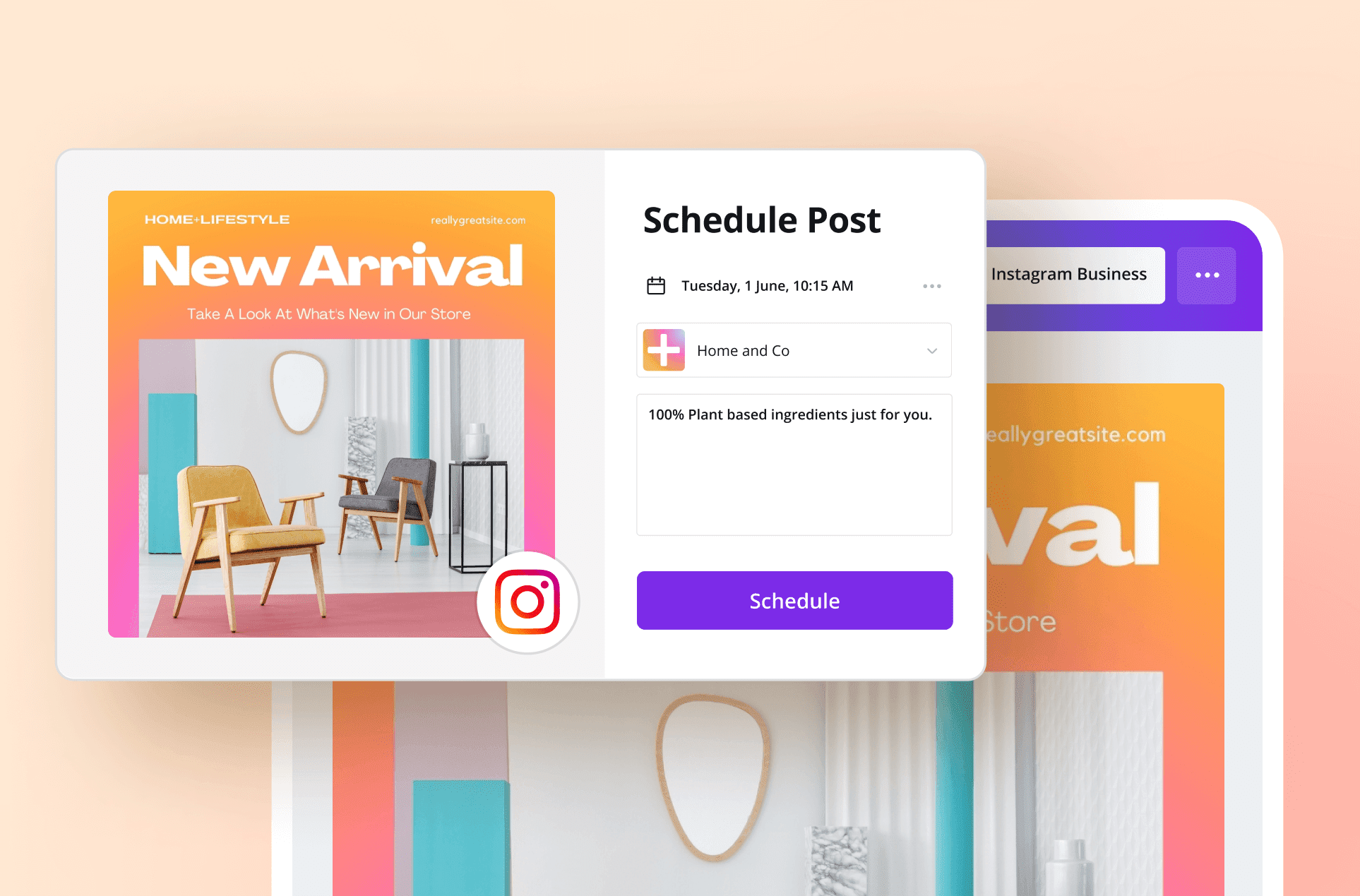 When joining the social media marketing team of a company, Canva will display a number of pre-made templates fit for bulk social media posts. You can customize designs for any sort of event, including workshops, conferences, or webinars. You will provide with the option to plan and schedule social media posts based on product arrival or your company plans.
2. Reviews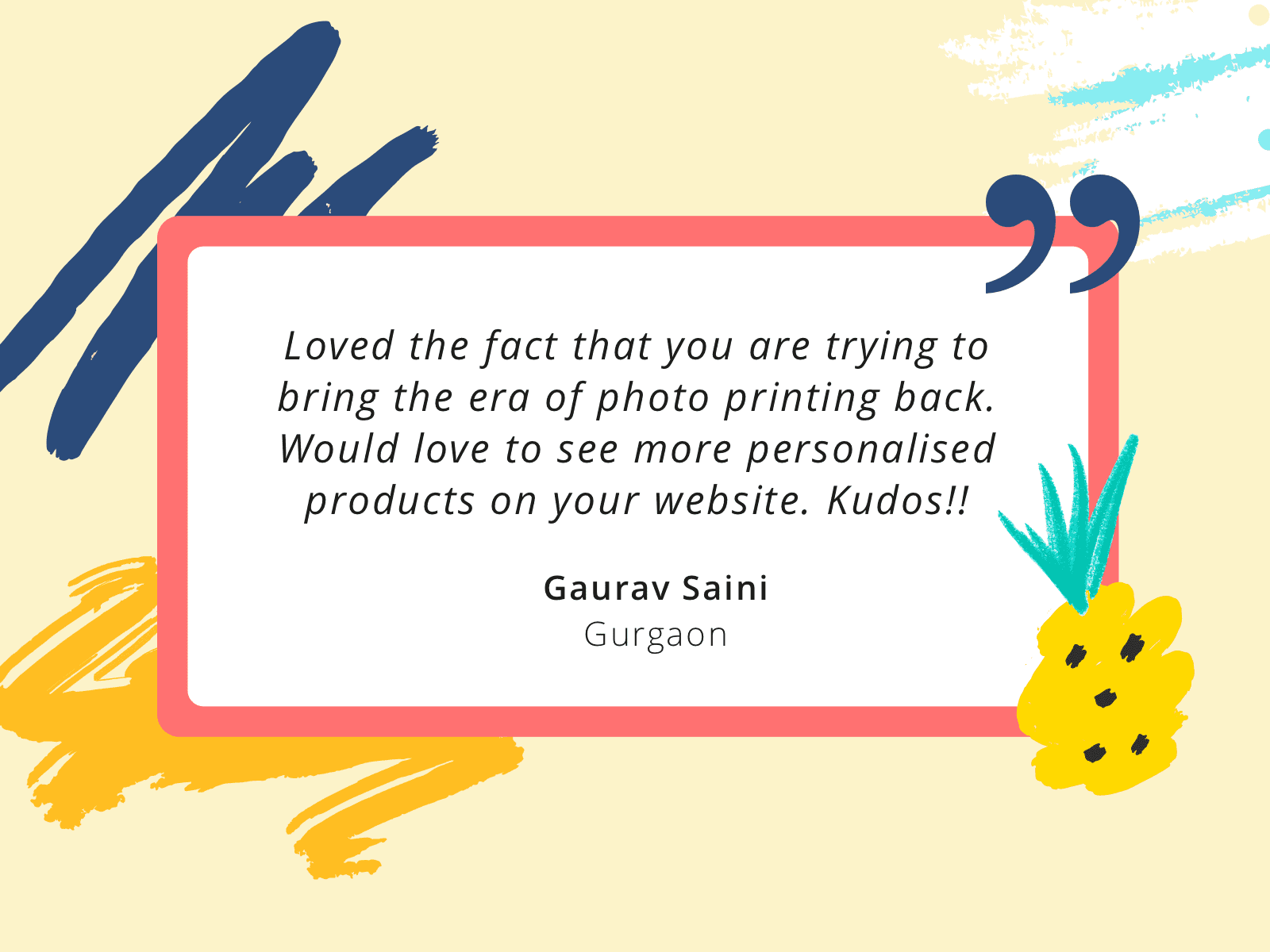 By entitling this as a testimonials page and providing the link across multiple platforms, you can provide evidence of the quality of your company's products and/or services across the Internet. You can even include stars to catch the attention of customers searching for a particular keyword online. It is a simple but effective feature to include on both social media posts (e.g., FB walls or timelines) and on presentations for large audiences.
3. Building Attractive Portfolios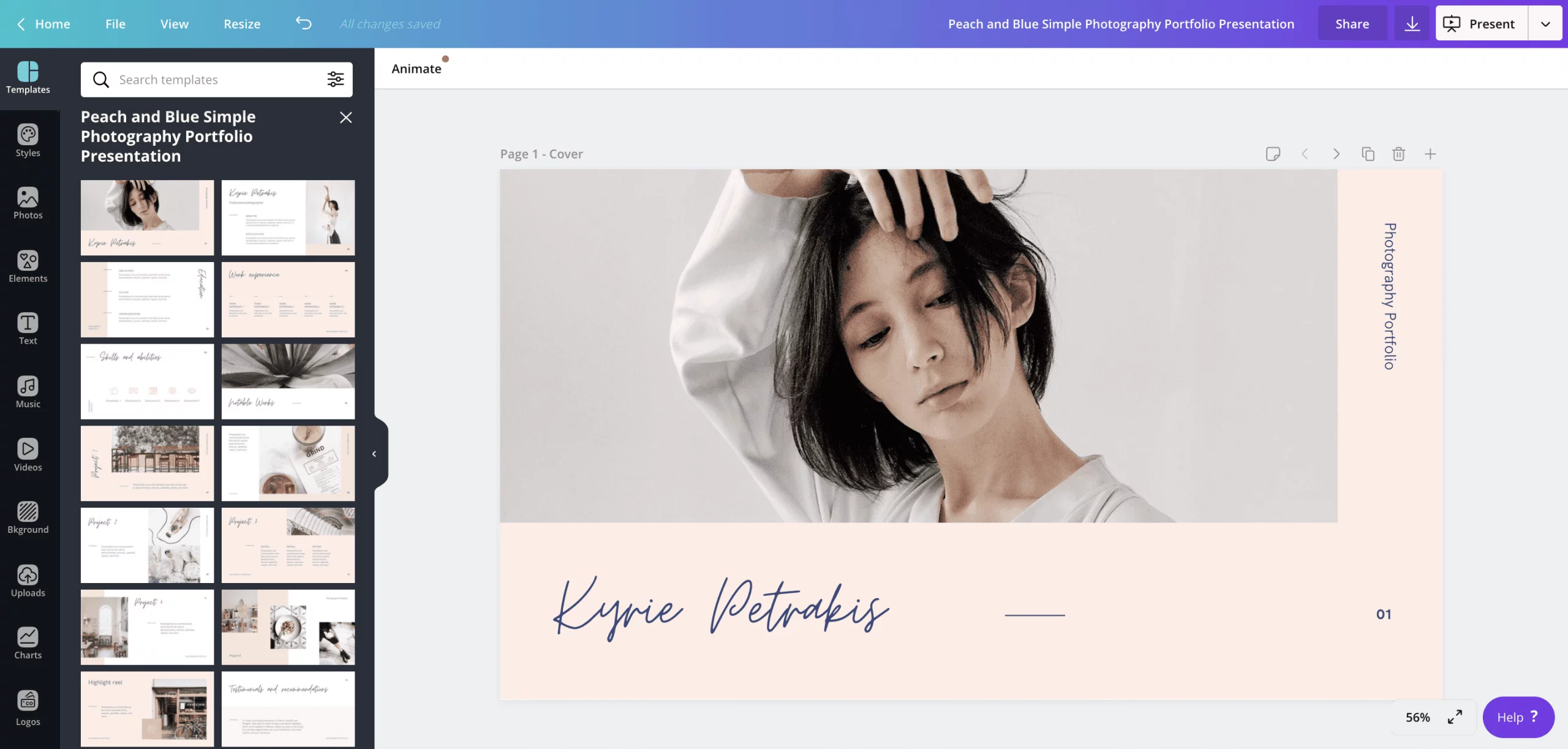 Digital portfolios are a way to show your history and accomplishment by displaying your skills, personality, and identity, which will lead to your career blooming. For those with careers in visual arts, you can display your collection of work by creating a custom-built layout of the arrangement you see best. To add to this, you can bring in special effects, animated elements, and illustrations to create a unique effect for your clients or employers.
4. Building Presentations
As an alternative to Google Slides and Microsoft PowerPoint, Canva offers an online platform for creating presentations. It lets you add pages to the slides, and transitions will make your point even more significant through the surrounding elements. When it comes to the presentation time, either a pre-recording of the presentation can be done, or a private screen/presenter view is also available to directly present from Canva itself, with a PDF option included.
5. Calendar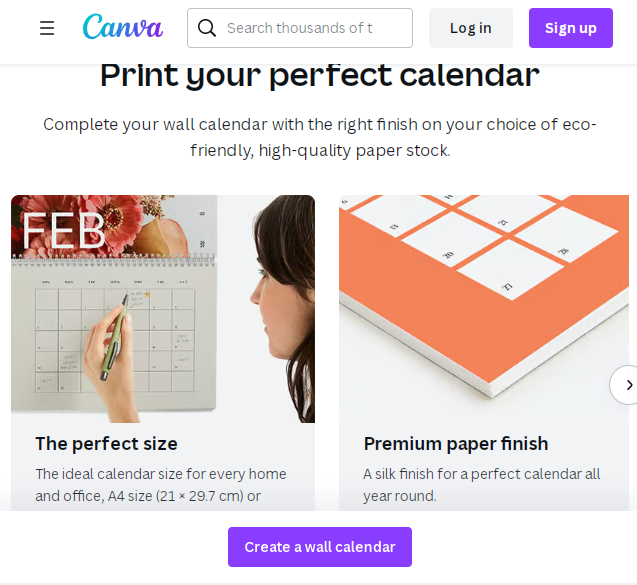 Time flies when you keep yourself busy, but creating a custom-built work calendar will help provide a breath of calm the next time you're scheduling a meeting. Whether you run a digital design agency or are in charge of the graphic design division/HR at your company, yearly calendars will be in demand on a wide scale. You can include themes in your calendars that can be based on your institution's profession or interests and use them as a tool for daily motivation. They are also available for download and printing or for sale, where you can distribute the calendars in bulk, with high-quality prints on eco-friendly paper and free, fast standard shipping offered by Canva itself, as well as a customer happiness guarantee.
6. Personalized Planners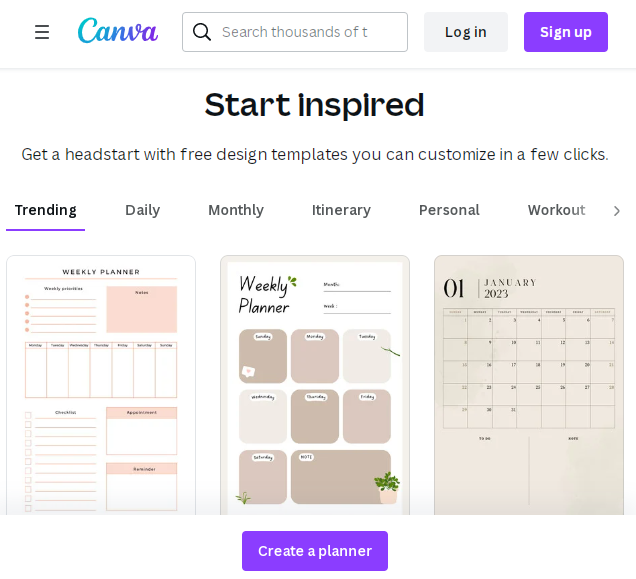 For companies that distribute daily planners, you can easily choose from hundreds of templates that fit the general requirements and incorporate elements by drag-and-drop method for special needs as well, such as deadlines or phone numbers. They can be saved as images or PDF files and used.
7. Unique Reports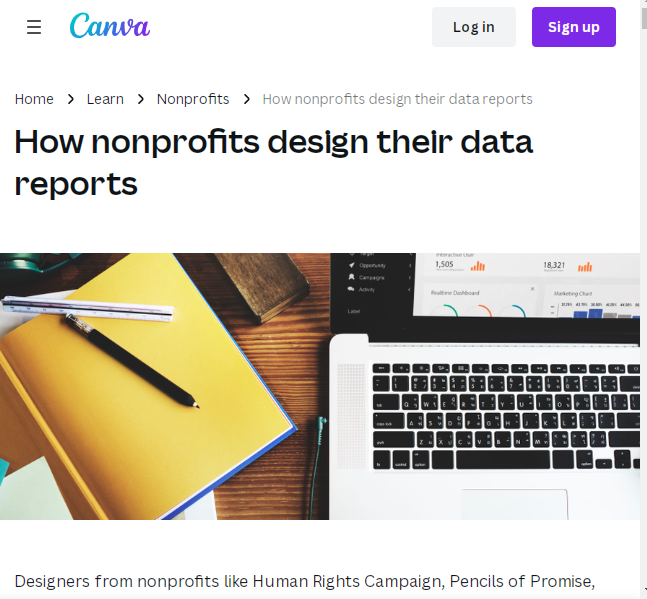 For effective reports, Canva is up to the challenge. From the cover page and index to the data and content, the use of graphics and visual effects can enrich the data. A number of nonprofits use Canva for their reports for the typography and color palettes as a way to share their data in a more aesthetically appealing way. Presenting data at meetings will become a breeze after easily augmenting your studies with pie charts, graphs, and other observational and analytical evidence to support your findings. Team members can contribute by editing, commenting, and viewing the document at hand.
8. Drafting Proposals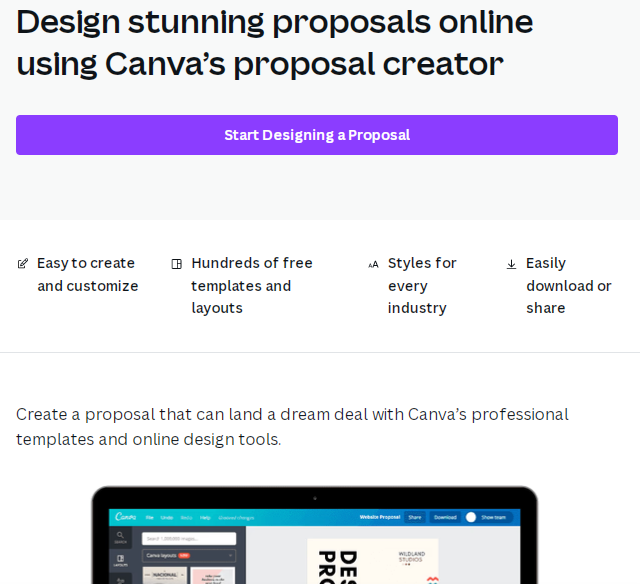 For a number of businesses, proposals contribute hugely to closing deals and ensuring the proper corporate image is relayed to the other party. For this, using Canva can ensure that the proposals are shaped in such a way that the best aspects of your company are projected and the work of different sections receives the recognition they deserve by representing them in the best possible light. Printable templates are available for business, project, marketing, and research proposals. The Canva proposal creator offers a guide with instructions on how to professionally present and design a proposal for success.
9. Greeting Cards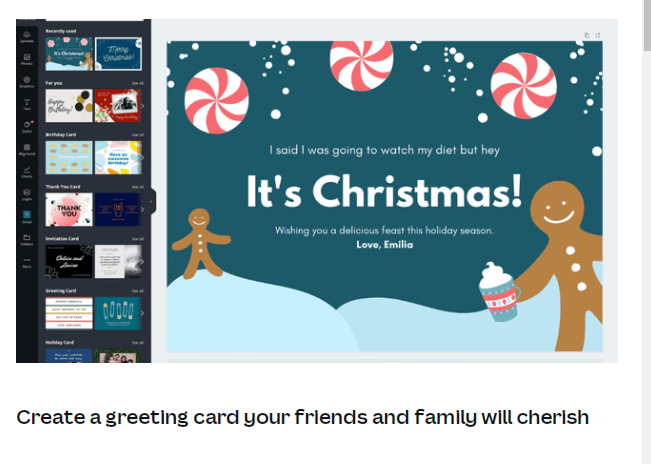 Whether creating them for your design agency or to wish your colleagues, greeting cards are a great personalized way to create workplace relations. Using this talent for your personal events can impress your family and friends, even attracting graphic design managers when they come across your designs. Maintain your relationships from near and far by designing and sending meaningful custom-made holiday cards for any occasion through a combination of color schemes, backgrounds, and fonts. Sharing your creations is also made easy, as you can post your greeting card on social media or e-mail them to friends and family.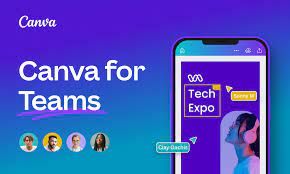 One of the distinguishing features of Canva is the ability to collectively work on a project as a team, with features to limit the options that team members use for formatting and options to add updated versions to individual galleries. Team members can comment, edit, and view each other's work regularly with real-time updates and great scheduling facilities. Additional team features include:
Ready-to-use tools for the whole team in one place.
Based on the publishing facilities, social media calendar, and other planning tools, it has never been more convenient to plan out the proper execution of the team goals.
All team assets are managed in one place for locating design files easily.
Turning simple information into attractive visuals.
Enhancing a brand's image through consistency and team knowledge of updates.
The productivity is greater since the design resources are in one place.
Team members can be invited to connect and collaborate on designs, assign tasks, and publish straight from Canva.
Brainstorming and workshops can easily be facilitated.
11. Branding Images With Custom Logos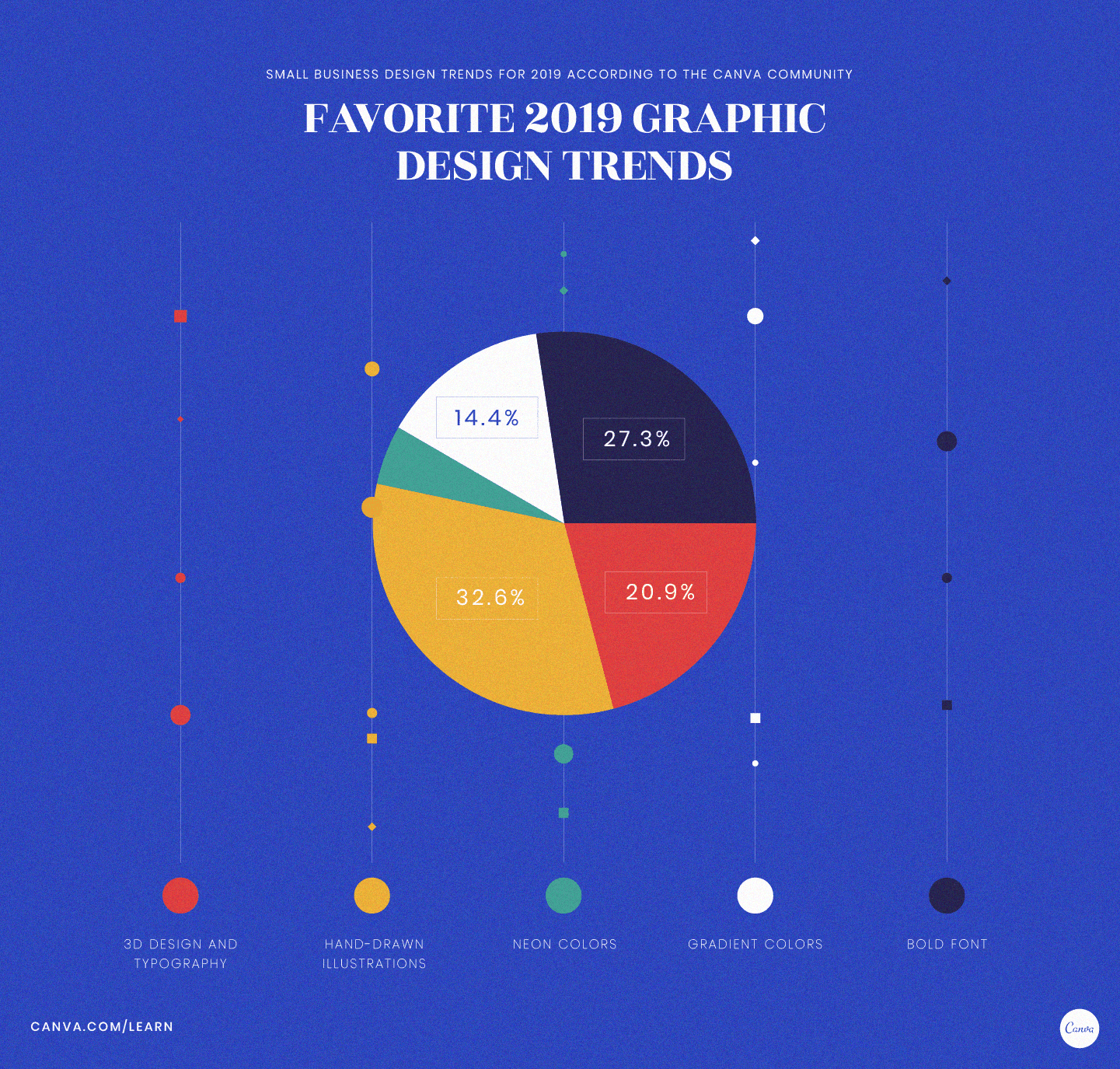 When promoting your company, utilizing the visual features on the respective platforms is essential. Canva features allow you to add social media handles and hashtags to your digital content within a few minutes with a transparency tool to ensure they look natural and professional, be it an infographic or an advertisement, such as the logo at the lower left corner of the above image, as Canva offers a free logo maker as well.
What Careers Can You Pursue With Knowledge of Canva?
Graphic Design
Canva helps you achieve great creations with graphic designs by incorporating different visual elements, images, fonts, and shapes for the best aesthetic effect. Although it has limited photo manipulation and designing capabilities, Canvas features make it easy to find what one needs in its user interface and put together the best possible combination to fit one's purpose. If you have a Linkedin profile, you can upload a cover picture that captures the attention of anyone who searches for you!
Digital Art Designing/ Marketing Team
There are few platforms on which creations can be made a team effort, and Canva is one of them. If you're on a designing team at your place of employment, Canva is an efficient way to work together as it allows you to build teams, share the creations, and work at once to come up with a finished product. The sharing can be done from the get-go, or individuals can send the designs in progress in a team and add them to their individual design galleries. Your team will be updated with the progress and can even share a common Canva Brand Kit for a limited set of fonts and designs.
Website Building
With a one-page website builder, Canva offers a large selection of templates with preset dimensions for adding fonts and whitespace to include real customer reviews, including graphic elements and pictures for embellishment. By creating cover pictures and attractive advertisements using Canva, you can display the art across the website of your company or brand and thus engage more customers, read more, and get them to look into your services, products, and reviews.
Project Manager
There are a number of recently developed platforms for creating presentations, especially online builders, such as Google Slides and Zoho. On Canva, a library of millions of images, icons, graphics, and images are available to enhance your presentation and make it stand out, including customizable charts and tables. Team members can collaborate and comment in real time for a certain project presentation. Formatted reports and proposals are additional creations that Canva can help build, leading to better management presentations and first impressions when meeting with other companies for a deal closer.
Social Media Marketing
To gain maximum exposure on trending platforms, Canva helps you amaze prospective customers regardless of the social medium:
Facebook – Cover photos are part of the critical first impression that you will convey to your customers on FB. Additionally, changing your cover photos every now and then is equally important, as your brand will be found to be active online.
Pinterest – As a number of online users seek content that guides them to Pinterest, you can post attractive content that leads them to your wordpress blog or page content. For this, Canva has several thousand graphics for creating designs for posters or quotes that link to your website and increase site traffic by attaching keywords.
Instagram – With over a billion users, posting stories on Instagramis largely important to a company's success. These posts are made easy by the ready-to-use templates offered by Canva in the right dimensions.
Conclusion
Whether you are a budding digital designer or part of a social marketing team, knowing how to use Canva can help you leave your employer and audience in awe, attracting new customers and boosting site traffic for your company or business.
On the whole, who wouldn't want to hire someone knowing how to use and utilize Canva?
These techniques will be equally helpful in promoting volunteering efforts, educational events, fundraisers, and start-ups, as well as for entrepreneurs and freelancers.