VMware is another word for virtualization. It is considered the market leader in providing platforms, frameworks, and technologies that enable companies to run software applications on their system virtually. In the current world of IT, virtualization is in its booming stage as it saves money and time. Therefore, VMware is a feasible solution for companies looking to distribute resources without spending much.
There are many top online sites where you can learn VMware and get a certificate by the end of your course. A VMware course is undoubtedly a skill to highlight on your resume, given the surge in demand, and it also helps you land a good job.
To improve your knowledge of virtualization and cloud computing, explore these best selections of VMware courses online.

With this training course, you will get information that is necessary to work with VMware vSphere8 throughout this five-day training course. It enables you to employ Life Cycle Manager, which supports DPUs, and the Unified Management for AI/ML Hardware Accelerators feature of vSphere Distributed Services Engine to utilize the AI/ML capabilities of vSphere 8 fully.
This best VMware training includes topics like Migration, Cluster, High Availability, and DRS at the advanced level—in-depth learning on storage concepts and virtual networking, including aspects of distributed switches and standard switches.
You will get a VMware VCP Course Certificate upon completion. Your career opportunities are strengthened by VMware vSphere 8.0 certification.
Features of the Course:
Course: Paid
Certificate: Yes, on course completion
Prerequisite: 6 months of work experience in IT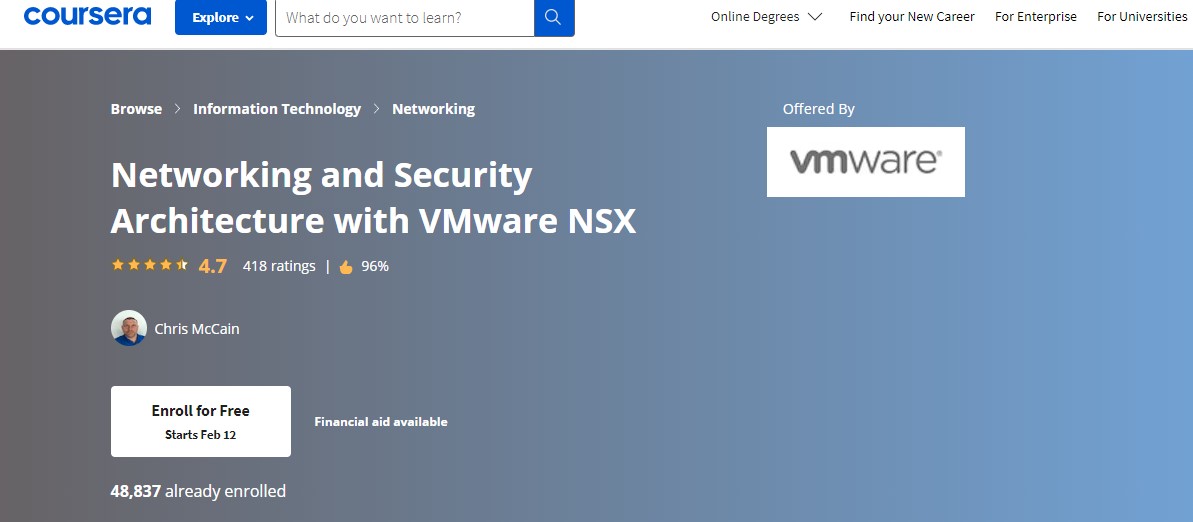 With the help of VMware NSX, this eight-week online course teaches students the fundamentals of network virtualization. The course will benefit you more if you are already familiar with general IT topics such as routing, switching, firewalling, disaster recovery, business continuity, and security.
With this VMware training course, you will:
Understand the fundamentals of network virtualization.
NSX business value and use cases.
Describe how NSX differs from conventional networking.
Features of the Course:
Certificate- Certification on completion
Duration- Flexible deadlines with 20 hours of duration
Level- Intermediate
Enroll for free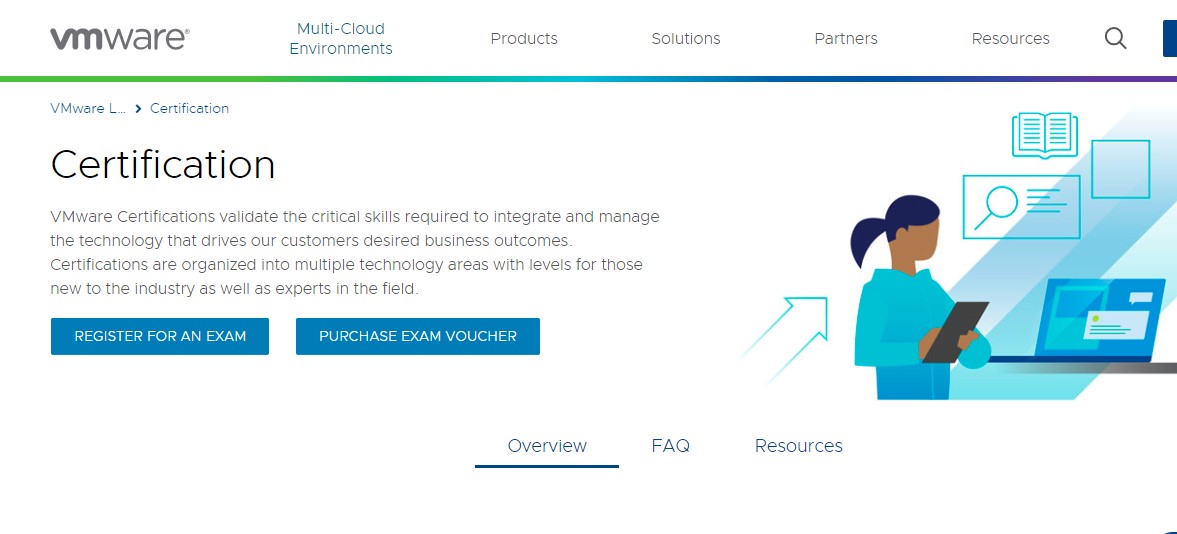 The goal of VMware Data Center Virtualization certifications is to evaluate your proficiency in planning, setting up, and administering VMware vSphere infrastructures in a real-world setting.
On completing the VMware training course, you will understand the fundamentals of virtualization and vSphere and gain knowledge on data center technologies and fundamental troubleshooting ideas.
Features of the Course:
Course: Paid
Certificate: Yes, on course completion
Exam retake policy

By joining this course, you can easily recognize use cases and business requirements for the VMware NSX platform and understand NSX jargon and the graphical user interface. Additionally, you will be able to articulate high-level concepts related to VMware virtual cloud network and the NSX portfolio. 
Here, you will get to choose from a number of certification courses available as per the level of Network Virtualisation.
Features of the Course:
Course: Paid
Certificate: Yes, on course completion
Exam retake policy

The VCP-CMA certification verifies your proficiency in installing, configuring, and managing a VMware vRealize environment, which is intended to automate crucial Data Center processes in a repeatable, scalable manner that boosts productivity. You may standardize and simplify more complicated daily tasks using these talents, which elevates your status and value inside the company.
Features of the Course:
Course: Paid
Certificate: Yes, on completion
Can schedule an exam
The Certification Path You Need to Follow for this Course:
Step 1 – Gain experience with vSphere 7.x and vRealize 8.x (Recommended)
Step 2 – Attend training course (Compulsory)
Step 3 – Pass the qualifying exam (Compulsory)

It is one of the best VMware free certification courses. The core methods needed to set up and secure a VMware system, including backup and disaster recovery, are covered in this course. It helps you comprehend licensing and the many apps in the VMware vSphere software family.
You will gain knowledge of the components of vSphere 4.1 as well as virtualization terminology.
Features of the Course:
Free
Duration: 5-6 hours of content
CPD Accreditation
Certificate on the final assessment

This VMware training course examines the advanced features of VMware's vSphere version 4 and covers how to use ESX, ESXi, vCenter, and virtual machine monitoring effectively. Additionally, it looks at vSphere 4 backups and server setups. After completing this course, students will be able to maintain hypervisors for various types of virtual machines.
Features of the Course:
Duration: 4-5 hours of content
Course: Free
CPD Accreditation
Certification: On completion of the assessment

In this VMware training course, students get to learn basic vSphere concepts and identify Vmware vSphere products and their use cases and challenges that can be resolved by vSphere.
It will also help differentiate vSphere, vSAN, Horizon, NSX, and vRealize features, design goals, and use cases.
Features of the Course:
Course: Paid
Duration: 6.5 hours of online video
Certification: Yes, on completion

Get to learn from industry experts and earn a VMware certification by completing this course.
With this course, one gets practical knowledge on how to install ESXi, manage the data center, and configure virtual networking and storage. You will work on various VMware designs and understand the difference. Also, a free demo can be booked before you commence your course.
Features of the Course:
Live Training
Trainer Support on WhatsApp
Course: Paid
Recorded Lectures
Certificate from Attari Classes

The goal of Mindmajix VMware certification training is to improve your knowledge and capacity to take advantage of all available VMware chances. Every facet of VMware virtualization, including installation, configuration, ESXi, networking, and monitoring and automating a virtual environment, will be covered by our top in-field experts. After completing this online course, you'll know more about VMware vSphere 6.7 and be better equipped to pass the VMware certification test.
Features of the Course:
Online Training
Duration- 20 hours of content
One-on-one doubt-clearing sessions
Free demo before commencement
Certification on completion of the course

The goal of VMware Application Modernization certificates is to assess your degree of expertise, which you may prove by passing specialist tests. VMware Training course can help you in creating a team of competent individuals, whether you need developer knowledge of specialist frameworks or administrator knowledge of cutting-edge technologies like Kubernetes and containers.
You get to choose from various certificates as per the level.
The VMware Tanzu Portfolio and a candidate's capacity to comprehend and articulate application modernization with the VMware Tanzu Portfolio are both validated by the VCTA.
Features of the Course:
Course- Paid
Certification- Yes, on passing the application modernization assessment
Conclusion
Adding a VMware certification to your resume is a major accomplishment. It is assured to give graduates and professionals a competitive edge in the job market and is one of the most esteemed IT certifications in the industry. 
Are you still thinking if this certification will be worth it? Let us solve your doubt by stating a few more advantages of the course that will definitely make you sign up for the course. 
As companies are shifting from traditional mediums to virtualization, VMware is the need of the hour and in huge demand. 
Disaster recovery is made easier with the help of virtualization. 
Saving a lot of time, money, and data storage 
The job market for VMware is expanding, and you can explore different profiles in VMware.
We are sure you are now convinced to pursue a course in VMware!
FAQs
1. Which is the Highest VMware Certification?
VCDX- VMware Certified Design Expert is regarded as the highest VMware certification.
The design architects who make up this elite group of VCDX professionals are experts in VMware enterprise deployments. By proving your knowledge of vSphere 6, you can validate that you can generate real business benefits.
2. Are VMware Certificates Worth It?
From working in an IT role to working as an architect in companies that uses vSphere, VMware Certificates will benefit you in terms of career growth and salary.