Do you frequently search the web for the newest and most intriguing nail art trends and still don't have enough of them? The time is here to pursue a career as a nail art technician and use your creative abilities to design nails. A nail technician's area of expertise is caring for and beautifying nails, particularly toenails and fingernails.
Who says nail technicians work only in salon environments? Nowadays, spas or other skin care facilities are also employing nail care technicians. If you are a homemaker planning to become a nail art technician but cannot step out of your house, these online courses come to your rescue. 
There are several online courses for nail technicians, both free and paid. To assist you in selecting the ideal course for your needs, we'll look at 11 of the top free and paid online courses for nail technicians currently offered in 2023.
If you're interested in doing a nail art course or developing your abilities, taking an online course is a great choice. This course provides a thorough, accessible nail technician education that you can finish in about three hours. In addition, it includes eighteen practical, step-by-step video lessons on nail art creation.
You will pick up various skills, such as making gorgeous nail art patterns, applying and removing gel nails, and using UV gel application and color experimenting to improve your creativity. In addition to teaching you the fundamentals, this course will help you speed up and be more productive during the design phase of your nail art. This course provides a hands-on experience as you work with essential nail art tools like files, acetone, nail clippers, and a UV lamp.
One of the best perks of this online course is that you will receive a certificate of completion and have lifetime access to the course materials by the end of this course. You'll also have the opportunity to experiment with different polishes in various colors.

This online course thoroughly introduces numerous nail art styles appropriate for people of all skill levels. The course, taught by Gabriela Cismas, focuses on contemporary tools that might improve nail art design. You will learn how to design beautiful and distinctive patterns for personal or commercial usage throughout the 2.5-hour workshop and acquire an understanding of the methods and supplies needed to produce quality nail art.
After the course, you can pick and apply the finest equipment for various styles, recognize and keep up with nail art trends, blend modern techniques with art to enhance your portfolio, and employ double-seal nails to keep your design in place.
The course is free and offers a wide range of attractive designs and a smooth application of the learned skills. However, it should be noted that the course is focused on specific tools, and there is no project to work on.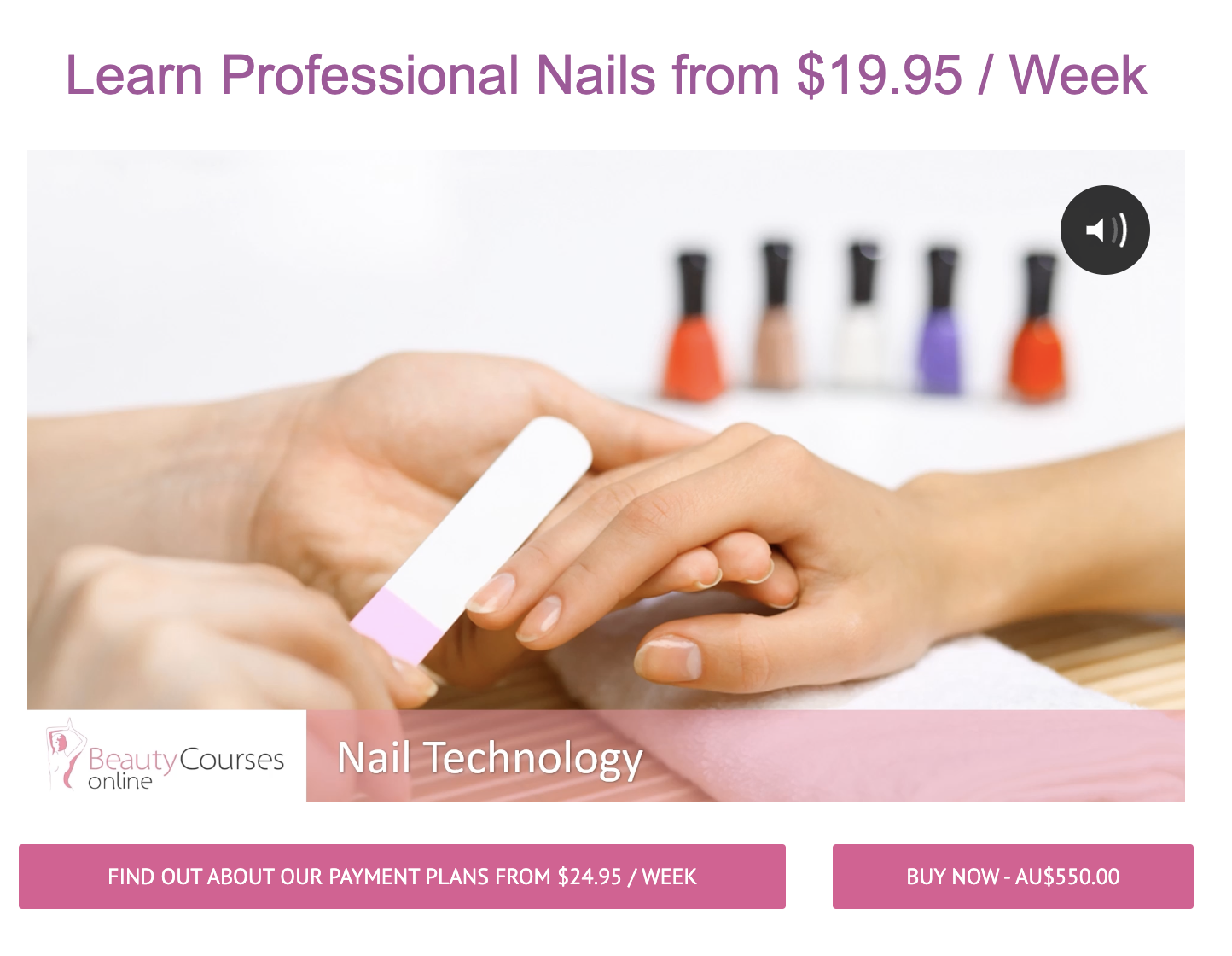 The course is designed to provide comprehensive training on three widely used nail systems. The course duration is estimated to be 4-6 weeks. It covers essential aspects of nail technology, including the anatomy of the nail, diseases and disorders, sanitization and hygiene, nail shapes, quick dip system, acrylic system, gel system, buff and polish, broken nail repair, nail colors, and French polish.
The course is divided into many stages with varying degrees of difficulty. Therefore, whether you are a new nail technician, an experienced nail technician, or someone in between, there is a plethora of information that will be very helpful for you! You can astound your clients with unique designs, charge premium prices, and quickly fill up your calendar if you finish the course and put what you learn into practice.
You can utilize any brand you are presently using if it enables you to accomplish the outcomes you are striving for because the Expert Nail Technician course is not product-specific.

With unique and simple-to-follow designs by renowned nail artist Imarni, delve into the technicolor realm of nail art! Imarni will guide you through eight nail designs in this vibrant workshop, ranging from simple to sophisticated, and she'll instill inspiration and confidence in you so you may try out your own creations in the future.
You will try these using gel polish and never again look at your fingernails the same way.
Preparing your nails, shaping them, and applying base color.
Smoky quartz, dots, and clouds are examples of essential design elements.
Flames and Old English letters are examples of complex designs, as are party nails, color grades, and shattered glass.

This session is intended for nail technicians who want to master the incredible new technique for creating gel nail art with 3D Plasticine sculpting gel. 
The course begins by outlining the product and prerequisites, followed by the simple practice of petals, building on your knowledge and abilities with each new design to guarantee that you master this nail art method.
You will learn how to utilize your nail art equipment properly.
Perfect petals require proper pressure and angles.
How to Add Depth to Your Design Without Using a Bulky Product?
How to keep your product's viscosity stable?
How do you repair errors?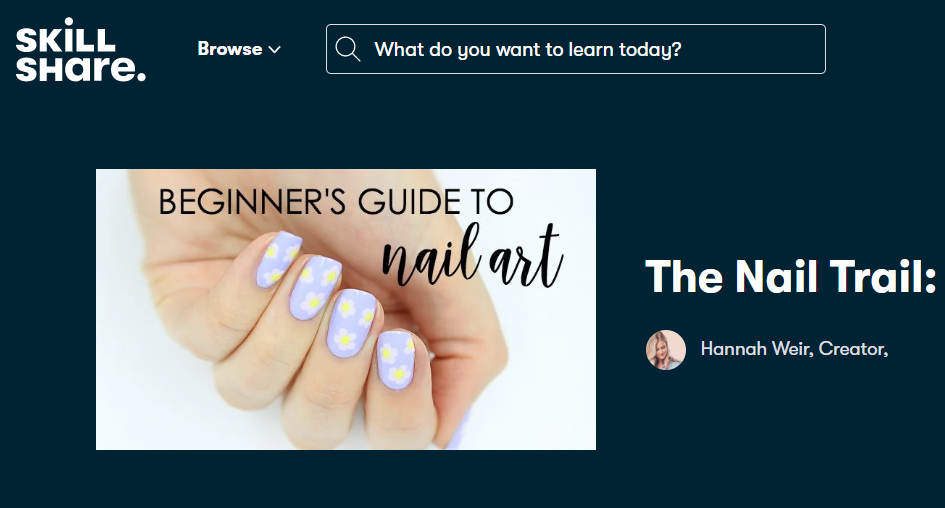 It is one of the top Nail Art courses on Skillshare. With the help of this course, you can enhance your basic knowledge of nail art and move towards more advanced level techniques and designs of nail art technicians. The course's instructor, Hannah Weir, creates digital material and offers a range of courses on her social media platforms.
In this lesson, she shows you how to prepare for creating nail art and various other types. Although the course is very brief, she covers a lot of material and teaches amazing techniques.
This course will show you how to recognize the essential tools for creating nail art, and it also contains a practical assignment that requires you to create your own nail art. The class Project Gallery is where students are expected to post a photo of their final nail art.

This course is about starting a nail salon business. It covers various aspects of setting it up, such as creating a business plan, calculating costs, obtaining financing, establishing business credit, acquiring supplies, hiring employees, marketing, and obtaining certification. It also helps you with tips for opening a salon business, offers advice on attracting and retaining customers, etc. 
This course aims to give individuals the necessary knowledge and skills to start their own nail salon business or turn their home-based nail art services into a successful venture. 
The course covers various aspects of the business, from creating a business plan and securing business credit to finding a suitable location and marketing the salon. 
Free Acrylic Nail Short Course is an excellent online course for those interested in enhancing their skills in acrylic painting. This course is specifically for those who have experience working with gel paints. The course is free, taking only five days to complete within two weeks.
In this course, you'd be introduced to creating stunning acrylic nails and nail extensions and forming strong structures using tips and forms. You will also learn how to remove nail extensions without causing harm to the nails and how to manage your nail technician business and establish professional relationships with clients.
This nail care academy is accredited and provides a printable certificate, which is available for free after completing the course. However, if you would like a physical certificate, it would cost you around £30. The course is hands-on, delivered through interactive live online sessions, where you can interact with the tutor and receive real-time feedback.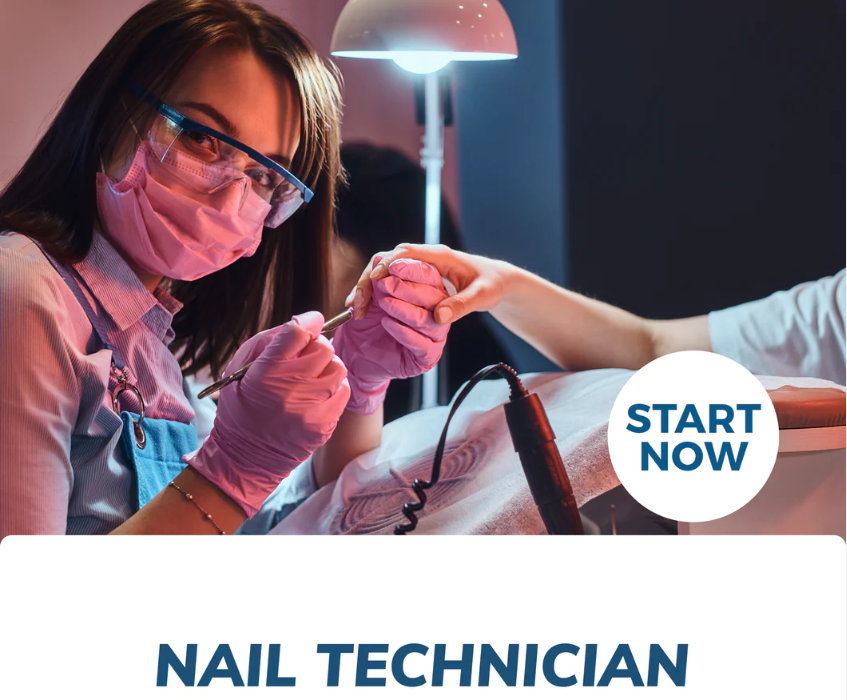 The online courses contain everything you need to know to become a fully trained nail technician, and these courses can be finished in the comfort of your own home. This nail technician course is intended to assist you in reaching your objectives, regardless of whether you would instead operate from home, provide mobile services, or work in a nail bar or salon.
You will gain knowledge of the tools required for the work, the anatomy of the skin and nails, and all the basic procedures involved in typical manicures and pedicures.
Many nail improvements will also be explored, including Gel Nails, Shellac Nails, Acrylic Nails, French Manicures, Nail Art, Nail Care, and much more. You'll also learn how to perform necessary treatments like manicures and pedicures and assess for skin or nail issues before initiating treatments.
If you finish this course and get a passing score on the test, you will also be awarded an International Continuing Education Credit (CEU) certificate. This certificate demonstrates your commitment to learning new skills and is recognized worldwide.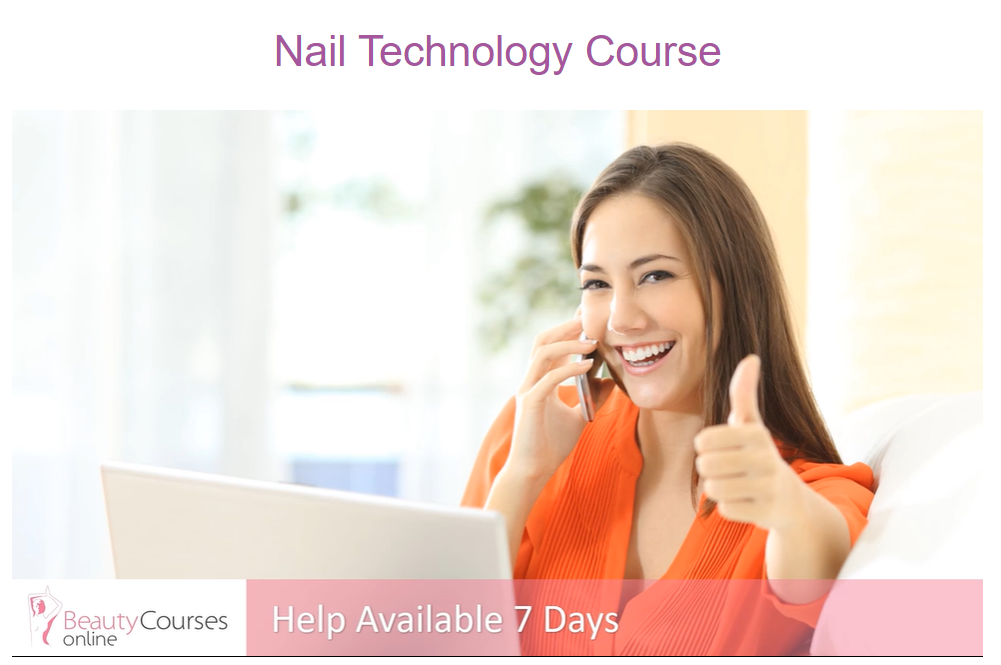 This nail technology online course is designed to gain knowledge and skills of three of the most sought-after nail treatments from your home. You'll receive expert instruction through video lessons and comprehensive training manuals. By offering just one of the nail systems, you'll earn enough to make it unnecessary to learn the other two.
This course is perfect if you're eager to quickly improve your nail technology expertise without interfering with your daily routine!
Here's a taste of what else you'll learn in this online course:
Sharp dip nails are rebalanced after applying rapid dip coating, refilling, and rebalancing.
How to apply the acrylic coating and sculpt with acrylic.
How UV gel coating is used (permanent French and natural look).
How to mend damaged nails?

This program is mostly for people who want to work as nail technicians or who are interested in nail designs but first need to complete training or obtain certificates. Then, as you become an expert in GEL manicures and nail art, open your own at-home salon. It comes with everything you need to establish your own nail technician business or learn how to provide manicures.
This simple nail design course offers step-by-step instructions for practicing at home and advice on color theory and skin tone matching. After viewing this lecture on gel nails, you'll feel more at ease applying and controlling the gel colors.
There are several options for learning nail art techniques online, and we have only picked the best programs. You may enroll in one of them if you are a beginner or a seasoned professional aiming to upskill your abilities.
Are Nail Technicians Good for Including on a Resume?
If you're seeking positions in the beauty or personal care industries, having experience as a nail technician on your CV can be beneficial. The skilled experts who do manicures, pedicures, and nail extensions are known as nail technicians. These services call for proficiency in using specific tools and equipment and understanding various nail forms, colors, and designs.
If you have prior experience working as a nail technician, emphasize the following on your resume to demonstrate your abilities and knowledge:
Technical Abilities: These comprise your capacity to handle specific tools and equipment and carry out various nail services.
Customer Service Abilities: Because you work with clients frequently as a nail technician, it's critical to highlight these abilities on your resume.
Sales Experience: Many nail technicians must sell nail care items to customers, so if you have any, mention it on your resume.
Education and Training: If you have a nail technician certification or have finished nail technician school, make sure to mention this on your resume.
Do Online Nail Technician Courses Come with a Certification?
Yes, many online courses for nail technicians lead to certifications after successful completion. Different certifications may be available depending on the course and the company providing it. Some of those courses are:
Conclusion
In conclusion, taking online courses in nail technology can be a terrific method to get the skills and knowledge required to begin a career in the field. Still, it's vital to do your homework and make sure the certification you receive is credible and acknowledged. The need for nail technicians is on the rise.
Online nail technician courses can offer a flexible and convenient approach to acquiring the abilities and information required to work in this fascinating field.