Getting a job can be a tough task. Working hard for a degree and searching for a job can be a long process. However, did you know about this field which is open to almost any individual? We are talking about working as a Data Entry professional.
It does not require a specific degree to get a job in the data entry field. However, you do need to learn some basic skills like typing, Microsoft, and handling data. These skills can be easily learned online through a free data entry course.
Keep reading ahead if you are ready to learn and begin your professional journey as a data entry operator.
This article shares ten online data entry courses that prepare you for the latest jobs.
Free Online Courses and Certificates to Consider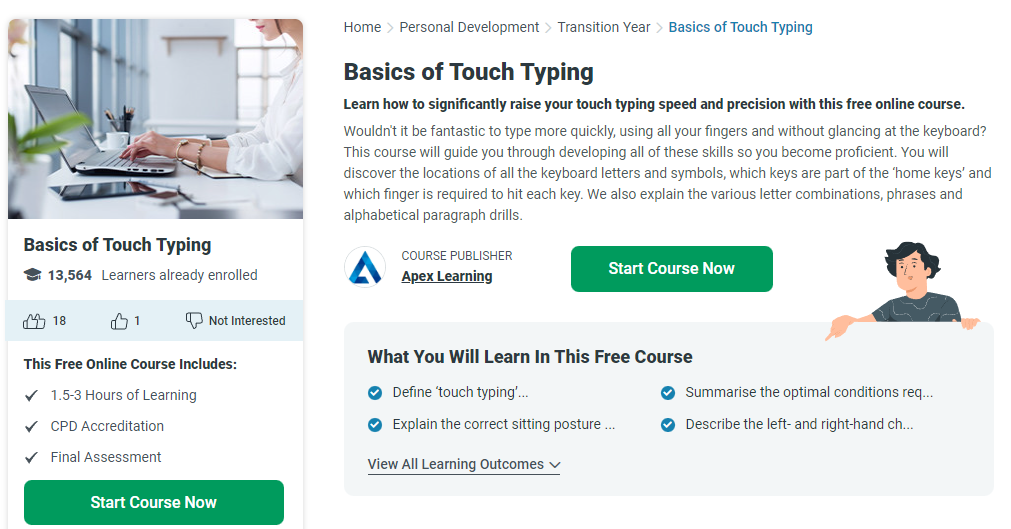 A newbie willing to learn the basics of data entry can enroll in this 'Basics of Touch Typing' course. This free course is approximately 3 hours and is easily accessible from every device. This course will familiarize you with the keyboard and help you gain a decent pace of typing.
It will also add to your CPD Accreditation, and a Certificate will be issued upon course completion. If you are clueless about data entry but want to begin somewhere, enroll in this Data entry course by Alison now!
Topics Covered:
Learning to match the key with the designated finger
Correct sitting posture while typing
Improvement in a touch typing speed
Duration – 3 hours
Facilitator – Apex Learning
Skill Level – Beginner

Excel is a crucial part of a data entry job. This MS Excel – From 0 to Working Professional in the 1-hour course gives you the best understanding in the least time. Over 77,000 students who enrolled in the course offered by Udemy have rated it as one of the best programs for beginners.
With experience as a finance analyst with Fortune 500 companies, Jason Zhang facilitates the course and shares efficient ways of using excel. He believes that excel is a tool that needs practice for mastery. This data entry course has been designed with structured lectures to help freshers understand MS Excel.
Topics Covered:
Basics of Excel
Formulas in Excel to calculate, autofill, and give relative-absolute reference
Understanding the use of each function
Execution of excel functions like group-freeze panes, filters, conditional formatting, and more
Duration – 43 minutes
Facilitator – Jason Zhang
Skill Level – Beginner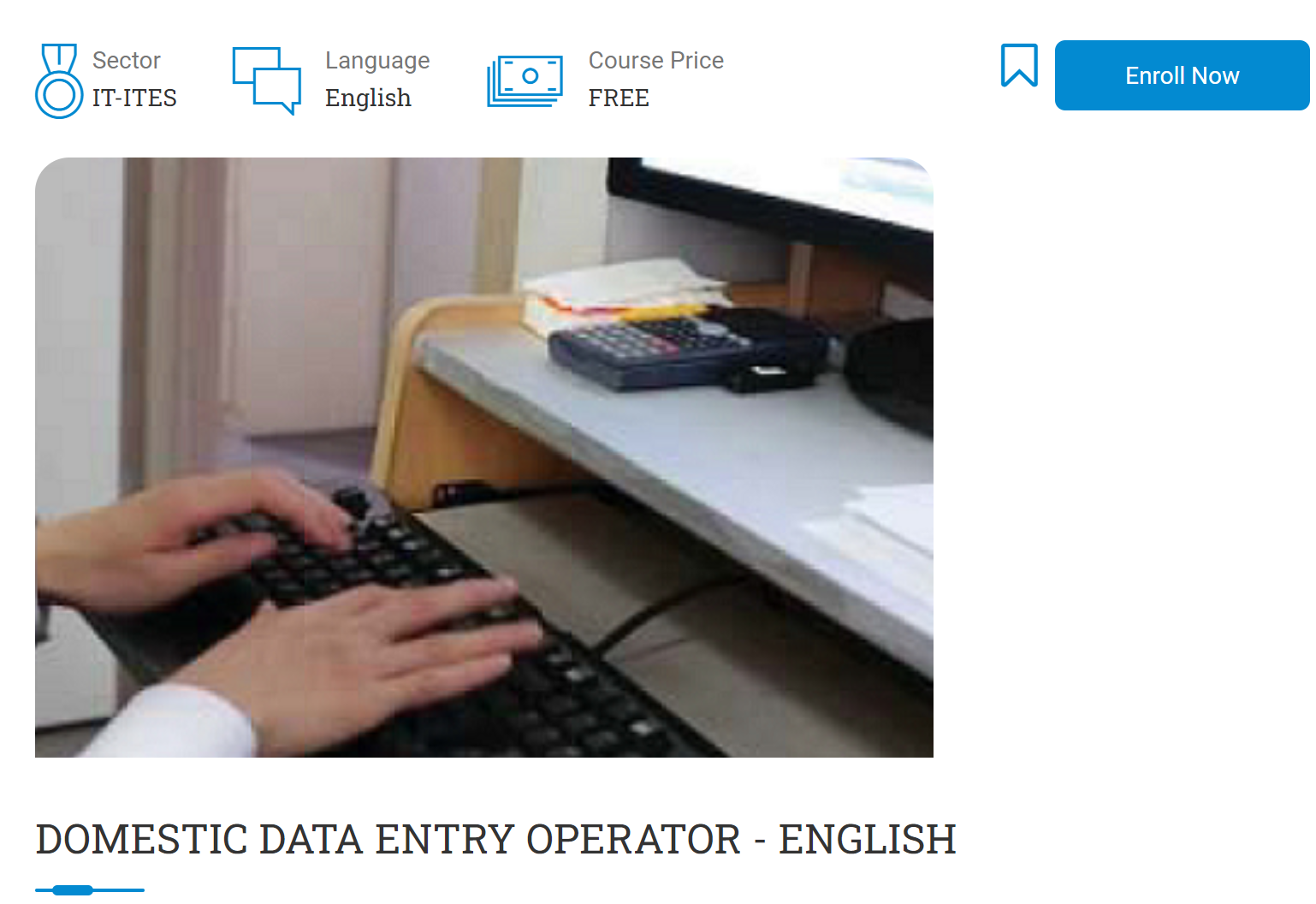 Offered by the Government of India through eSkillIndia, this free course introduces you to the world of data entry. The best part is that you do not need prior experience or understanding to enroll. Anybody who has completed their schooling till 9th or 10th grade can also learn through this course.
This 20-hour course is offered online through self-paced video presentations. On successful completion of this data entry course, one can find an opportunity in the IT-ITES sector. You can also explore eSkillIndia for similar free online courses on data entry.
Topics Covered:
Understanding the roles and responsibilities of a Data Entry Operator
Planning and Organizing
Information security and client confidentiality
Work ethics and code of conduct
Duration – 20 hours
Facilitator – Unifiers Social Ventures Pvt Ltd.
Skill Level – Beginner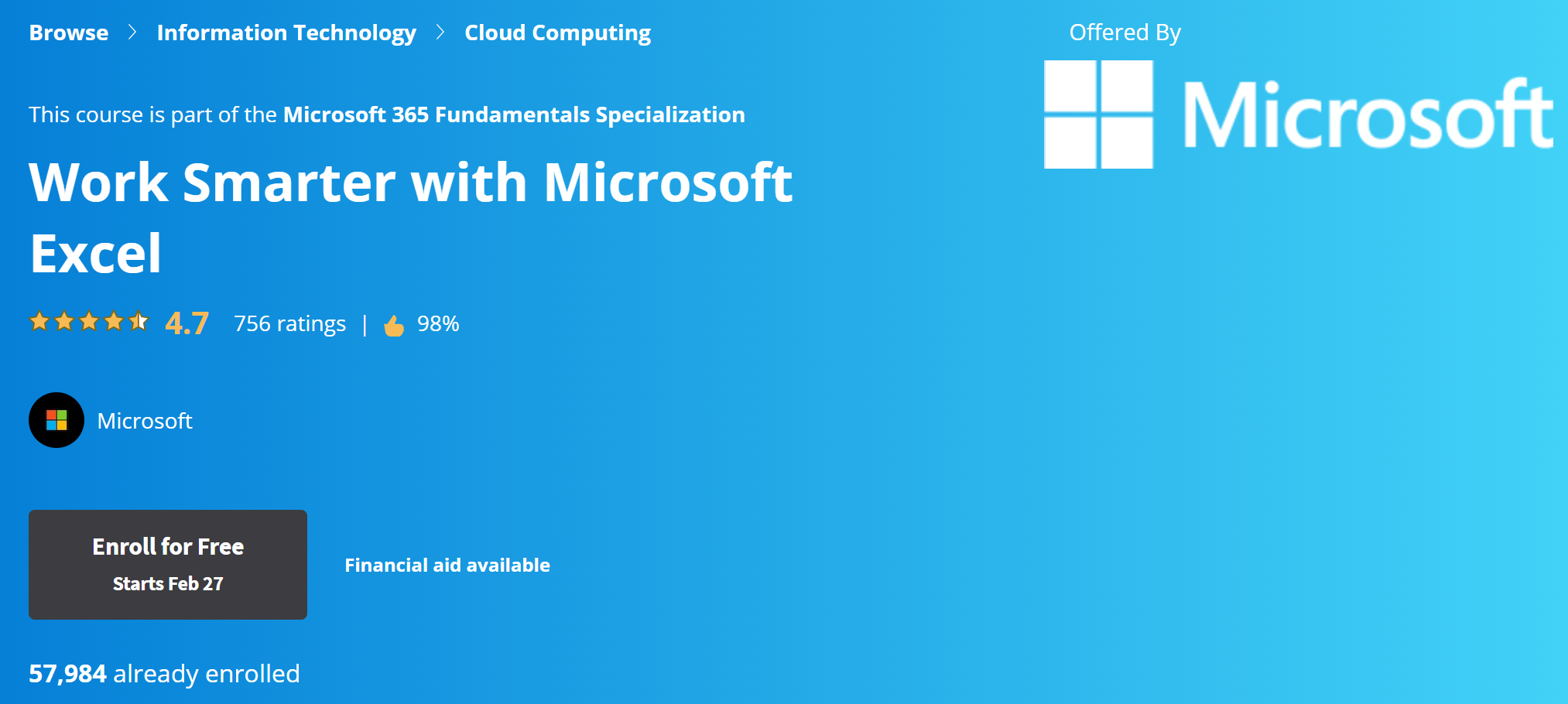 Work Smarter with Microsoft Excel is a free online data entry course offered by Microsoft. This course requires an individual to have a basic understanding of using window-based computers. Senior individuals from Microsoft share their insights and expertise from years of experience.
With a rating of 4.7, this course has been successfully taken by over 57,000 students. On completion, you will be able to handle excel and make worksheets and charts as needed. Coming from Microsoft, the course becomes even more reliable and worth attending.
Topics Covered:
Organizing and Visualizing data in excel
Hands-on practice with Excel
Advanced Excel functions
Duration – 20 hours
Facilitator – Microsoft
Skill Level – Beginner to Intermediate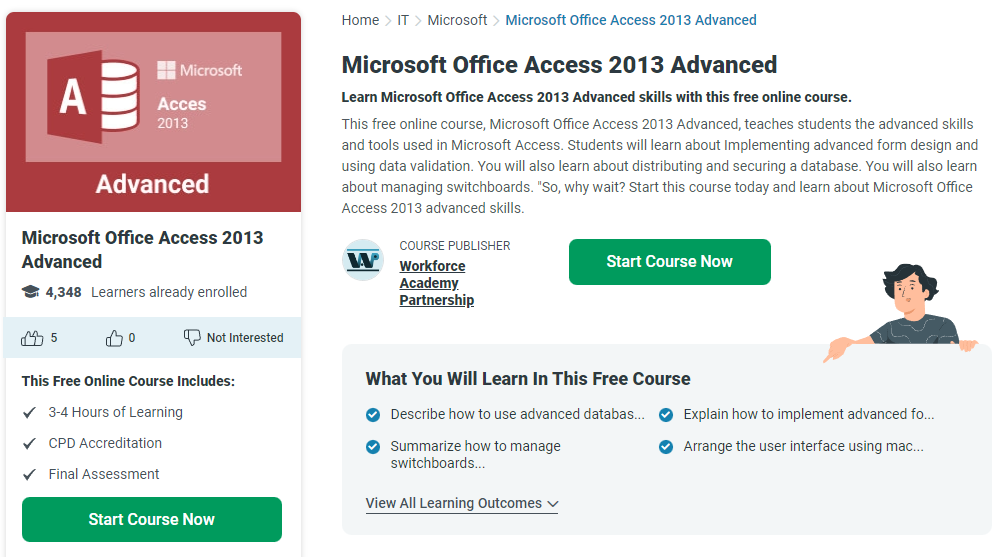 Microsoft Office Access is another platform used in data entry work. Excel is good at analyzing the data, whereas, Access is good at managing the data. This course imparts knowledge of advanced features of Microsoft Office Access 2013. This short 4-hour course hones the advanced skill of recording, organizing, and extracting the needed data.
Opted by over 4000 students, this course requires an individual to understand the basics of Microsoft Access 2013. Being an advanced course, freshers should learn the basics first and then join this course.
Topics Covered:
Implementing Advanced form design
Using Data Validation
Using Macros in the improvement of interface design
Using Advance database management
Distributing and securing a database
Managing switchboards
Duration – 4 hours
Facilitator – Workforce Academy Partnership
Skill Level – Intermediate to Advanced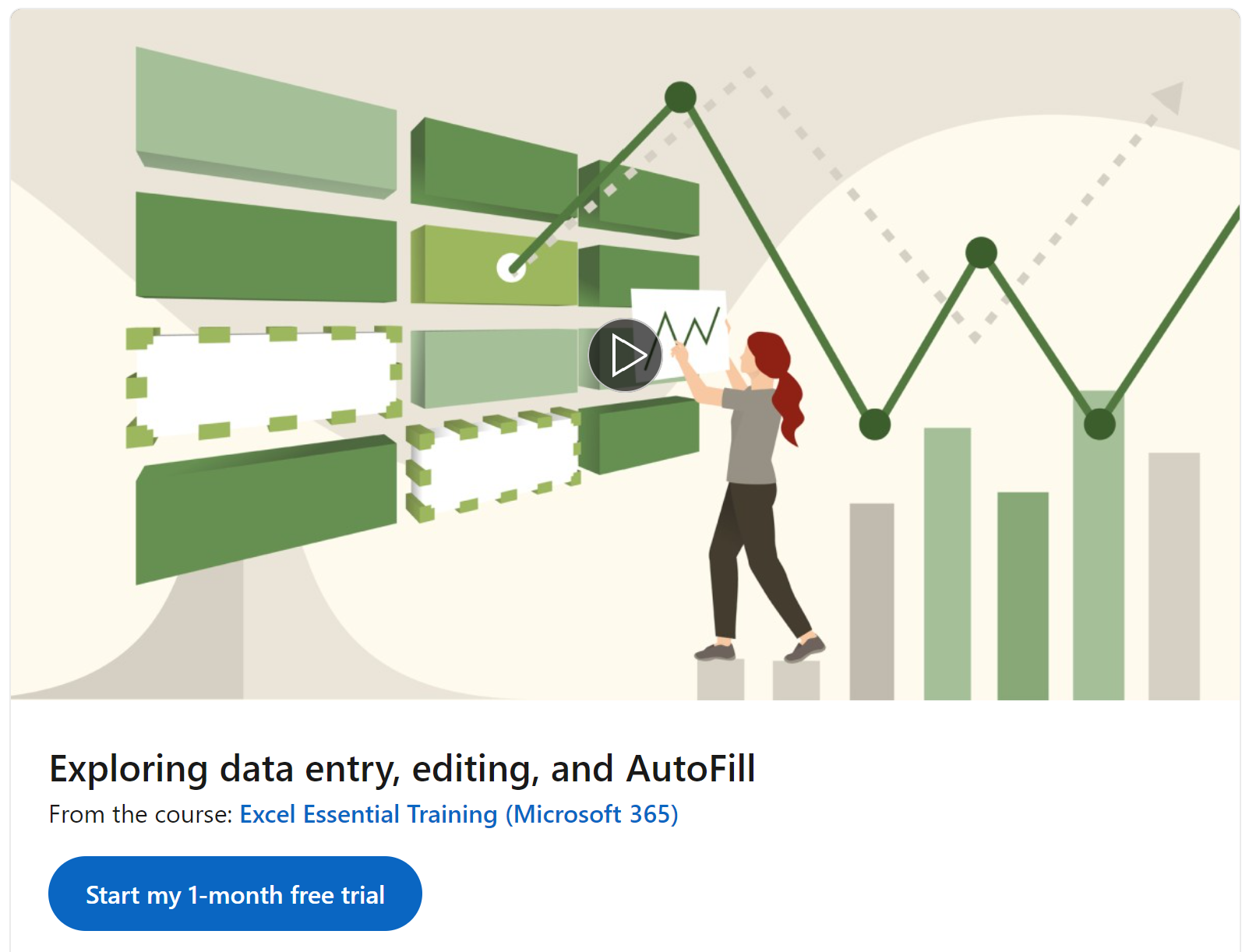 LinkedIn offers this amazing Exploring data entry, editing, and autofill course as a part of Excel Essential Training. As a part of the free first-month trial, you can get the benefit of this course. They also provide exercise files so that you can practice along with learning. This course covers it all, from basics to data management skills.
Freshers can become experts within 2-3 hours through this course. Offered by Dennis Taylor, this online course is worth trying to upskill yourself as a data entry professional.
Topics Covered:
Entering data
Understanding formulas and features
Formatting in Excel
Adjusting worksheet layout and data
Adjusting page layout and printing
Charts
Learning Data management features
Duration – 2 hours 22 minutes
Facilitator – Dennis Taylor
Skill Level – Beginner to Intermediate

Creating forms and using them is part of the data entry operator's job. This Data entry course specifically focuses on teaching the process of creating automated forms in excel. Sanjay Sharma, an experienced professional, offers this course on Skillshare. You can learn this course in the free trial given by the Skillshare platform.
It is a brief course of 44 minutes that will make you an expert in the process of creating an automated form in excel. On successful completion, they offer a hands-on project to give you a practical experience of the whole process.
Topics Covered:
Setting up a form
Creating Radio buttons
Creating a Drop Download List and checking the correctness of the form
Creating submit and clear button
Saving form data in the database
Duration – 44 minutes
Facilitator – Sanjay Sharma
Skill Level – Intermediate to Advanced

Ricardo Trujeque, an instructor at the University of British Columbia, offers this course through self-paced video lectures. It is a free course that teaches the core understanding of excel. The free version of this course comes with limited-time Access. So be sure to maintain discipline as you begin.
This course is a long-term commitment that will make you an expert in Excel. It is perfect for data entry operators and other professionals looking to enhance their skills.
Topics Covered:
Excel fundamentals
Data entry and editing using formats
Formatting and optimizing spreadsheets
Previewing and printing
Using Filter and sort table data capabilities
Using charts for data visualization
Duration – 6 weeks
Facilitator – Ricardo R. Trujeque
Skill Level – Beginner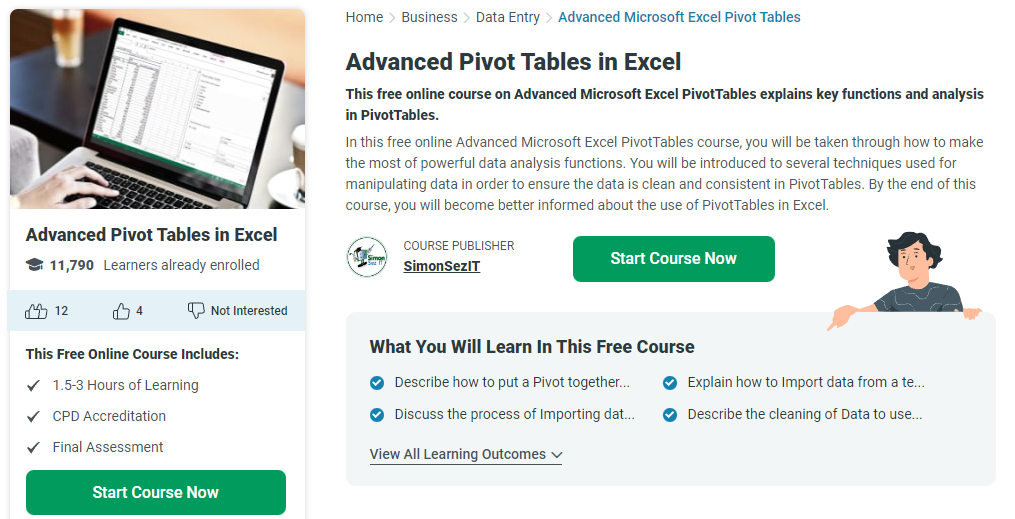 The data entry operator has to deal with large amounts of data. Pivot Tables help in summarizing large amounts of data to answer unique questions. This course on Advanced Pivot Tables in Excel gives an in-depth understanding of creating Pivot Tables in Excel.
Over 11,000 students have attended this 3-hour online course on Alison. Get your CPD Accreditation and expertise in making Pivot Tables with this resourceful course for data entry.
Topics Covered:
Putting Pivot Table together in Excel
Importing data from Access and Text File
Combining data from multiple worksheets
Report Layouts
Different Pivot Table styles and their uses
Grouping and Ungrouping in Pivot Table
Creating and Manipulating a Pivot Table
Duration – 3 hours
Facilitator – SimonSezIT
Skill Level – Advanced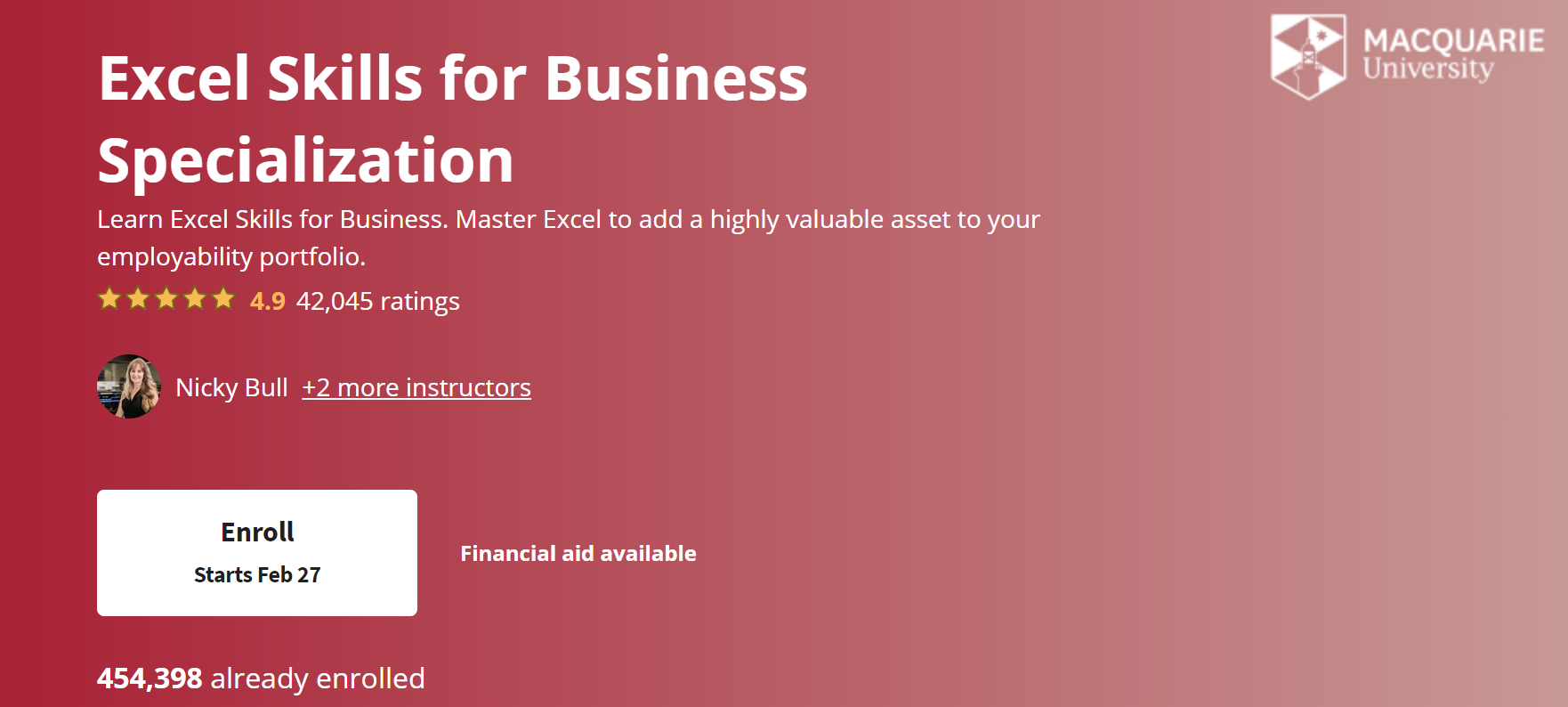 This is a detailed course offered by MACQUARIE University in 4 different parts. Each part covers various aspects of excel and trains the learner inside out on Excel. It is narrated in English and has Arabic, French, Portuguese, Italian, Vietnamese, German, Russian, Spanish, and Hungarian subtitles.
With a 4.9 rating and over 42000 enrollments, this course is worth a try if you want to become an excel expert within a few months. So join this program from Coursera and embark on your journey of becoming a skilled data entry operator.
Topics Covered:
Entering, manipulating, and formatting data in Excel
Creating charts and tables to effectively summarize raw data
Using formulas and functions to calculate
Automating choices and data lookups with functions
creating navigation aids for large workbooks
Duration – 6 months
Facilitators – Nicky Bull, Professor Yvonne Breyer, and Dr. Prashan S. M. Karunaratne
Skill Level – Beginner to Advanced
Final Thoughts
These free online data entry courses are the key to your financial freedom. In addition, learning these skills through free online courses can help you lend a well-paying job to support yourself and your family. So, without any second thought, start learning.
The journey of learning continues forever. This list of 10 online data entry courses is just beginning to enter the data entry field.
With new software and data analyzing tools, it becomes crucial to keep yourself updated!
Frequently Asked Questions
Which Software Is Used in Data Entry?
The software used in data entry differs from company to company. However, the most commonly used software is Microsoft Excel.
Are Data Entry Courses Good for Including on a Resume?
Yes, data entry courses are good for including on a resume. It reflects your capabilities to be detail-oriented, focused, and accurate.
Do Online Data Entry Courses Come with a Certification?
Yes, most of the online data entry courses come with a certification. However, the conditions to receive the certificate differ from course to course. Therefore, make sure to check the requirements before enrolling for the course.