In 2022, 62% of marketers shared that customers expect the brands to be 'always on.' The best way for a personalized connection is through content-led communications. 73% of B2B and 70% of B2C marketers use content marketing as part of their overall marketing strategy. Moreover, half of all marketers outsource content marketing. (Source)
You have made the right decision by taking a step forward to learn content marketing. We understand your concern about selecting a suitable course. Thus, we have curated a list of the best free content marketing courses online. This list covers every level, from beginner to advanced.
These courses have the potential to build your capability within a short period. It opens a doorway for you to enter the professional world.
Read ahead to explore the free content marketing courses.
Best Free Content Marketing Courses Online

Google Digital Garage offers a brief and deep course on the basics of content marketing. This free course has 4 modules comprising video tutorials, easy-to-implement tips, end-of-topic assessments, and unlimited access. A novice looking to understand content marketing can begin with this course.
Each module is carefully designed to make sure that an individual from any field can understand the basics of content marketing. Free content marketing courses are a great way to enhance your skill set and understand the needs of the digital world.
Topics Covered:
Targeting the right social media sites and setting goals
Measuring success on social media
Using online videos to promote and advertise
Identifying the audience, choosing the right format for content, and making it visible
Duration – 3 hours
Facilitator – Experts from Google
Skill Level – Beginner

'Content Marketing Foundations' is a course offered by LinkedIn. The 8 quizzes at the end of every chapter are the best part of the course. Along with imparting knowledge, it also tests the grasping power of every learner through these tests. LinkedIn provides a free trial for the first month. You can access the course within the first month of signing in. Your LinkedIn profile will display the completion certificate at the end.
Brian Honigman, facilitating this course, is a marketing consultant and professor. The lectures embody all his experience and expertise. As a result, every concept explained with a practical example becomes easier to understand. If you don't have much time but are willing to explore content marketing, this is one of the best free content marketing courses.
Topics Covered:
Creating a content strategy
Selecting relevant topics
Producing content
Optimizing and Distributing Content
Integrating content and measuring the results
Experimenting with content and staying updated
Duration – 1 hour
Facilitator – Brian Honigman
Skill Level – Beginner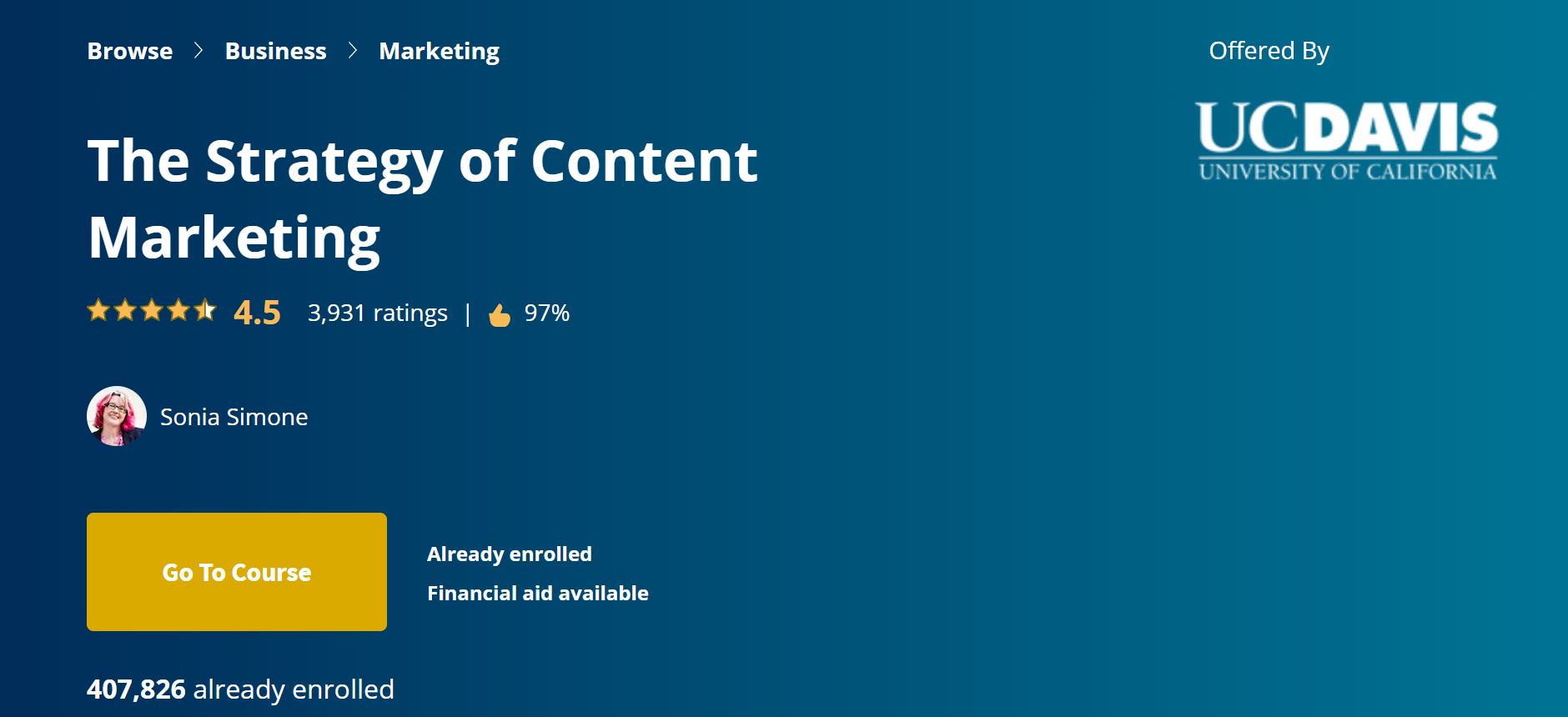 'The Strategy of Content Marketing' is an in-depth course offered by the University of California. More than 400,000 students have already enrolled for the course. This free content marketing course asks you to invest more time in learning. It is a 21-hour-long course that takes you through a detailed content marketing journey.
It is advisable to have a basic understanding of content marketing before you begin this course. Along with English, the subtitles are available in Arabic, French, Portuguese, Serbian, Italian, Vietnamese, German, Russian, and Spanish. Step into the world of digital marketing and understand the role of content through this course offered by Coursera.
Topics Covered:
The content marketing ecosystem
The strategic context
Mapping the journey: Crafting a content marketing strategy
The Strategic Types of content
Duration – 21 hours
Facilitator – Sonia Simone
Skill Level – Intermediate

This well-designed course offered by Udemy throws light on the workings of content marketing. Understanding the audience is crucial in building a brand voice and maintaining it. Ashley Segura from SEMrush Academy assures that learners get a grip on the topic in 2 hours.
Marketers, Content Writers, Entrepreneurs, and curious students can grab this opportunity and attend such free content marketing courses online. Attended by over 4,000 students online, this course is a perfect fit for newbies in content marketing.
Topics Covered:
What is content marketing?
Implementing it in your business with goals
Competitor and Audience Research
Auditing the existing content
Content ideation, creation, and distribution
Advanced content tips
Duration – 2 hours
Facilitator – Ashley Segura
Skill Level – Beginner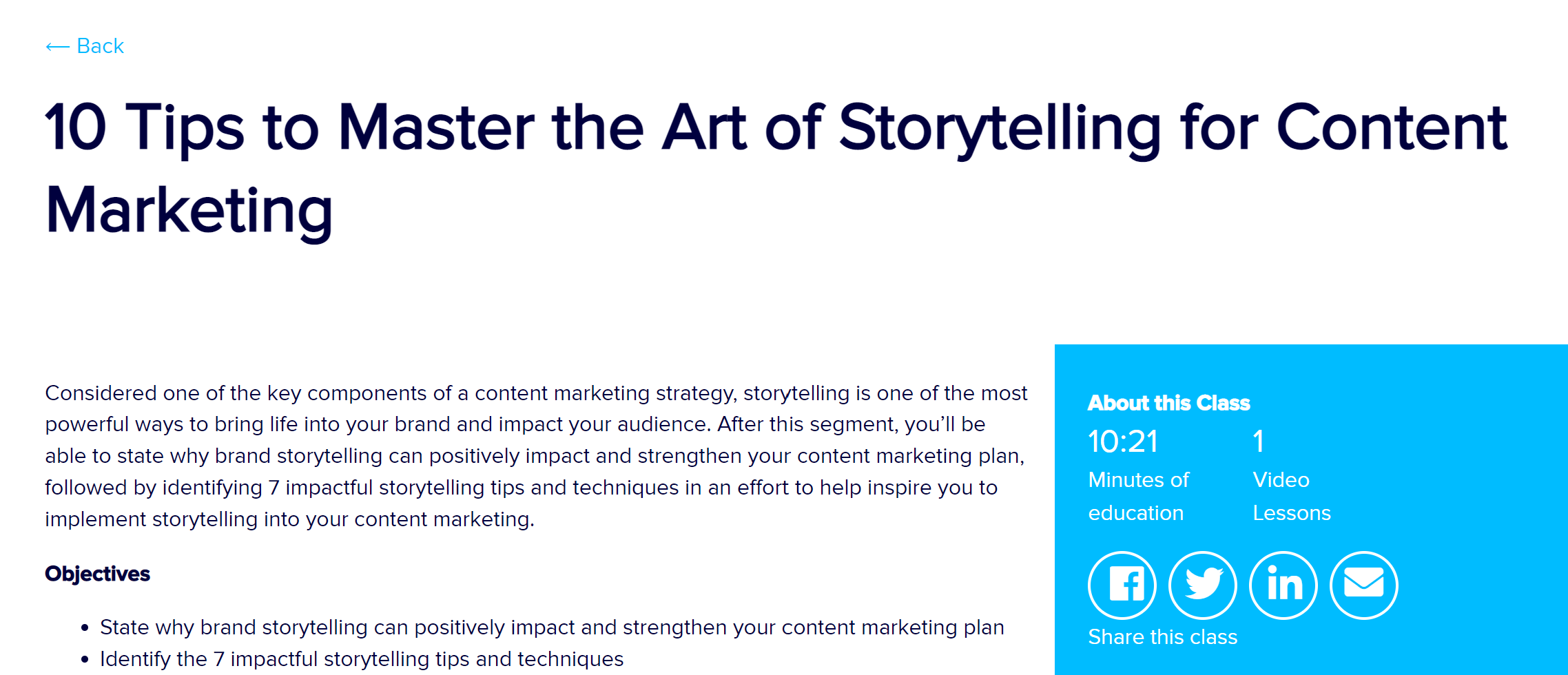 Storytelling plays a huge role in the field of content marketing. This course by Online Marketing Institute focuses on sharpening that skill. Human beings connect with stories more than anything else. Therefore, storytelling is necessary to connect deeply with the target audience. Such free content marketing courses online are an opportunity to enhance your content marketing strategy.
With an experience 18 years of, Mark Ha is an experienced marketing consultant. His experience with various B2B and B2C brands like Adobe, Nokia, Cisco, DHL, IBM, Lenovo, Microsoft, and Stripe makes the course more valuable. You can join this course to get the main essence of his long journey and add them to your professional experience.
Topics Covered:
Understanding one of the most important components of content marketing strategy – storytelling
7 impactful storytelling tips and techniques
Strengthening your content strategy with storytelling
Duration – 10 minutes
Facilitator – Mark Ha
Skill Level – Beginner to Intermediate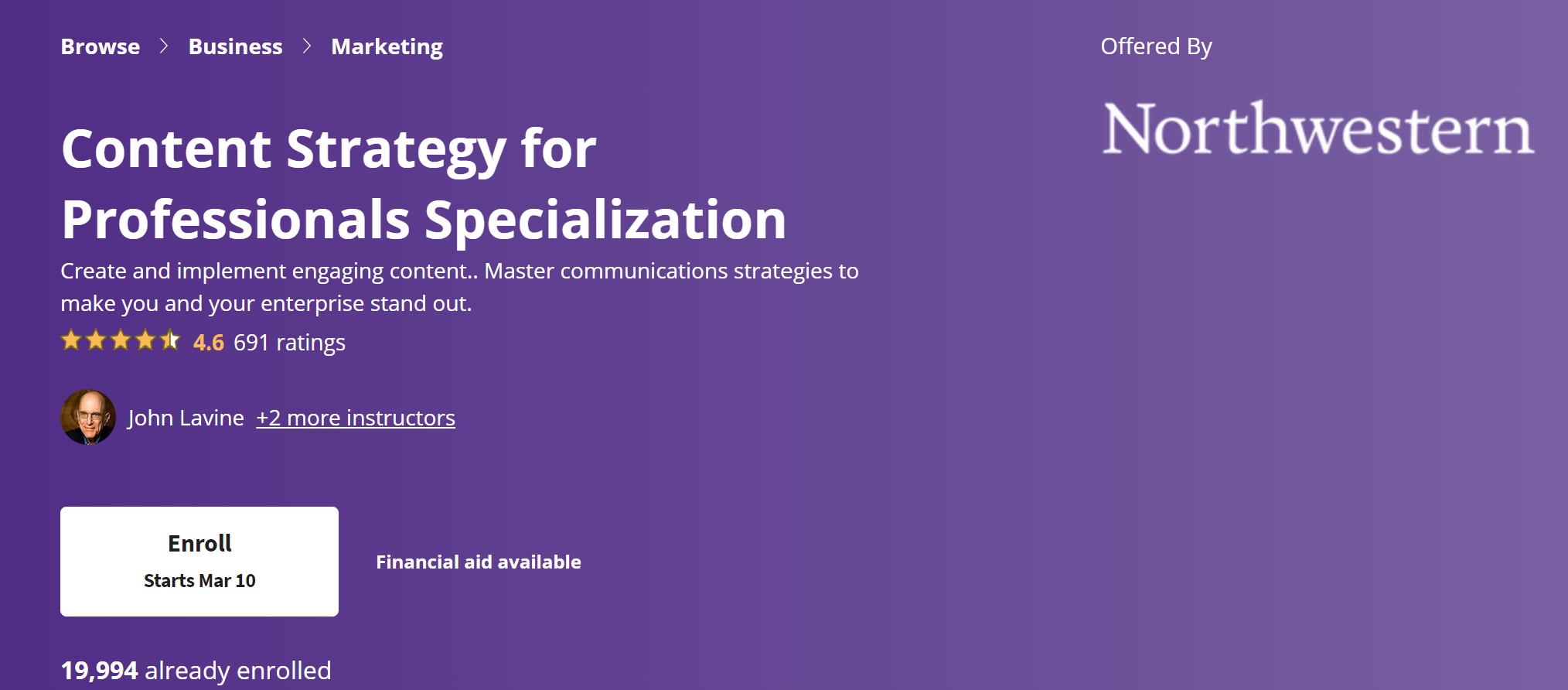 This course is for individuals willing to enter the field of Content Marketing professionally. Anybody from a beginner to an experienced content writer can opt for this course. 20,000 students have already enrolled form this detailed course offered by Northwestern University.
Facilitated by multiple instructors, this course also offers various hands-on activities to the learners. Completion of activities is mandatory to earn a certificate of completion. Such long-term free content marketing courses online can impart knowledge equivalent to a college degree. Build your professional network and enhance your portfolio with this detailed content strategy certification.
Topics Covered:
Engaging Audiences
Managing Content
Engaging with multi-channel digital communities
Expanding your content's reach and impact
Duration – 4 months
Facilitators – John Lavine, Candy Lee, and Randy Hlavac
Skill Level – Beginner to Advanced

'Content Marketing: Blogging for growth' is a course offered by Skillshare and taught by industry leaders and professionals. Blogging plays a huge role in content marketing. However, it is a skill to leverage blogging and drive traffic to the brand. This course offers an understanding of how to craft blogs that benefit the business.
Skillshare offers a one-month free trial period in which you can go through this course. This course is best for an individual who wants to learn how to use a blog as an effective marketing tool. Eric Siu is the CEO of Single Grain and Founder of Growth Everywhere, who also uses blogging for marketing his businesses. Getting to learn from someone who is already using blogging for marketing makes this the best course.
Topics Covered:
Easy blogging styles
Brainstorming the topics to write on
Tips for writing a blog that stands out from the crowd
Creating an effective featured image
Five ways to get successful with blogging
Duration – 1 hour 21 minutes
Facilitator – Eric Siu
Skill Level – Beginner

The need for content marketing is unique in B2B Enterprises. As a result, the methods, strategies planned, and channels used are different. This course is perfect for an extensive understanding of the content marketing strategy for B2B Enterprises. Over 39,000 students have joined this course facilitated by William Flanagan on Udemy.
He is the CEO of Audienti, an organization that helps businesses drive traffic through content. A moderate understanding of marketing and experience with social networks is necessary before you join the course. IT Professionals, Marketers, SEO, and PR individuals can benefit from this course.
Topics Covered:
Understanding the market and building content accordingly
Types of content to produce and the channels to use for promotion
Content creation calendar
Finding promotional channels and influencers
Duration – 37 minutes
Facilitator – William Flanagan
Skill Level – Intermediate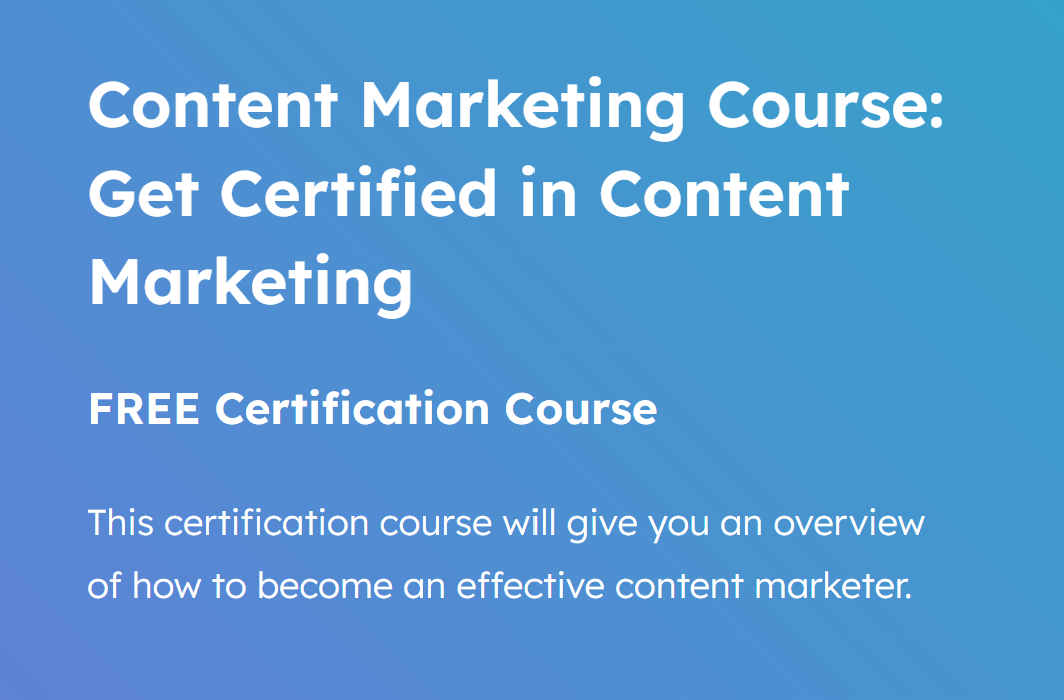 This extensive course offered by Hubspot offers 54 video lessons and 11 quizzes. 'Content Marketing Course: Get Certified in Content Marketing' is a free certification facilitated by multiple industry experts. Content creators, marketing professionals, and aspiring marketers can enhance their skills through this course.
Such free online marketing courses are a great way to build a marketing mindset and get perspective from others' experiences. This course is available in German, English, Spanish, and French. The best part is that every language has a different facilitator, making it easier for the learners to understand.
Topics Covered:
Power of storytelling
Building a content creation framework
Planning a long-term content strategy
Generating content ideas
How Hubspot uses blogging to rank #1 on Google
Extending the value of your content through repurposing
Video marketing strategy
Measuring and analyzing content
Duration – 7 hours 50 minutes
Facilitators – Justin Champion, Lindsay Thibeault, Abigael Donahue, AJ Beltis, and Guillaume Delloue
Skill Level – Beginner to Intermediate

Semrush is a platform that helps businesses with digital marketing. 'Semrush Content Marketing Toolkit' brings forward impactful features for an organization's growth. In a short span, this course gives you an understanding of the most crucial tools required to design and implement content marketing strategies.
Designed by a team of skilled Semrush professionals, it provides the most relevant and up-to-date knowledge on content marketing. These free content marketing courses help to understand the flow and techniques for a successful content marketing strategy.
Topics Covered:
Content audit
SEO writing assistant
Keyword magic tool
Topic research
Brand monitoring tool
Social media post
Post-tracking tool
Marketing Calendar
Duration – 45 minutes
Facilitator – Semrush Academy
Skill Level – Beginner
Pick a Single Course and Begin!
Every course listed above is unique concerning the topics covered or the instructor offering it. Therefore, trying it is thebest way to see what suits you.
Mostly, it happens that you go through a course list and then forget about it. But not today! How about you finalize a course right away and begin your learning journey? Procrastination is the biggest obstacle to online learning.
The experience of learning and certifications through these courses will leave a good impression on your future employers. So take a step towards your growth with these free content marketing courses online.