Running a successful Facebook ad campaign can seem daunting if you don't know the necessary strategies to target your audience and boost engagement or don't know your way around the platform. The field of digital marketing is competitive, and without the right knowledge and skills, your ad campaign can get lost among others. In order to avoid this pitfall, it is important to understand the platform and its various tools. 
If you want to start your journey as a successful digital marketer, mastering advertising on Facebook/Meta is imperative, given that it is still one of the leading social platforms with around 2.936 Billion active users. There is hardly any other platform that will give you such expansive outreach.
This article lists some of the best free online Facebook ads courses and classes taught by experts in the field that will equip you with all you need to know to get started as a digital marketer.
The list has Facebook Ads courses that range from quick overviews to extensive certification courses that you can flaunt on your resume.
So, let us find a Facebook Ads Course that suits your needs without further delay.

This is a very comprehensive online Facebook Ads Course designed by Robin and Jesper; it is available on Udemy. If you are a beginner who wants to learn to master Digital Marketing using Organic Marketing and Facebook Ads, then this is the course for you.
The course aims to teach students how to create profitable Facebook ads and build a strong online presence. The course consists of 12 sections with 79 lectures; there are 4 articles and around 19 downloadable resources.
What you'll learn
Complete Advertising Strategy Setup
How to automate Ads testing
10 effective posting strategies
6 reach strategies
10 creative ad strategies and much more.
Duration: 9hrs 59 minutes
level: Beginner
Certificate of Completion: Yes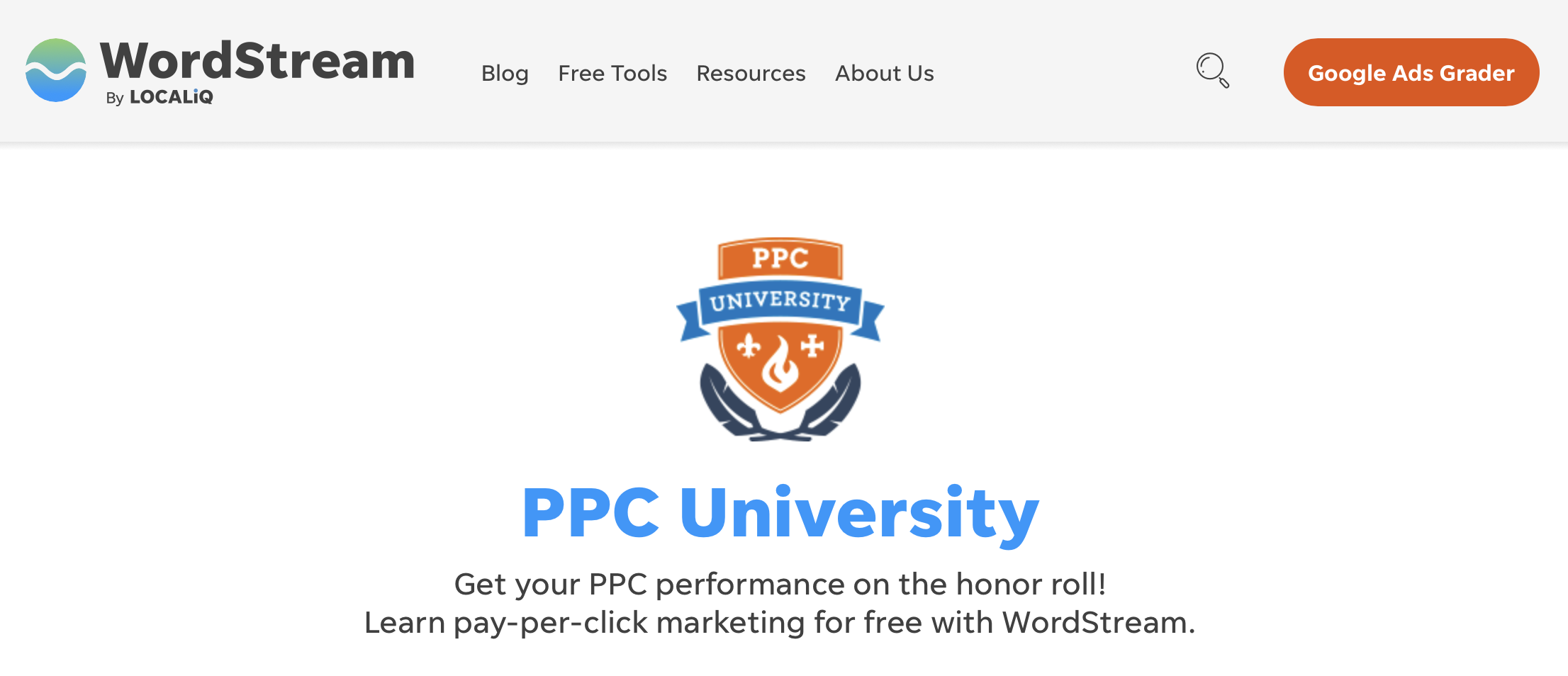 PPC University's Facebook Ads course provides a series of articles around 10 minutes long; the articles are in written form with a few screenshots. In this course, the top PPC experts advise students on the strategies that they have found useful.
The course guides the students through the nuances of the platform and also teaches them to access data to help them understand, analyze and optimize their performance. This is a free course.
What you'll learn
About Facebook advertising benchmarks
Strategies for targeting and retargeting
Essentials of Facebook Ad optimization
Copywriting Facebook Ads
About what is the best time to run Facebook ads
How to lower your costs, and much more.
Duration: Self Paced
level: Beginner to Expert
Certificate of Completion: No

If you are a beginner to social media marketing and are looking for a good introductory course, then this course will interest you. This course will provide a comprehensive knowledge of content marketing, influencer marketing, and reputation management.
The course will also impart the skills that will allow you to run a successful social media campaign and promote brands effectively. Besides helping students with Facebook Marketing and advertising strategies, you will acquire skills across platforms like Instagram, Snapchat, Pinterest, and Linked In.
This is a free course.
What you'll learn
Effective Social Media Strategy
How to manage a reputation online
Web Analytics
Twitter
YouTube Video Marketing
Facebook Marketing and Advertising
Duration: 49 hours
level: Intermediate
Certificate of Completion: Yes

This Facebook Ads course takes a more hands-on approach when teaching about different kinds of Facebook ads. This course targets "How to do" rather than "what to do" when trying to run successful ads on Facebook.
What you'll learn
The importance of Facebook ads for your Business
The mistake people make with Facebook ads and how to avoid them
Demos to teach you how to make different kinds of Facebook ads
How to create and install Pixel to track conversions
How to build a custom audience from your website visitors and email lists.
Duration: 4 hours
level: Beginner
Certificate of Completion:Yes

This is one of the many Facebook Ads courses available on Udemy; it is created by Coursenvy and is suited for all levels ranging from beginners to advanced. This Facebook Ads Course contains 34 downloadable resources and 32 articles. The course is structured to have 12 sections, consisting of 76 lectures that will help you become a Facebook ads expert.
The course will help students to learn how to optimize Facebook ads for increased conversions. It will further help to acquire the skills to augment their Facebook likes and post engagement.
What you'll learn
To master Facebook Ads Manager
How to lower ad costs via Facebook ads
How to connect with a new audience
To use the advanced features provided in Facebook Business Manager
How to implement Facebook's advanced tracking strategies and Pixel
How to Master Sales Funnel, and much more.
Duration: 12.5 hours
level: Beginner to Advanced
Certificate of Completion: Yes

Facebook and Social Media Certification Course is a beginner-friendly course offered at Coursera. If you want to start your career as a social media marketer and learn the fundamentals of social media marketing and advertising, then this Facebook Ads Course is the answer to your needs.
One of the highlights of this course is a professional certificate from Meta. This course will help you learn how to design and optimize impressive marketing campaigns across some of the major social media platforms.
After completing this course, you will be eligible for entry-level jobs like; Social Media Manager, Social Media Coordinator, Social Media Strategist, and Paid Media Coordinator.
What you'll learn
How to build a following and establish a strong online presence
To create effective social media posts and build an impressive social media brand presence
How to create Instagram and Facebook ad campaigns in Meta Ads Manager
to understand and analyze the results of your social media posts and Ad Campaigns
Duration: 7 months (under two hours of study a week)
level: Beginner
Certificate of Completion: Yes

This course on Udemy is designed by Issac Rudansky, a well-recognized expert in the digital domain. He has designed some of the best-selling courses on Udemy. This Facebook Ads Course is specifically for people who want to learn how to build chatbots using Mobile Monkey. Mobile Monkey is the world's best Facebook Messenger Marketing Platform.
Previously you were required to have a background in coding if you aspired to create a chatbot. However, with Mobile Monkey, you can build complex bots without prior coding knowledge.
What you'll learn
How to create effective Facebook Messenger Ad Campaigns and then link them to the Mobile Monkey Chatbot
How to build your Customer Support Chatbot that will help answer questions and send content in a personalized way
How to connect your chatbots to GoToWebinar, Google Sheets, Your CRM, and others
Using your chatbot to setup SMS notifications from Facebook Messenger leads, and much more
Duration: 11.5 hours
level: Beginner
Certificate of Completion: Yes

To help digital marketers navigate their way around the platform, Facebook provides its own range of courses and tutorials. All these courses are free to access, and you can go through them at your own pace. These courses will help you advance your Digital Marketing knowledge.
Whether you want to refine your marketing and advertising skills or you're new and want to learn your way around the platform, the range of courses has got all of your needs covered.
Facebook Blueprint also provides various certifications that you can earn.
To earn each certificate, you have to pass an exam. These exams can be taken online or offline at a designated testing center. You are required to pay a fee to schedule and take the exam. The fee varies according to the kind of certification.
What you'll learn
A range of skills, depending upon the certification or course you choose.
How to make ads on Facebook, Messenger, and Instagram, and how to manage them
How to read and analyze data for a better marketing strategy
Online community management 
Duration: Self-Paced
level: Beginner – Intermediate/Advanced
Certificate of Completion:Yes

This Facebook Ads Course is a beginner-friendly course offered by HubSpot. In this course, you will be guided by industry experts on how to use the social media platform to connect effectively with your target audience.
Every lesson in this course is followed by a five-question quiz, so you can assess your progress and understanding of the material. This is a free course, and all you need to access it is a HubSpot account.
The course is comprised of 5 lessons, 8 videos, and 4 quizzes.
What you'll learn
How to grow your Organic Facebook Reach
How to develop an effective Marketing Strategy
To design a stellar Facebook Content Strategy
Duration: 48 minutes
level: Beginner
Certificate of Completion:No
Conclusion
When it comes to advertising on Facebook, spending your resources on posting ads will not get you anywhere unless you have a well-informed digital marketing or advertising strategy, which requires you to know the tools, resources, and nuances of the platform. And this is what will make your ad campaign a successful one.
The courses listed in the article will help you learn all you need to know about Facebook Ads courses and ensure your ads don't go unnoticed. You can start learning and educating yourself from the comfort of your home and save time and resources.
All you need is a device to access the courses and an internet connection, and you're all set to begin your journey as a Digital Marketing person.