Skillshare was established in 2010 and offered classes mostly in writing, design, photography, and other creative pursuits. Its founders, Michael Karnjanaprakorn and Malcolm Ong wanted to create an open platform where everyone could teach, and students could learn at their own pace.
Whether you're looking to acquire new skills or advance your career, Skillshare has a comprehensive course catalog to suit any learner. From beginners to entrepreneurs, anybody can feed their curiosity with more than 35,000 online classes.
With Skillshare, you can take interactive video lessons, do projects, and take challenges to learn new things at your own pace. This platform comprises a community of enthusiastic learners who share their knowledge and experience with others.
You can access Skillshare for free with a basic membership, whereas you can purchase a premium membership if you want more perks and features.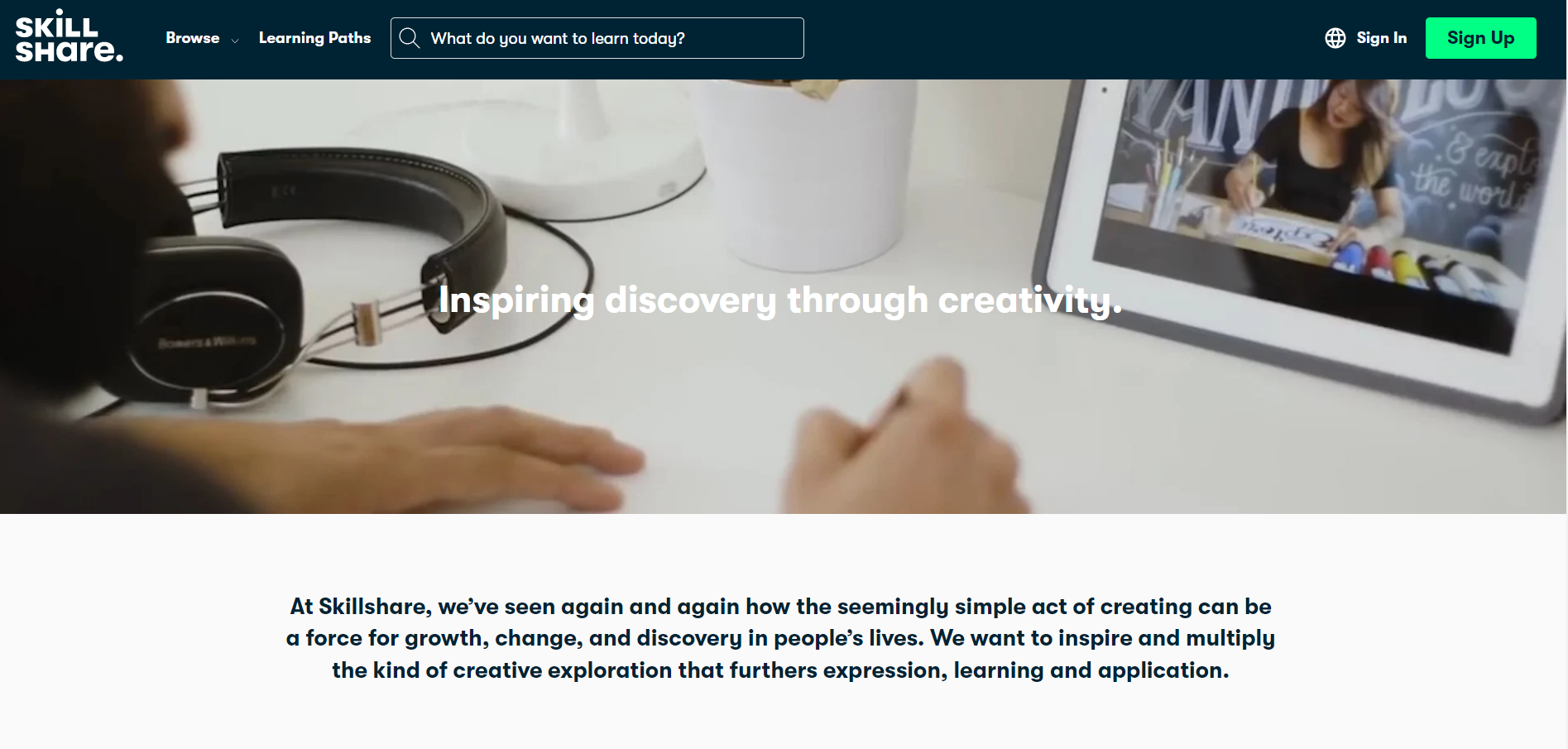 Features that Skillshare Offers:
Video lessons: Interactive video lessons that are simple to follow and comprehend are used to teach courses on Skillshare. You can pause, rewind, and replay the videos to ensure you understand the subject.
Project-based learning: Many Skillshare courses include practical tasks and projects that let you use what you've learned and show that you understand the subject
Community: Students, professors, and professionals enthusiastic about learning and sharing their expertise make up a sizable and vibrant community on Skillshare. You can interact with other students, receive comments on your projects, and participate in forums and conversations.
Premium membership: Skillshare offers a premium membership that gives you features and advantages like downloading videos to watch later, early access to new courses, and completing course enrollments.
What Are the Categories Available On Skillshare?

Skillshare has a wide variety of courses to offer. The categories in which these courses are divided are as follows:
Music
Drawing and Painting
Marketing
Animation
Social Media
Ui/Ux Design
Creative Writing
Film and Video
Craft
Photography
Graphic Design
Productivity
Pros and Cons of Skillshare
There are pros and cons to anything; hence we have listed the major ones below:
Pros:
Skillshare offers a large selection of over 30,000 courses.
Project-based learning to enhance your knowledge
Discounts and perks for additional products and services
Wide variety of courses and topics to learn from
Free one-month trial to every user signing into the platform
Referring to Skillshare gives you an additional free month of subscription.
Cons:
The quality of courses varies. It can depend upon the varying faculty members of the courses.
No certificates or accreditation upon completing the courses.
The cancellation process is a little confusing.
Who is Skillshare For?
Creatives who wish to learn new talents or hone current ones are the target audience for Skillshare. In short, Skillshare is for everyone. Since its courses cover subjects like illustration, design, photography, video, freelancing, and much more, they appeal to creative workers (such as chefs, artists, designers, etc.), entrepreneurs (such as marketers or SEOs), freelancers, or small businesses who want to advance their creative careers. Skillshare offers scholarships and financial aid for eligible learners and offers a refund on annual memberships within 14 days of purchase.
How Does Skillshare Work?
Skillshare operates as an actual marketplace. Signups are open to experts, enthusiasts, thought leaders, and gurus who post their courses. Their classes are published to users after passing a "quality test." Users can enroll in these courses once they become publicly available on the platform. The majority of Skillshare courses are videos. Each class has short lessons and a hands-on project for you to work on. Share your project in the class to get feedback and collaborate with our vibrant community.
Skillshare Free vs. Premium. How Much Does It Cost?
Although you won't regret using Skillshare, you might feel a little let down when you learn that some functions are only available to Skillshare premium members. But, it does not imply that if you do not pay the premium, you cannot use Skillshare in any way. You can still enroll in classes, obtain wise counsel, and learn new abilities.
Trial Period
What would be your next step if you don't have the money to purchase Skillshare Premium?
Start a free trial period!
Take full use of all the advantages by using the Skillshare free trial. You can finish up to 4 courses in the free trial period by taking up one course every week. Explore Skillshare's features, including community forums, subject-based discussions, limitless course enrollment, and shared learning.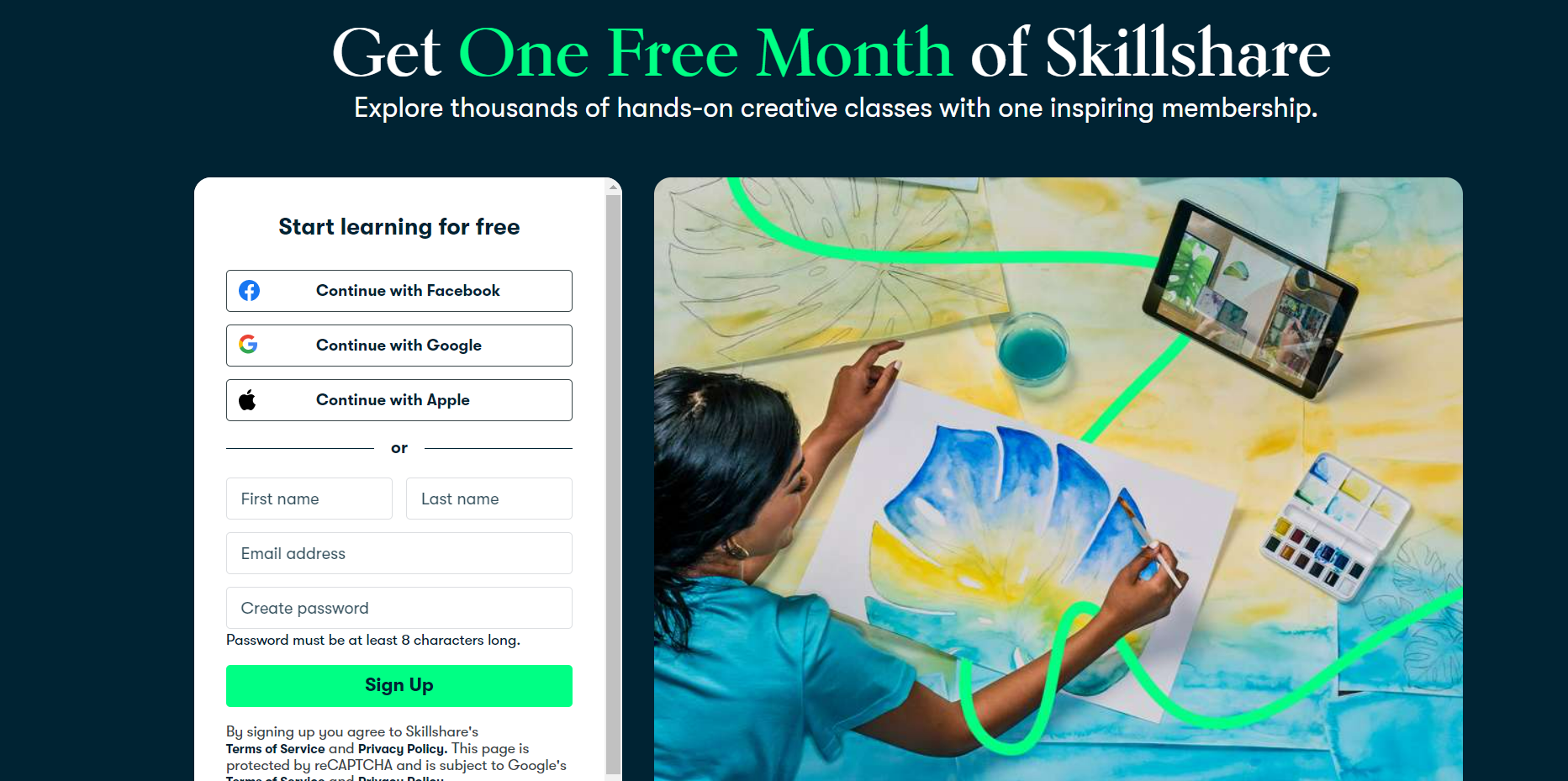 Premium Charges
Individual Skillshare Premium subscriptions cost $180 per year or roughly $15 monthly.
Also, the premium charge only for a month is 32$.
Click here to activate One Month Free Trial. With Skillshare Premium, you may download the classes to see them on your mobile and tablet devices, get unlimited access to more than 35,000 courses, join a student community where you can discuss course specifics with other users, and receive a special discount on other creative platforms.
Skillshare for Teams memberships are created specifically for businesses and offer additional flexibility. If your team expands, you can add users to your account, and if someone leaves your team, you can reassign seats. The premium version for teams starts at $159 per user per year for groups of 2 to 19. This plan, also known as an enterprise plan, must be discussed with the sales team if you have over 20 members.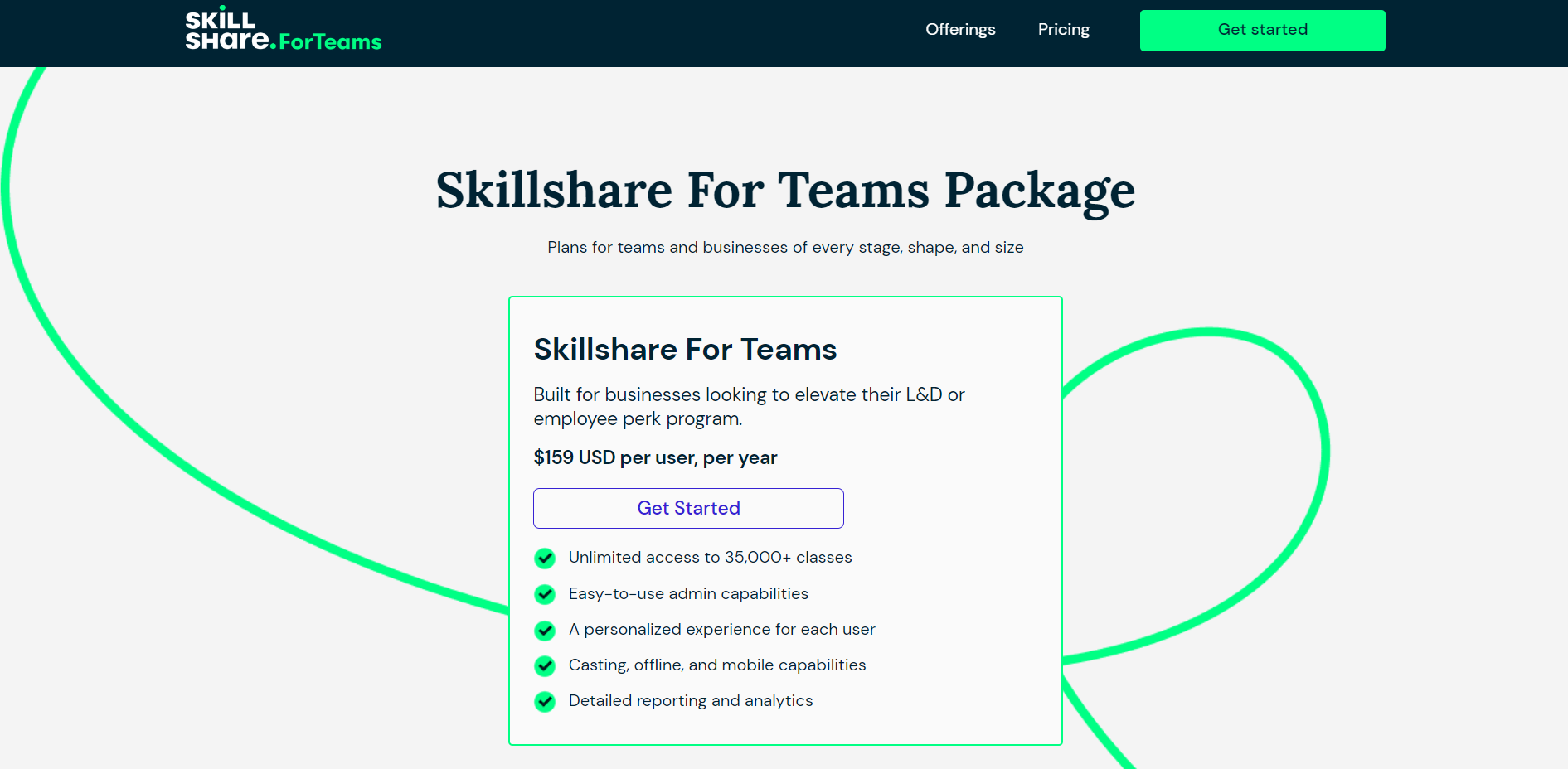 How to Get Started On Skillshare
Create an Account:
Visit Skillshare and create an account there. You have the option of creating a new account using your email address or using your Facebook, Google, or Apple accounts.
Choose a Membership Plan:
Skillshare offers both free and premium membership plans. The free plan gives you access to a limited number of classes, while the premium plan gives you unlimited access to all classes. Choose the plan that you can afford accordingly.
Explore Classes:
Once you have signed up and selected a membership plan, you can start browsing the classes on Skillshare. There are thousands of classes on a wide range of topics, from photography to cooking to graphic design.
Enroll in a Class:
When you find a class that you are interested in, click on it to learn more about the class. You can read the class description, watch a trailer video and read reviews from other students. If you decide to enroll in the class, click on the "Enroll" button.
Watch the Class:
After enrolling in a class, you can start watching the videos. Skillshare classes are broken down into short video lessons that you can watch at your own pace.
Complete Class Projects:
Many Skillshare classes include projects that you can complete to practice what you have learned. You can share your completed projects with the class and get feedback from the instructor and other students.
Participate in The Community:
Skillshare has a vibrant community of students and instructors. You can participate in discussions, ask questions and share your work with the community.
Explore Other Features:
Skillshare has many other features, such as offline viewing, progress tracking, and personalized recommendations. Take some time to explore these features to get the most out of your Skillshare experience.
Some of the Most Popular Courses on Skillshare
Around 41K online courses, nearly 35M students, and more than 1.1M reviews are available on Skillshare. More than 1.3K of these courses contain more than 50 lessons, with their longest course having 313 lessons.
Summaries of The Courses' Statistics:
Enrollments in courses range from 17K to 166K. Nine courses have more than 100K students enrolled.
A total of 7.8 million students have enrolled in these courses, with an average enrollment of 32.5K.
Almost 40% of the courses are devoted to graphic and illustration design. These courses have more than 4K lessons altogether.
Conclusion
In conclusion, Skillshare is an excellent learning resource for anyone wishing to increase their knowledge base or learn new abilities.
With its extensive library of classes, interactive community, and reasonable pricing, Skillshare offers a unique and accessible way to learn and grow.
Although it has some limitations as an online learning environment, the advantages outweigh the disadvantages by a wide margin.
We hope our review has aided your decision-making and inspired you to peruse Skillshare's extensive catalog of courses.