Heard about dropshipping from someone and are curious to add one more income stream to your life? Well, that's a great choice you have made. Let us take you further in this process and help you grow your dropshipping business with Shopify. With this knowledge, you can learn Shopify, build your business, and gain the freedom you have always wanted.
Every course shares amazing knowledge and journeys of many successful entrepreneurs in dropshipping business. This article shares the 10 best Shopify dropshipping courses to help you build your first Shopify business. And if you already have one, it will help you grow your sales and earn more.
Best Shopify Learn Dropshipping Business Courses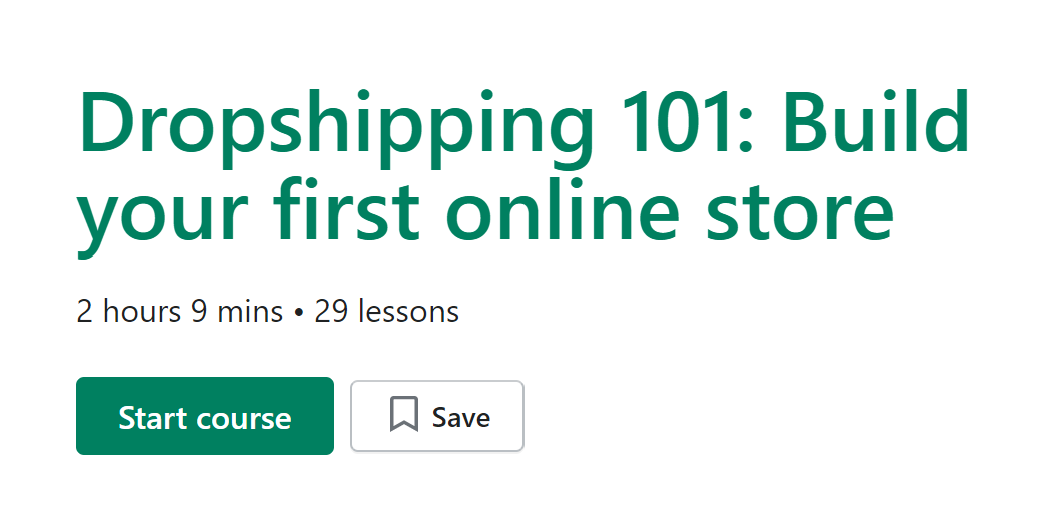 This free course by Shopify is an ice-breaker for newbies willing to know more about dropshipping. Give a perfect start to your dropshipping journey by opening your first store with the help of Dropshipping 101. It is designed for individuals willing to build a business without prior experience or knowledge.
Jessica facilitates the course and shares her experience as an e-commerce business owner. The learning helps aspiring entrepreneurs launch their brands. With Shopify Learn, you have an opportunity to join this resourceful course and take a step forward.
Topics Covered:
Find winning Dropshipping products
Choosing trustworthy suppliers on AliExpress
Building a Shopify store and e-commerce brand
Setting the first Facebook ad and driving traffic to the store
Optimizing ads for better sales
Duration – 2 hours 9 minutes
Facilitator – Jessica Guzik
Skill Level – Beginner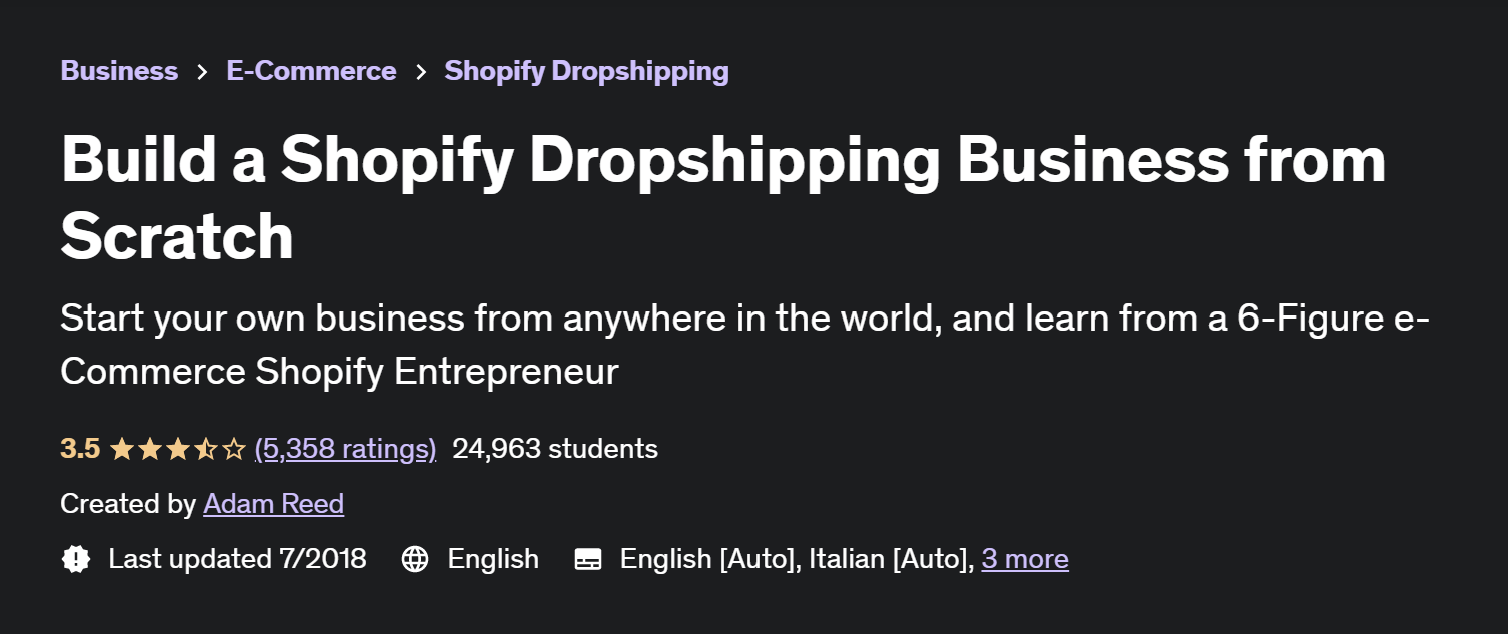 'Build a Shopify business from Scratch' is a paid course by Udemy that helps anyone build their own business from anywhere in the world. Along with the video lectures, this course also provides 7 articles and 4 downloadable resources. You can access the content on your phone, laptop, or television.
With Shopify, you can learn to build your dropshipping business. All you need is a PC/Laptop and a good internet connection. The videos guide you on how to build your own business and also share the whole step-by-step process. Join this course to begin your Shopify business from scratch.
Topics Covered:
An Introduction to E-Commerce
Niche and Product Selection
Signing up for the essentials
Setting up a professional email address
Introduction to Oberlo
Editing the store and Optimising it for conversation
Learning social media and graphics
Setting up shipment tracking
Duration – 10 hours
Facilitator – Adam Reed
Skill Level – Beginner

Join Shopify, Learn to grow your business. 'Free Shopify Dropshipping Course' by Auto-DS is exactly what you need to excel in your dropshipping journey. If you want to enter this field and are clueless about where to start, this is the right place.
Liran Zablo is a professional drop shipper, educator, and entrepreneur with several years of experience. His journey toward financial freedom is an inspiration for many young minds. If you are looking for a path that can lead you to financial independence, then it is worth exploring this course.
Topics Covered:
Factors to consider while sourcing bestselling products
Creating an attractive Shopify store
Running effective online ads to drive traffic to your store
Building strong customer support
Duration – 5 hours
Facilitator – Liran Zablo
Skill Level – Beginner to Advanced

Individuals who want to explore Shopify dropshipping but are not sure if they want to start a business can join this course. It gives an overview of the whole journey in brief. This course can help you decide whether to continue and invest more time in this aspect of a business. Within half an hour, it will take you through the most crucial and core aspects of this type of business.
With Skillshare, you can access the course for free in the first month of the trial period. The class project allows you to put yourself through the process of learning.
Topics Covered:
Introduction to Dropshipping
Creating graphics using Word swag, Canva, and other low-cost tools
Understanding the use of Printful
Creating a Mug, Hoodie, and adding a new product to Spotify
Ordering Product Samples
Maximizing Shopify
Duration – 32 minutes
Facilitator – Jessica Johnson
Skill Level – Beginner

This free opportunity from Alison is a combination of 4 different courses to help you master the skill of building a business. From building the dropshipping business to growing it, all the processes are covered in this course. Using Shopify to learn how to be financially free is a huge step in life. Alison helps you in this process of empowering yourself.
Begin your e-commerce and entrepreneurship journey today and gain the most crucial skills.
Topics Covered:
Setting up a home business
Dropshipping business on Amazon
Mastering Facebook ads
Bootstrapping a new online business
Duration – 18 hours
Facilitator – Alison
Skill Level – Beginner to Advanced

If you have made up your mind to start a Shopify dropshipping business, then this free course gives you complete guidance. All you need is a PC with internet and an investment of $100/month. With Shopify, learn to take a step towards an independent life while working remotely. You can easily build a 5 or 6-figure monthly income once you master the skill and work on it consistently.
Facilitated by Leon Chaudhari, this course is for aspiring entrepreneurs, existing Shopify store owners, and individuals looking to escape the 9-5 job. He is a multi-talented individual who can guide you in building a profitable business, marketing it, automating it, and helping you with personal development.
Topics Covered:
Introduction to Dropshipping and basics
Oberlo and Aliexpress
Finding the right niche
International Trade Mark Research
Domain, Honey Chrome, and Email account
Payments & Checkout
Order Confirmation
Adding pages to your store and menu
Adding a contact form and setting up a professional email address
Duration – 1 hour 33 minutes
Facilitator – Leon Chaudhari
Skill Level – Beginner to Intermediate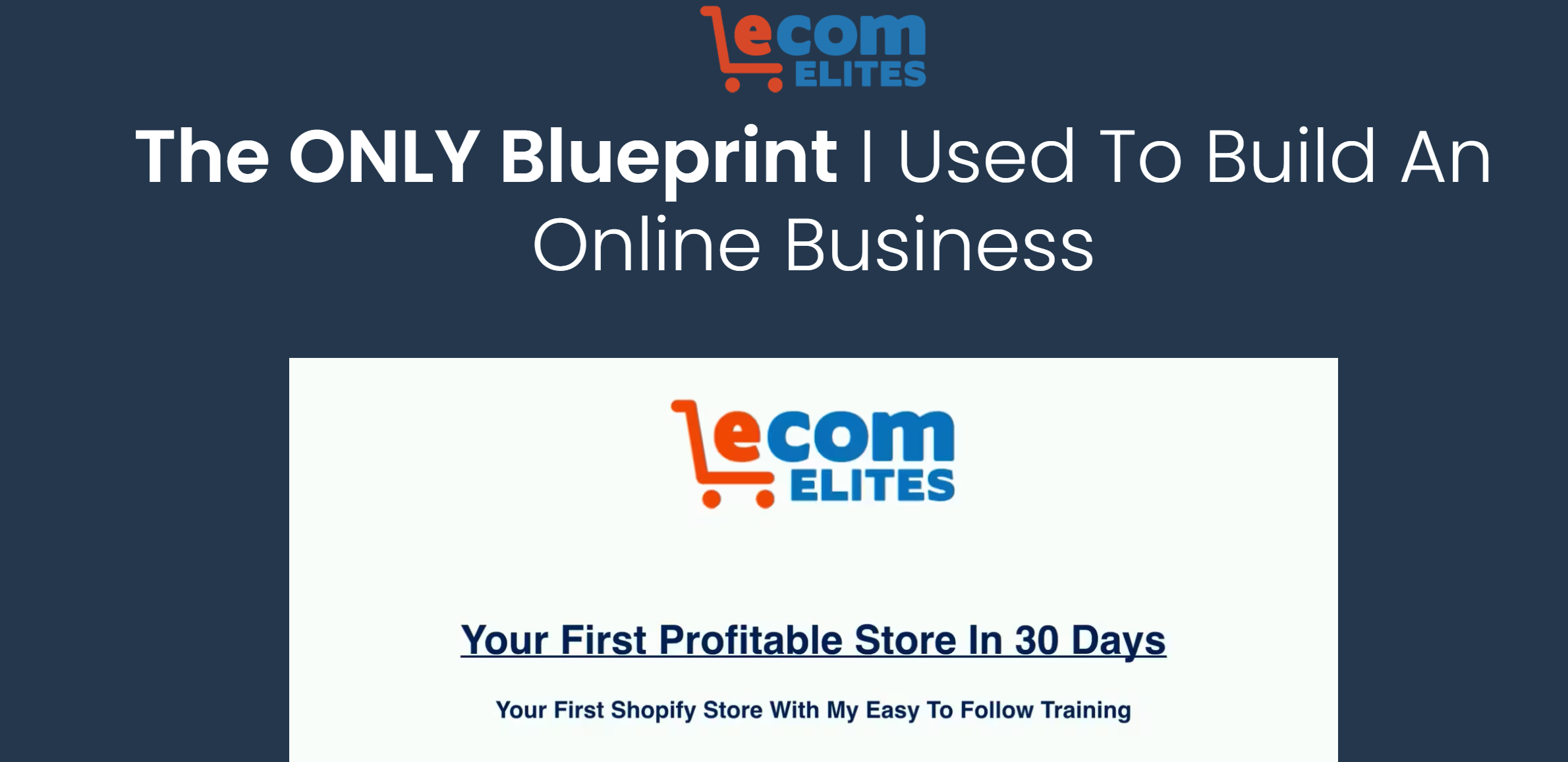 Best Shopify Dropshipping Course is an online paid course offered by ecom ELITES. They help individuals in building a profitable business in 30 days. Get access to new-age secrets of start-ups while building your own business with this course. Understand the door ship model and learn how to make a living through it.
Shopify learn and sell opportunity allows you to get guidance and grow the business. Franklin Hatchett shares with you tested and exclusive training that has helped many other businesses get started online.
Topics Covered:
Creating your store
Sourcing products
Facebook Traffic
Instagram Traffic
Learning Email Marketing
ChatBot Traffic
Funnel Traffic Foundation
Google Ads Traffic Explosion
Organic Google Traffic
Duration – 1 month
Facilitator – Franklin Hatchett
Skill Level – Beginner to Advanced

If learning through extensive blogs and detailed written explanations is your style, then 'Dropshipping 101′ is a freecourse. Name any topic related to this type of business, and you will find a blog on it. The best part is that it keeps you updated at regular intervals of time. So, if anything new comes in the drop shipping industry, you will learn through Dropshipping 101.
Scale your business by breaking the myths and learning some tips to grow your business. The content is uploaded on the site and can be accessed anytime & anywhere. It is an opportunity to explore this area of entrepreneurship and see if you feel like going deeper into it.
Topics Covered:
Starting Dropshipping
AI in eCommerce
Using AliExpress
Finding Winning Products on AliExpress
Ways to find Shopify stores in your niche
Dropshipping Podcasts
Eco-friendly Dropshipping suppliers
Duration – Self-paced Content
Facilitator – Niche Dropshipping
Skill Level – Beginner to Advanced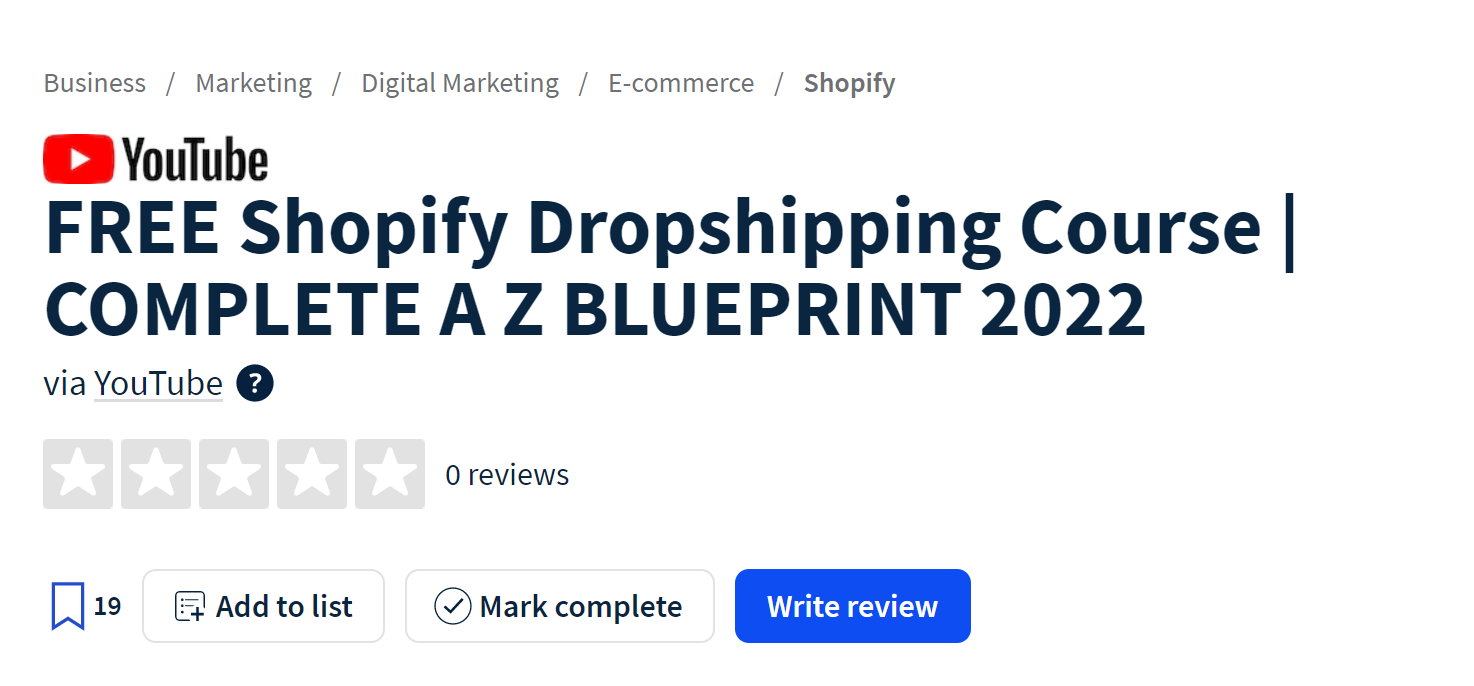 This course on Youtube is a treasure for an aspiring entrepreneur. It provides detailed information about dropshipping, guides on marketing, and shares some effective copywriting secrets. It's a perfect combination of all the things you need to build a successful business.
Let this be the one if you are looking for a course that can provide everything in one place. It is one of the best e-commerce courses offered by ECOM KING that you should not miss in your learning journey.
Topics Covered:
Dropshipping and how to start
What will you need to begin this journey
Finding suppliers and agents
Scaling your business with other platforms
Setting up Google and Facebook analytics
Hiring VAs to help automate customers services & logistics
Duration – 9 hours
Facilitator – THE ECOM KING
Skill Level – Beginner to Advanced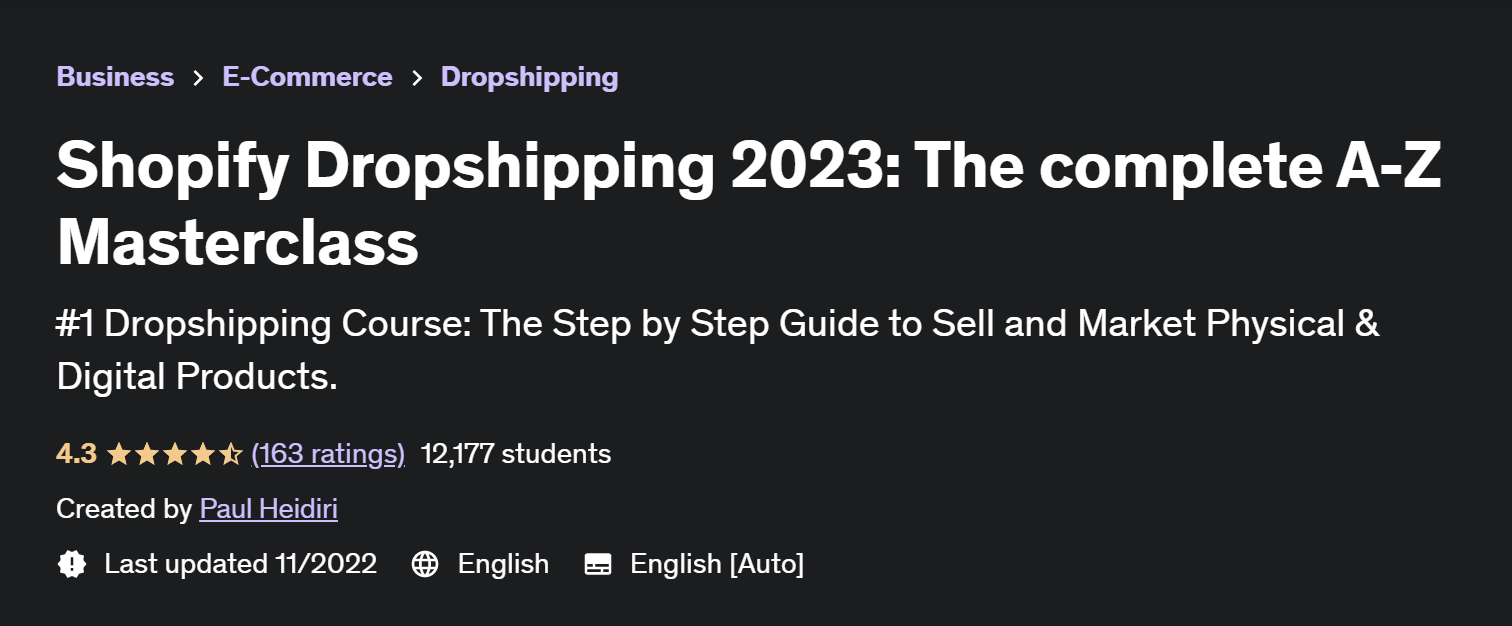 'Shopify Dropshipping 2023' is the latest and updated version with perfect guidance. This paid course does not require you to have any prior programming knowledge. However, you will need a laptop/PC with an internet connection and 100 pounds for investment.
It covers physical and digital products and teaches you how to sell them in specific markets. Udemy offers this course and 3 downloadable resources to help you understand the topic better. If you are willing to understand dropshipping in-depth, then this is the perfect course to begin with.
Topics Covered:
Digital Dropshipping
Building an Online Store
Finding Products and running Ads
Duration – 4 hours
Facilitator – Paul Heidiri
Skill Level – Beginner to Advanced
Shopify, Learn and Earn
Have you gone through the courses but are unsure if you are ready to begin your journey? We understand your hesitation! Thus, we have also covered basic & brief modules to give you an insight. You don't want to regret not trying out a new way of creating a passive source of income for your future self, right?
Create that extra source of income with Shopify Learn by becoming an expert in dropshipping!