Do you feel that having more viewing space on your computer can change the way you work and play? You've hit the bull's eye—many studies will back you up on that!
But how does it help?
We've outlined the various ways a multi-monitor can turbocharge your performance. By the end of it, you'll be tempted to pick up the legendary Mobile Pixels Trio laptop screen extender to boost your creativity and productivity.
Get a load of these benefits:
Use Them To Categorize and Separate Tasks
Sure, you can split screens on a single monitor setup but what happens when your texts keep getting smaller?
Aside from a raging headache, it tanks viewability along with productivity and efficiency.
With a triple monitor setup, you'll have different screens for different windows. There's a working space for every need with no compromise on the font front.
Better Multitasking
Humans are notably bad at multitasking. Research reports that you can lose as much as 40% of your time when you divide your attention across multiple tasks.
What it fails to mention is there's a smart way to incorporate it.
If you're looking to do more in less time without subjecting yourself to a mental overload, screen extenders are your holy grail. With this setup, you can pull up a reference sheet on one, have your email open on another, and work on the primary screen. It will make it so much easier for ideas to flow!
Think about it.
If you're a streamer, you can play your game on one screen and chat with your followers on the other. You'd even have a spare screen for cheat codes. This "work smart, not hard" system extends to everyone from coders to graphic designers and more.
Easy Integration
Laptop screen extenders work with macOS, Windows, and Android smartphones. As long as they have a USB-C or A port and a good graphics processing unit (GPU) for graphics-heavy applications, nothing is stopping you from converting your single-screen setup to a triple-screen powerhouse.
Most people fear there may be some lag in performance, but that simply isn't true.
Our recommended setup has an impressive refresh rate of 60 hertz and 1080p full HD displays—the same found in most laptops and desktops today. So, you can expect a pretty immersive experience with crisp, clear, and detailed images. It's even enough for a rich gaming experience!
Additionally, our extenders easily and seamlessly hook up to your laptop, creating a sleek setup that will be the envy of remote workers everywhere. Our thoughtfully designed product triples your screen real estate without making your workspace look ugly or cluttered.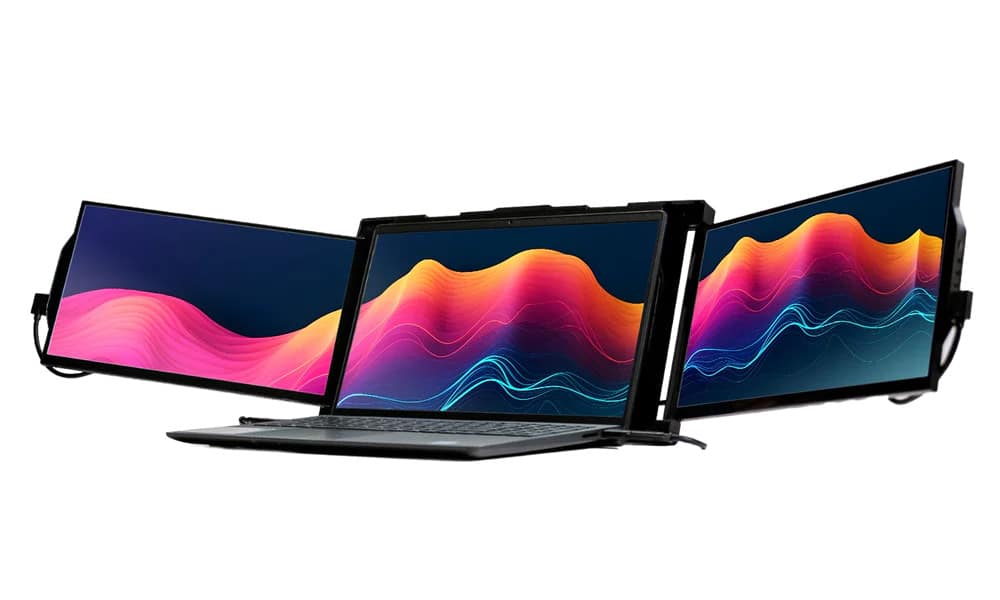 Better for Ergonomics
Triple monitors are kinder to your eyes and musculoskeletal system than you realize.
With a blue light filter and adjustable contrast, saturation, temperature, and brightness of up to 250 nits, its eye care mode sets you up for longer and more comfortable viewing.
Factor in its freestanding functionality and built-in kickstand that supports 4 modes: landscape (standard), collaboration (teamwork makes the dream work!), portrait (for superior readability), and presentation (flip to 180 degrees), and you'll be able to maximize your productivity without breaking a sweat.
Make sure to place it directly in front of you at arm's length and slightly below eye level to minimize neck and eye strain.
Work Wherever
This is perhaps the most notable benefit of the triple monitor setup. Twenty percent thinner and one pound lighter with its aluminum body, it's the perfect accessory to take with you. Capable of weathering regular wear and tear, you get the same functionality without packing on too much weight.
Plus, its pass-through charging capabilities won't wear out your laptop's battery.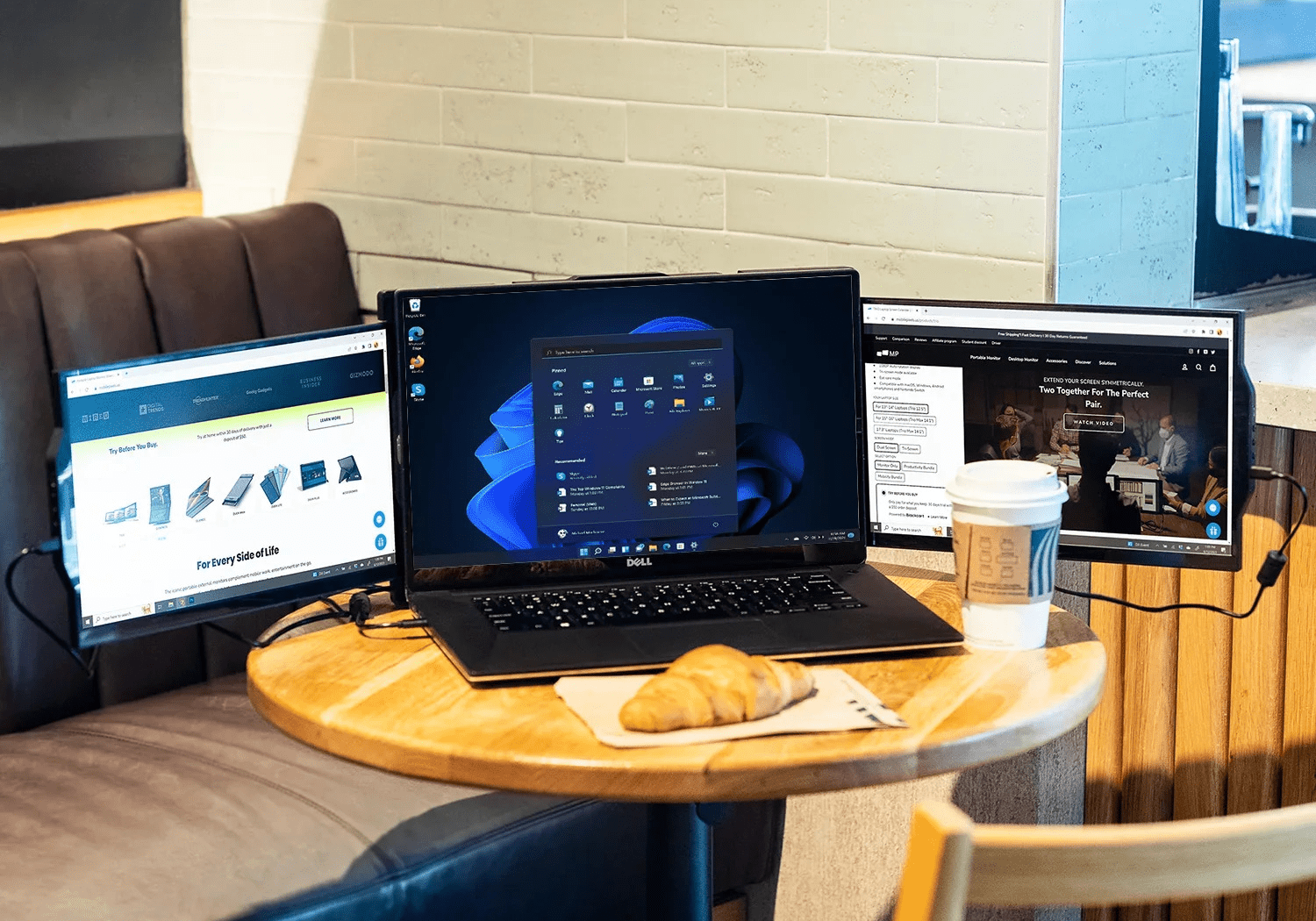 No Task Switching
If you work long hours on computers, you know that juggling several tasks requires serious brain juice.
As we can only deal with so much information at once, going back and forth between tasks could decrease cognitive performance by an average of 23 minutes and 15 seconds.
Triple monitors eliminate this risk by allowing you to work on multiple windows. You have everything you need in front of you so there's no need for alt-tabbing. Because of this increased visibility, you may also be able to reduce your risk of errors!
Set Yourself Up for Success With Mobile Pixels
Laptop screen extenders can dramatically improve your productivity and creativity by allowing you to see more at once. Harness their potential by visiting the Mobile Pixels website today.