Back in the Bronx Series: The Stories Behind the Borough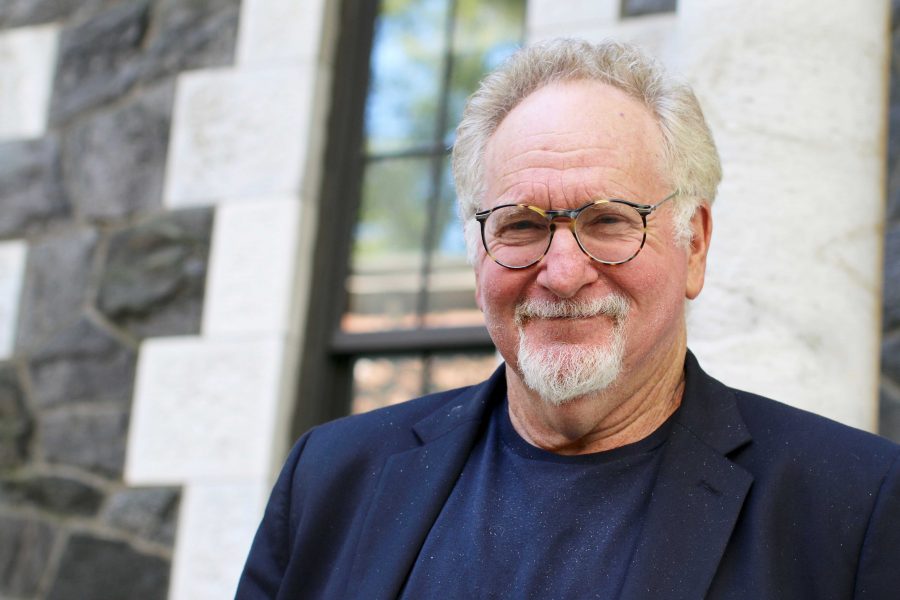 By Bailey Hosfelt
Dr. Mark Naison, a seasoned professor in the African American Studies, has been an integral part of Fordham University's faculty since his start in 1970. Naison published multiple well-received books ranging from "White Boy: A Memoir," a personalized look into his life, to "Communists in Harlem during the Depression," an intricately researched study of communism in the 30s. It comes as no surprise that his latest work, "Before the Fires: An Oral History of African American Life in the Bronx from the 1930s to the 1960s," was chosen for The Bronx Museum of the Arts' Back in the Bronx series on Sept. 24.
Surrounded by bountiful stacks of books and CDs in his office on the sixth floor of Dealy Hall, Naison shared the accidental but instrumental origin story of "Before the Fires," a community-based oral history project he created with Bob Gumbs. While at a Fordham party in December of 2002 celebrating the book "We're Still Here," a story about the revitalization of the Bronx after the fires, he was approached by Peter Derrick, the head of the Bronx County Historical Society. "We're getting lots of inquires about African American history and we don't have any material. Could you help us create a database?" he said, recalling the idea that Derrick presented.
"I would like to take credit for knowing that there was an unwritten history of the Bronx, but I was basically tapped on the shoulder," Naison said. After doing some research into the topic, he described his findings as astonishing. He explained that, although the people of African American descent in the Bronx accounted for the 8th largest population concentration in the country, their stories were simply not heard. Maison decided that he had stumbled upon an amazing opportunity to find people from the community who would tell their personal stories.
Remembering one of his first students at Fordham, Vicki Archibald, who grew up in public housing in the Bronx, Naison traveled to her Long Island residence to begin the interview process. "I go out and for three hours she tells this story about how public housing was this great place to live in the 50s. It was multiracial with great programs and sports and music," he said. After one interview with Archibald, he published a story on the topic in the Bronx Historical Society Journal. Soon thereafter, Naison began to receive phone calls from her friends asking when they could do their own interview.
Realizing that his project was gaining more traction, Naison sought out assistance from Fordham students to help him videotape and transcribe interviews. After completing about 20 interviews, a reporter from The New York Times got wind of the project. The newspaper ran a story about Naison's work, which led to multitudes of people reaching out asking to share their stories. This is when Naison became aware of Morrisania, an neighborhood in the South Bronx with an enormous black community and an incredibly diverse amount of music. Naison knew about the hip hop scene, but was unaware of other genres such as jazz, doo-wop, funk and salsa that created such an eclectic music community.
Because of the sheer quantity of content coming in, Naison's project quickly transitioned into a full-fledged community-based research team that complemented the student researchers and faculty members. "We focused on [talking to] people who grew up in the Bronx during the 30s, 40s and 50s," said Naison, "and it totally reinvented our view of the Bronx." During this time period, the Bronx was a multiethnic place of hope and optimism as opposed to a place of violence and decay, the narrative that is often told.
"Black Puerto Rican and West Indian families came to the Bronx and for a period of 20 years they created this community," said Naison. "This has really touched a chord because it's stories that they have wanted to have told. We don't look for people to interview, they come to us."
In order to create a comprehensive body of work from hundreds of interviews, Naison and Gumbs combed through all of the stories, talked about which ones should be included and edited them down. With the help of their editor, Connie Rosenbloom, they transformed the interviews from their original format into single narratives. They picked not only the best stories, but also the best storytellers in order to keep their readers engaged and interested in the book's content. "When you're a historian, you're used to boring people. The idea that a whole community would embrace this, that never happens," said Naison.
Luckily for Naison, it did. With the project still ongoing, Naison shows no signs of slowing down. Between giving workshops to high school teachers over the summer about integrating Bronx history and culture into their coursework, organizing an Oct. 29 jazz concert on campus to commemorate the legacy of Bronx musician Elmo Hope and teaching a course this fall about immigration, race and culture, Naison keeps himself busy. "It's not that I knew that I was supposed to do this, it's that I was smart enough when people from the community told me to, I listened."
When asked about if the narrative will continue to change, Naison believes that Fordham has the ability to claim the Bronx as a place of unmatched creativity. "I think Fordham students should be out in the neighborhood discovering the great restaurants, parks and people," he said. "There's a tradition of hospitality here that, once you experience it, it's really quite heartwarming."
Dr. Mark Naison and Bob Gumbs will be reading excerpts from "Before the Fires: An Oral History of African American Life in the Bronx from the 1930s to the 1960s" from 12 to 1:30 p.m. Sept. 24 at The Bronx Museum of the Arts. Admission is free for Bronx Museum members and $10 for non-members.