Real Talk at Gurls Talk: Panel Highlights Women's Stories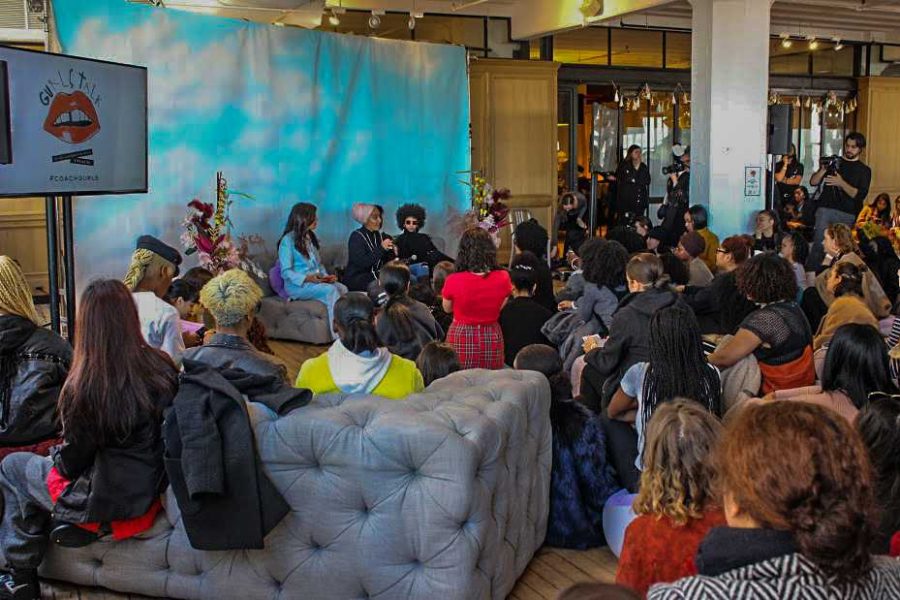 By Isha Khawaja
On Sunday March 12, the Gurls Talk Festival in collaboration with Coach and Teen Vogue harbored a space for young girls to share their insecurities about their bodies, learn to actively harness their social activism in this age of call-out culture and to meet some of their favorite social media influencers at Industry City in Brooklyn.
After years of struggling with drug abuse, bipolar disorder and depression, British model and activist Adwoa Aboah founded Gurls Talk
— a platform for young women to reveal their most intimate stories.
According to their YouTube channel, Gurls Talk is missioned "to show girls that you are not alone and that by opening up and sharing your personal stories, you too can discover that many others are going through the same things."
The underlying tone of each panel at the festival recognized that each individual personal hardship is not isolated. There is power in sharing your most intimate stories. After sharing her own stories with friends, Aboah realized that she wanted to facilitate other young girls to confront this truth.
When first entering the venue, sheer pink balloons spelling out 'Gurls Talk' floated as tons of glitter flooded the floors. The venue was like a playhouse for young feminists. Free totes and denim jackets were given and embroidered.
There were tables informing women on sexual health and contraceptive advice neighboring a New York State voter registration table. One could take a break from the panels and play pool, strike a pose in a photo booth and even get a polaroid taken for a photojournalism project.
Eliza Hatch, founder of the online photo series Cheer Up Luv, retold woman's accounts of everyday, normalized street harassment in her project.
Like many young women, street harassment is a part of everyday life for Hatch. She never questioned it until she brought up such accounts to her bewildered male friends.
"If my closest friends didn't understand that street harassment was happening then I knew there was a greater issue to be tackled."
From there Hatch began to raise awareness surrounding the issue. A year later, her project has grown into an international platform where hundreds of girls try to get in touch with Hatch to share their experiences.
After getting their pictures taken by Hatch, girls wrote down an instance of street harassment and pinned it up on a shiny silver board.
There were also a series of panels discussing race in America, a conversation with Adwoa Aboa and rapper Professor Green about mental health and a workshop on body positivity with model Paloma Elsesser.
A panel that unraveled a seemingly perfect reality was the workshop on body positivity with model Paloma Elesser.
Elesser faced incredible difficulty loving her curves at a young age and returned to that adversity when she entered the modeling industry as a plus size model. She advised the girls to find refuge in exploring and embracing their interests outside of their looks.
Pieces of paper were handed out during the workshop, and the participants were told to write down five things that they liked about themselves excluding their appearance.
"We don't have this safe space every day. So next time you need a confidence booster, pull this little paper out and remember what you love about yourself."
In her workshop, Elesser placed an importance on the friends you surround yourself with. Her best friends were not the people who just complimented her outfit, but the ones who encouraged her to execute her creative ideas.
She encouraged listeners to reevaluate their friendships. If your friends are not positively serving you, there is some cutting off to do.
The members of the panel "Race" moderated by fashion designer Melody Ehsani with Janaya Khan, Mari Malek and Mariah Idrissi provided profound insight to a sensitive topic.
Cofounder of Black Lives Matter Toronto and the international ambassador for the Black Lives Matter Network, Janaya Khan, confronts the unspoken uncomfort that surrounds privilege.
"When someone says another 'has privilege,' what that person hears is 'I haven't been through anything in my life.' Privilege is not about what you've been through. Privilege is about what you haven't had to go through." says Khan.
There is a miscommunication between what is spoken versus what is understood due to a lack of awareness and education around the systematic power of racism. This miscommunication proceeds so long as it is not confronted, as Khan eloquently addresses.
Every panel catered to educate young girls and make them feel confident by confronting the seemingly similar yet isolating issues they encounter. By addressing the day-to-day issues that are uncomfortable to face, the Gurls Talk Festival was a powerhouse of instilling confidence in women.