Fordham Women's Tennis Have Rough Week, Drop Two Matches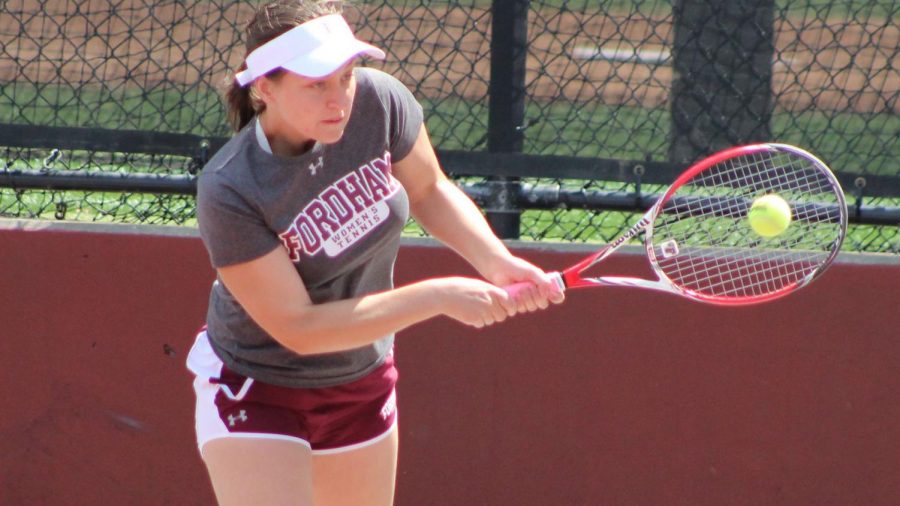 By Gigi Speer
With Atlantic 10 Championships beginning this Wednesday in Orlando, the Fordham Women's Tennis team will need to bounce back from two losses starting this Wednesday. Last year, Virginia Commonwealth University (VCU) was victorious in the tournament, beating out Davidson 4-2 in the final.
Davidson was seeded third, matching up against the #1 seed VCU last year, while Fordham finished eighth in the conference. The squad matched up against the #9 Saint Louis University, earning an easy 4-1 victory as senior Tatiana Grigoryan and her fellow senior doubles partner won the third spot, and junior Maia Balce and senior Gianna Insogna earned a second doubles victory. Balce and Insogna, along with senior Whitney Weisberg continued their success in singles, as Fordham took the third, fourth, and sixth singles points, respectively. The Rams could not keep their momentum, losing to the eventual winner, VCU in the second round.
The 2017-2018 team finished with a 9-10 record overall, which the 2018-2019 squad has already beaten, with a 10-10 record overall after this weekend.
On Saturday, the Stony Brook Seawolves bested the .500 Rams all over Hawthorn and Rooney Courts, dominating the afternoon to win all four points.
The doubles point came from losses at the first spot by Grigoryan and Arina Taluyenko 6-3, and the senior doubles combo of Insogna and Alexis Zobeideh, 6-2. The Seawolves then went on to sweep all three singles matches.
After their last home match for the year, the Rams traveled north to Amherst, where UMass proved victorious in more singles matches.
Freshmen Nicole Li and Genevieve Quenville managed to get the ball rolling for the Rams in doubles, winning 6-2 in the third spot while Grigoryan and Taluyenko picked up on the underclassmen's success, winning first doubles 6-4.
However, Taluyenko's first singles win 6-2, 6-2 was not enough, with the rest of the matches going in UMass's favor.
The sophomore's success is not novel, though. She remained dominant throughout conference play, undefeated against all A10 opponents, and remains a force to be reckoned with and a key addition to the team headed into tournament play.
The championship games begin this Wednesday, with the final match taking place on the 27th at the USTA National Campus in Orlando, Florida.