Women's Tennis Makes a Championship Run to End the Season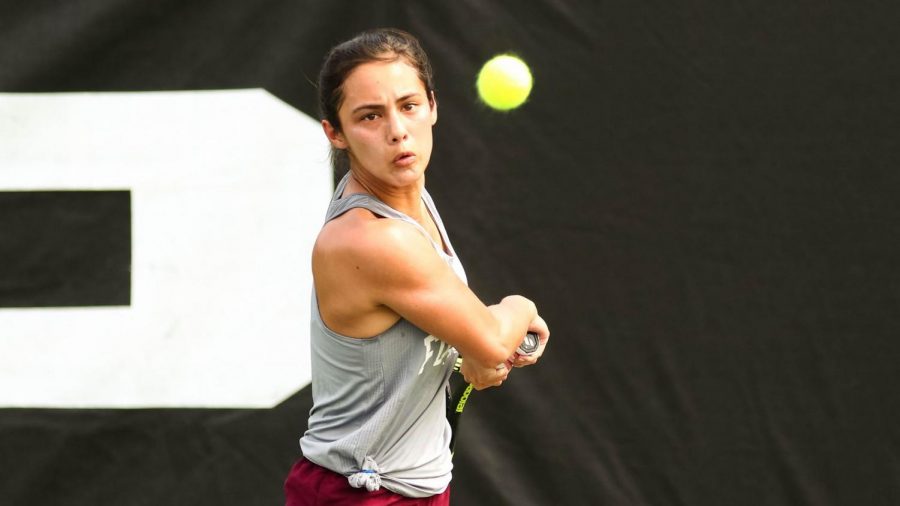 By Gigi Speer
Last Wednesday and Thursday, Fordham Women's Tennis competed in the Atlantic 10 championship tournament at the USTA National Campus in Orlando, Fl. where it faced some tough competition. The Rams were seeded seventh in the tournament and opened up play with a 4-0 sweeping win against the tenth-seeded George Mason University.
Last year, the eighth-seeded squad matched up against the ninth-seeded Saint Louis, earning an easy 4-1 victory as senior Tatiana Grigoryan and her graduated doubles partner won the third spot, and junior Maia Balce and senior Gianna Insogna earned a second doubles victory.
Balce and Insogna, along with senior Whitney Weisberg, continued their success in singles, as Fordham took the third, fourth and sixth singles points, respectively. The Rams could not keep their momentum, losing to the eventual winner, Virginia Commonwealth University, in the second round.
The team first took the doubles point, as freshmen Nicole Li and Genevieve Quenville won 6-0 at third doubles and first doubles squad. Sophomore Arina Taluyeno rounded out doubles success with their 6-2 victory.
Taluyenko continued to dominate, winning first 6-1, 6-2, as junior Maia Balce won 6-1, 6-3 at second doubles and Alexis Zobeideh finished the day off with her 6-1, 6-1 sixth singles sweep.
The next day, the Rams faced George Washington University, who they had lost to 2-5 in the regular season. Unfortunately for the Rams, they could not manage to get past the dominant Colonials, who would eventually go on to lose on Friday to the eventual runner-up Richmond.
Despite Li and Quenville's 6-0 third doubles victory, the team could not come together to win the doubles point or any of the three singles matches.
With this loss to GW, the Rams overall win percentage evened out at .500, improving from their 9-10 record from last season, and it includes many individual player highlights from the season. From freshmen stepping up throughout the season to consistency from the experienced upperclassmen, the 2018-2019 season is something to be very proud of.